---
Anger over the government's handling of a massive recent spike in Covid cases has added to general unrest over the nation's economic and social turmoil.
President Kais Saied, who was elected in 2019, announced he was taking over.
His supporters erupted in celebration, but opponents in parliament immediately accused him of staging a coup. Clashes among rival groups continued on Monday.
They threw stones at each other outside the legislature, which has been barricaded by troops, who have also prevented workers from entering some government buildings.
Mr Saied, an independent, has had a long-standing feud with the man he has removed, PM Hichem Mechichi. Mr Mechichi has the backing of the largest party in parliament, Ennahda.
Tunisia's revolution in 2011 is often held up as the sole success of the Arab Spring revolts across the region, but it has not led to stability economically or politically.
The recent coronavirus surge has fuelled long-standing public frustration. The health minister was sacked last week after a bungled vaccination drive.
Statesman or dictator?
On Sunday thousands of people across Tunisia demonstrated against the PM and Ennahda, the moderate Islamist ruling party.
Its local headquarters in the south-western city of Touzeur were set on fire.
One protester in Tunis, Lamia Meftahi, told Reuters news agency this was "the happiest moment since the revolution".
Another in the town of Gafsa told AFP news agency the president had "shown himself to be a true statesman", but a second resident there said: "These fools are celebrating the birth of a new dictator."
In the early hours of Monday, the speaker of parliament, Rached Ghannouchi, who leads Ennahda, tried to get into the legislature in Tunis. He was blocked by those who supported Mr Saied's move, and responded with a sit-down protest with his own loyalists.
Later on Monday, Al Jazeera TV, which has been viewed as sympathetic to Ennahda, said security forces had raided its offices in Tunis, unplugging all equipment and telling staff to leave.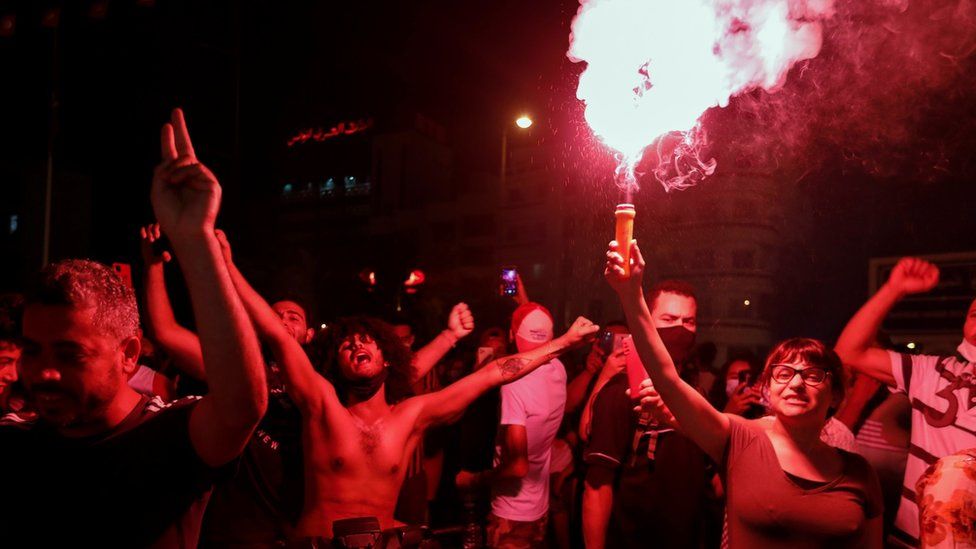 On Sunday, in a televised address, Mr Saied said: "We have taken these decisions... until social peace returns to Tunisia and until we save the state."
He later joined the celebrating crowds in Tunis.
President Saied also vowed to respond to further violence with military force.
"I warn any who think of resorting to weapons… and whoever shoots a bullet, the armed forces will respond with bullets," he said.

Red More (...)