French, Dutch, German, Spanish, Czech and Polish planes have all left in recent hours.
Shots were reported near the airport on Wednesday, as crowds approached.
The Dutch government said the situation was "awful", but was widely criticised for its failure to prepare for the Taliban's takeover of the capital.
Staff at the Dutch embassy were so taken by surprise on Sunday that they said they did not have time tell Afghan colleagues they were going.
The former president of the Dutch military union feared there was little time left to evacuate interpreters and local staff: "If we don't succeed in the next 48 to 72 hours it'll be too late," Anne-Marie Snels told the BBC.
Several European governments sent planes to Kabul on Wednesday, and the European Union's foreign policy chief, Josep Borrell, said earlier: "We cannot abandon [Afghan colleagues] and we are doing everything we can to offer them shelter in the EU".
France revealed it had flown to safety 25 French nationals and 184 Afghans "in need of protection". On board the flight to Abu Dhabi were four Dutch nationals, an Irish citizen and two Kenyans.
While France is using Abu Dhabi as an air bridge, Germany is using Uzbekistan for its operations. After an initial flight landed in Frankfurt late on Tuesday, a second flight flew to Tashkent on Wednesday.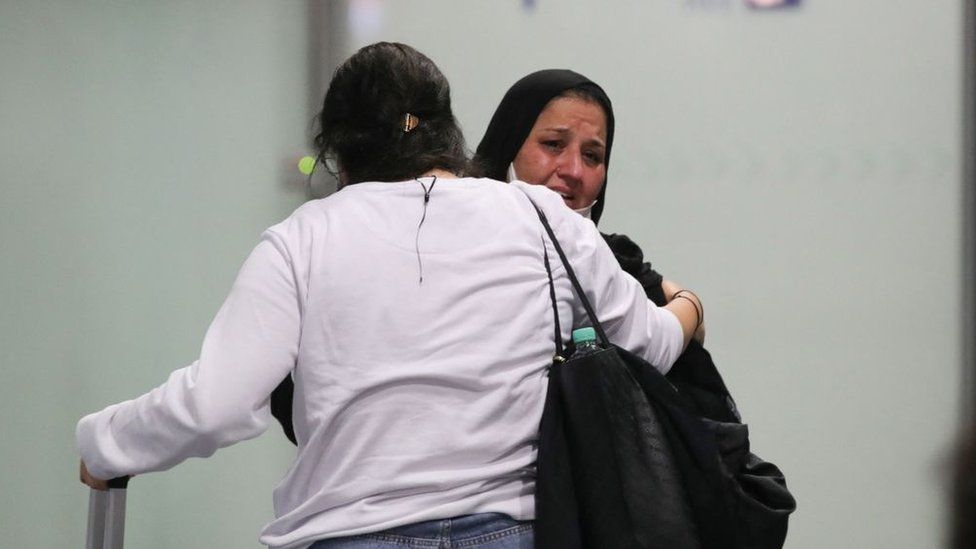 A Czech plane landed in Prague carrying 87 people including Ambassador Jiri Baloun and dozens of Afghans who had helped Czech officials, while another flight left Kabul on Wednesday afternoon.
A first Spanish flight left for Dubai, and Poland flew out almost 50 people, most of them Afghans. UK Ambassador Laurie Bristow said 700 British nationals and Afghans had been airlifted out on Tuesday and they were "trying to scale up the speed and pace over the next couple of days".
Dutch outcry over embassy staff
Dutch Foreign Minister Sigrid Kaag said two planes carrying its citizens had left Kabul on Wednesday morning.
However, there was an outcry when it emerged that Dutch embassy staff had fled the Taliban arrival in Kabul without telling their Afghan colleagues. There was also criticism in Sweden that its embassy staff had been airlifted out while Afghan staff and interpreters were left behind.
A Dutch foreign ministry spokeswoman told the BBC that embassy staff were "woken up by the US military and were asked to leave for the airport urgently so they had no time at all to warn local staff".
The Dutch caretaker government said it was doing all it could to evacuate people from Kabul, but an initial airlift from Kabul airport late on Tuesday had only 30 minutes on the ground and took off with 40 people, who were neither Dutch nor Afghan.
"It's awful. Many were there at the gates of the airport with their families," said Ms Kaag.
She told parliament that in common with other Western leaders they had been surprised by the speed of the Taliban takeover.
Ms Snels, who was president of the AFMP military union, accused ministers of ignoring warnings of the likely risks to interpreters once the Taliban took control.
"Months ago I asked if they had evacuation plan for the people who worked for us as well as the embassy staff and we had nothing. Everybody had to start up on Monday and it's a mess: nobody takes responsibility," she told the BBC.
Concerns about migration
German Interior Minister Horst Seehofer was among a number of European leaders to warn of an influx of refugees from Afghanistan, suggesting between 300,000 and five million people could head to Europe.
The UK has said it will settle 20,000 Afghan refugees over the next few years, while Austrian Interior Minister Karl Nehammer said on Wednesday that "the aim must be to keep the bulk of people in the region".
French President Emmanuel Macron has come under fire from opponents for saying Europe should put together a "robust initiative to thwart illegal migration". He accused critics of twisting his comments and said "France does and will continue to do its duty to protect those who are in the most danger".
The EU's foreign policy chief said there was now a need to ensure that the Taliban takeover did not prompt large-scale migration towards Europe and that transit countries would need support.
---