Russian troops have taken their first "significant" city after their invasion of Ukraine began on Thursday, reported Reuters.
The city of Melitopol, which has an estimated population of 150,000, has been captured, claimed Russia's defence ministry.
The mid size city is located in the south of Ukraine and is near the key port of Mariupol.
However, Ukrainian officials have not been reached for comment on the situation.
Russia also claimed to have carried out overnight strikes on military targets in Ukraine using air and ship-based missiles.
'198 dead, including 3 children'
Ukraine's health minister Viktor Liashko has given an update on the country's death toll, stating 198 dead Ukrainians have died "at the hands of the gunpowder" in the three days since the battle began – including 3 children. He also said data shows 1115 have been injured, 33 of which were children.
Liashko made the heartbreaking announcement in a lengthy Facebook post shared Saturday.
On Friday, Ukraine's president, Volodymyr Zelensky, had said that at least 137 people had been killed and 316 wounded, the NY Times reports.
'Active fighting' in the streets
The battle in Ukraine's capital city of Kyiv has intensified with fighting breaking out on the streets, according to government officials.
Residents have been warned to remain in shelters or at home and avoid going near windows or on balconies.
They have also been advised to cover themselves with something to avoid injury from bullet fragments.
The Ukrainian Interior Ministry posted the following statement to Facebook: "Active fighting is taking place on the streets of our city. Please stay calm and be as careful as possible!
"If you're in the shelter, don't leave it now. If you're at home – do not go close to windows, do not go to the balconies.
"Hide indoors for example in that bathroom and cover yourself with something that will prevent injury from bullet fragments.
"If you hear sirens ("Air Alarm" signal) – go immediately to the nearest shelter!"
Many residents spent the night in train stations and underground garages to try and keep themselves safe.
During the battle on Friday night, a missile struck the middle of a high rise residential building, according to Kyiv's municipality government, but the extent of casualties are currently unknown.
With Russian troops closing in on the city, the window to escape is closing.
Several special evacuation trains were put on Friday night by the Ukrainian Railway Company, with women, children and those with limited mobility given priority on the services, reported CNN.
Passengers on the services were warned not to panic if the lights went out on the service.
"The less the train looks like a garland, the safer the journey," the company said.
The United Nations has revealed more than 50,000 Ukrainian refugees have left the country in less than 48 hours, with the majority entering Poland and Moldova.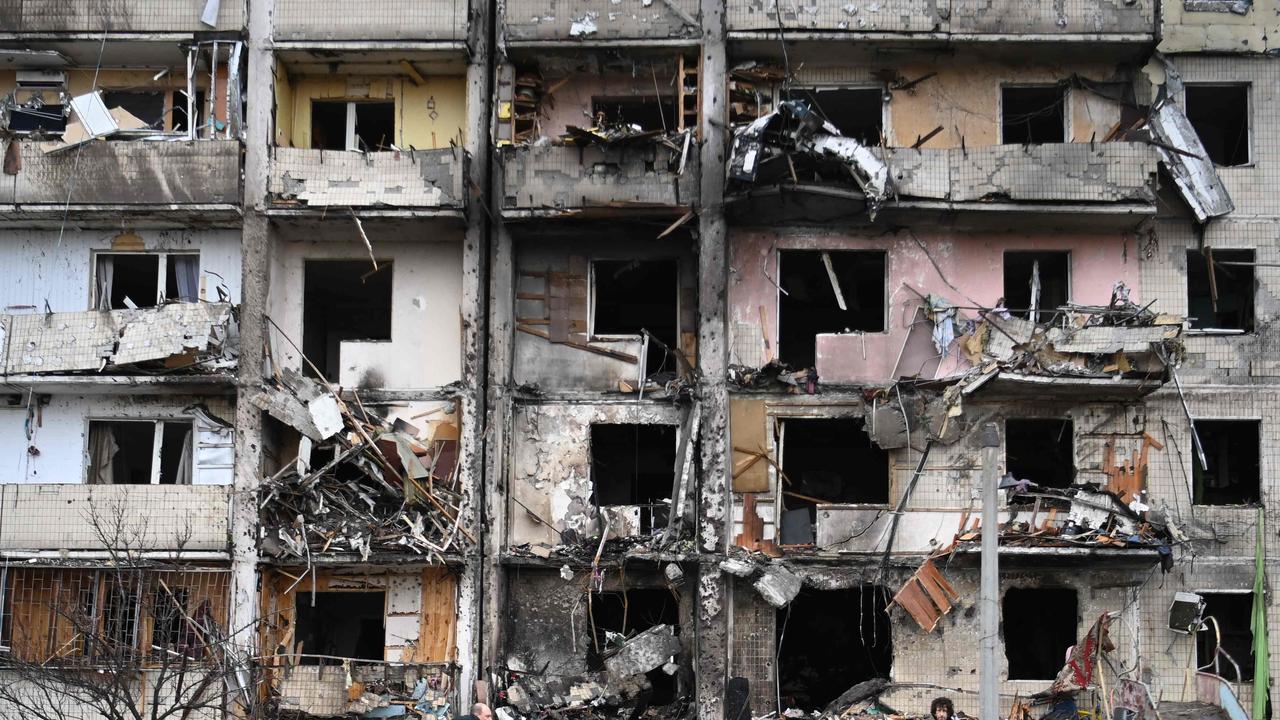 Ukraine won't put down weapons
Ukraine's president Volodymyr Zelenskyy earlier posted to Twitter to declare that his country won't put down their weapons.
"I am here. We are not putting down arms. We will be defending our country, because our weapon is truth, and our truth is that this is our land, our country, our children, and we will defend all of this," he said.
"That is it. That's all I wanted to tell you. Glory to Ukraine."
There have been reports both countries have tried to propose a location for negotiations, but a senior adviser to the president said Ukraine would be in the driver's seat.
"I don't think that after what is happening now, Ukraine has weak positions," said the adviser Myhailo Podoliak.
"Even if the negotiation process starts – and it is going to start – Ukraine will set conditions."
The US government also asked Zelenskyy to evacuate the country but he refused, AP reported.
"The fight is here, I need ammunition not a ride," said Zelenskyy, according to a senior American intelligence official.
A former television comedian, who speaks Russian, Zelenskyy was elected to lead the country three years ago and promised to bring peace to the area.
Women take up guns in battle against Russia
Ukrainian women have been learning how to use guns as part of the battle against Russian troops, it has been revealed.
The 36-year-old leader of a Ukrainian political party, Kira Rudik, said it was a "surreal" situation preparing to bear arms but she had learned how to use an automatic rifle in a matter of days.
"Our women will protect our soil the same way as our men," she tweeted.
On Friday, Rudik told CNN she was in the Ukrainian capital city of Kyiv.
"It is my duty to be here. I am armed and my crew is armed," she said.
A Ukrainian television channel also broadcast instructions on how to make Molotov cocktails, according to CNN, with a person demonstrating the steps to create the explosive, including a diagram to show how to close off a glass bottle with a piece of cloth.
The Ukrainian Defense Ministry has also tweeted that citizens should "make Molotov cocktails and take down the occupier".
It's been reported that 18,000 weapons have been given to reservists in the Kyiv region too.

Read More (...)