Bitcoin has continued to slide to levels so low they haven't been since the early days of the pandemic as panic takes hold among traders.
Early on Tuesday morning AEDT, the coin hit a nearly two-year low at US$22,601.
Overall, that represented a drop of more than 15 per cent in just 24 hours.
Just a day earlier, the top-ranked blockchain had already hit a low for the year, at US$23,740, but continued to dip overnight.
Ethereum didn't fare much better, suffering a 16 per cent fall to come to US$1165 at its lowest point over the last day.
It's a far cry from the coin's all-time highs in November last year; Bitcoin was worth almost US$69,000 a piece while ether was US$4,865 at its peak, 70 per cent more than it is worth now.
In total, cryptocurrency's total market cap has dipped below US$1 trillion and was resting at US$969 billion at 8am.
The bitcoin bear run was so extreme that two major crypto exchanges suspended trading transactions — one of which has done so indefinitely.
Binance temporarily suspended bitcoin withdrawals which meant nobody could cash out their funds.
Meanwhile, cryptocurrency lending platform The Celsius Network paused all withdrawals because of "extreme market conditions", impacting its estimated 1.7 million users.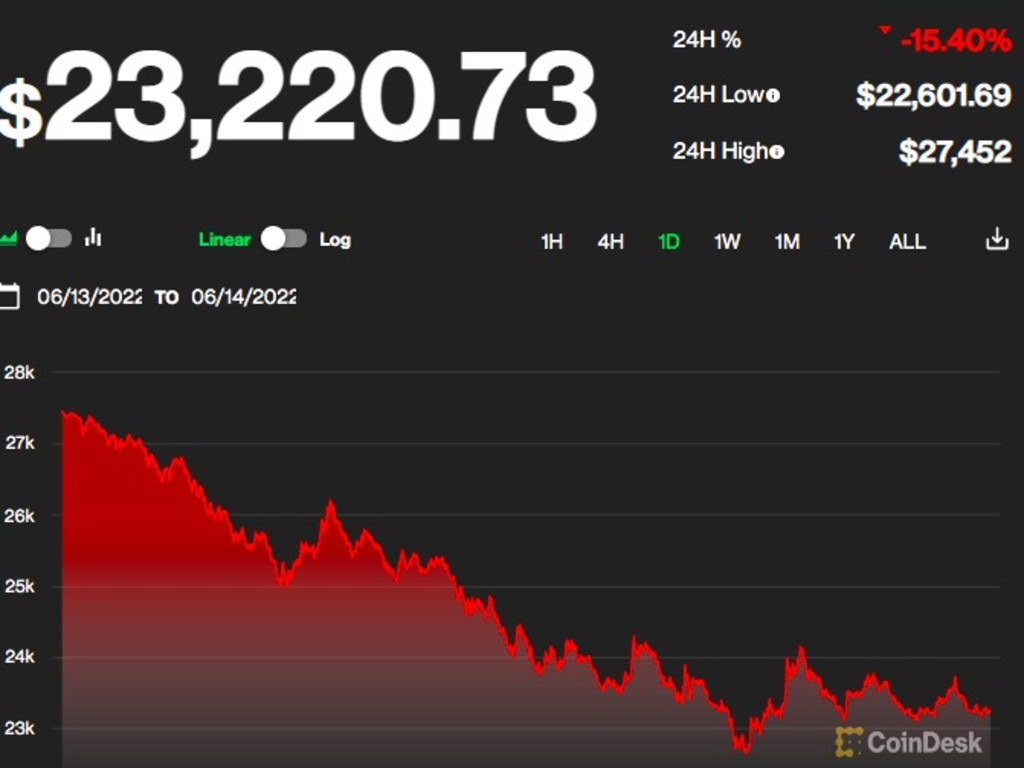 UK-based Celsius pays interest on cryptocurrency deposits, loans them out and also sells its own token, CEL, but it ceased all activities around midday on Tuesday.
In a blogpost the company warned it was "pausing" all withdrawals and transfers between accounts, adding: "Due to extreme market conditions, today we are announcing that Celsius is pausing all withdrawals, swap, and transfers between accounts.
"We are taking this action today to put Celsius in a better position to honour, over time, its withdrawal obligations."
Although the Celsius freeze on bitcoin has lasted for more than 12 hours and is still going, Binance's bitcoin trading function was back up and running after less than three hours.