Harry Styles' picked up the coveted best album prize, Viola Davis completed an EGOT, and Beyoncé became the most decorated artist in Grammy history.
Here are five of the high and low points of a ceremony that had more twists and turns than a helter skelter in a hall of mirrors.
1) What does Beyoncé have to do to win best album?
Watch: Beyoncé gets emotional on stage accepting record-breaking award
---
Every time Beyoncé releases a new album, she rewrites the rule book for everybody else.
From her self-titled visual album in 2013, and the confessional masterpiece that was 2016's Lemonade, to last year's disco fantasia Renaissance, she has changed the way that pop music is written, produced, released, presented and promoted.
She does so with awe-struck admiration from her peers. "You clearly are the artist of our lives!" declared Lizzo at tonight's ceremony, echoing words Adele said in 2017.
During the ceremony, Beyoncé picked up a record-breaking 32nd trophy. She was already tied with her husband Jay-Z as the most-nominated artist of all time (they have 88 each).
But for all that love, the big prizes have eluded her. Of the 16 times she's been nominated in the major, all-genre categories, she has won just once: Song of the year in 2010, for Single Ladies (Put A Ring On It).
This year, Renaissance was the presumed front-runner for album of the year. A deep and affectionate dive into black and gay dance culture, it was the most critically-acclaimed release of 2022.
But, for the fourth time in her career, Beyoncé was beaten to the top honour. This time Harry Styles took the crown. Previously, it was Beck, Adele and Taylor Swift.
What's the message the Grammys are trying to deliver here? Because it seems to be: "Stop being so impressive and write music we feel comfortable with".
It's a sentiment that's not entirely out of character. The industry created the awards in 1958 to promote "good" music amid the terrifying onslaught of rock and roll and, ever since, the Grammys have lagged behind every major movement in music.
Famously, The Beatles won more awards after they split up than they did together; and there were no rap categories until 1989.
So maybe, one day, when she's in her 60s, Beyoncé will get her dues.
2) Everyone needs to work on their speeches, except Lizzo
Warning: Lizzo's speech contains strong language
It wasn't a great night for speechmaking.
Ozzy Osbourne made me laugh with a brusque, "Thank you and [expletive] off", but otherwise, there was a lot of thanking your mum and being "so inspired" by all the other nominees.
Luckily, Lizzo was on hand to give everyone a big old pep talk.
"Let me tell you something," she began, as she picked up Record Of The Year.
"Me and Adele are just having a good time, enjoying ourselves and rooting for our friends.
"But now that I'm up here... I want to dedicate this award to Prince.
"When we lost Prince I decided to dedicate my life to making positive music. This was at a time when positive music and feel-good music wasn't mainstream and I felt very misunderstood. I felt on the outside looking in. But I stayed true to myself because I wanted to make the world a better place.
"And now I look around and there's all these songs that are about loving our bodies and feeling comfortable in our skin and I'm just so proud to be a part of it.
"Because in a world that is a lot of darkness and a lot of scary [stuff], I'd like to believe that not only can people do good, but we just are good, we are good inherently."
Special mention to Wet Leg's drummer Henry Holmes, who gave the night's most honest speech.
"This is just a magical evening. My mind has gone blank, and I feel like I might wet myself."
3) Ben Affleck was not impressed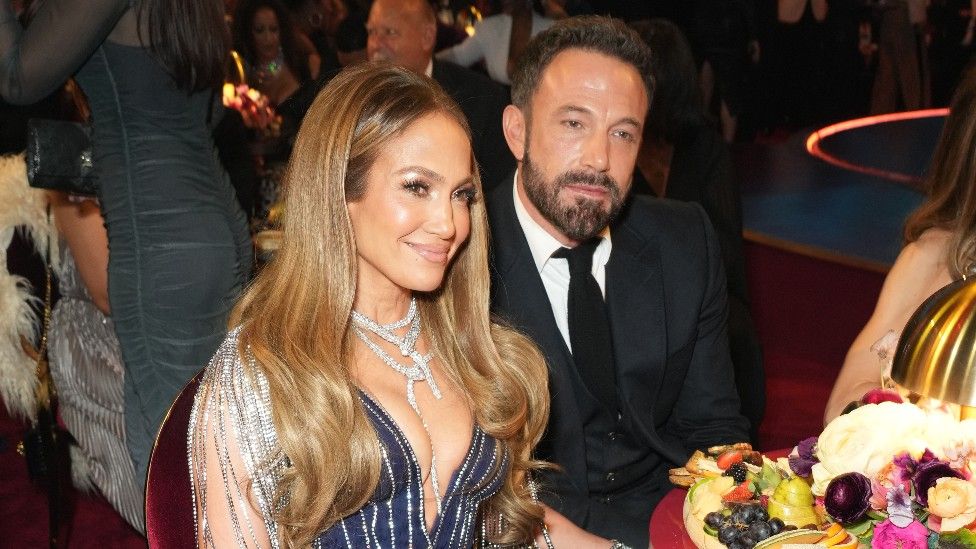 Don't be confused by the look that he's got / He's just Benny from the block.
The newly-married Mr J. Lo attended the Grammys to support his wife and looked thoroughly, unequivocally bored with the whole thing.
Shots of him staring, unmoved at Stevie Wonder (Stevie Wonder!) while Jennifer Lopez danced in her seat quickly trended on social media.
"However bad of a day you're having, I promise you're not as miserable as Ben Affleck at the Grammys right now," wrote one observer.
"You can see his batteries draining in real time," added another.

The BBC is not responsible for the content of external sites.
View original tweet on Twitter
The BBC is not responsible for the content of external sites.
View original tweet on Twitter
4) The Grammys belatedly realised hip-hop is pretty good!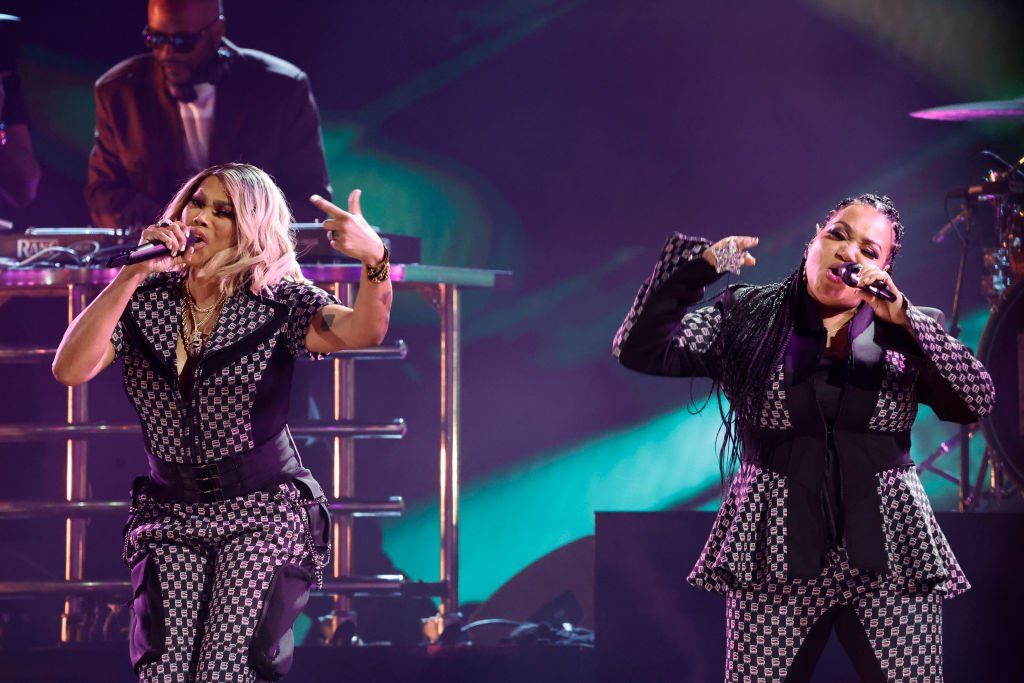 This August marks 50 years since DJ Kool Herc and his sister Cindy threw a party in the Bronx that's considered the birthing ground of hip-hop.
To mark the occasion, the Grammys threw a special performance that crammed the stage with legend after legend after legend.
Kicking off with Grandmaster Flash's Flash to the Beat and The Message, the 12-minute medley made room for Run-DMC, Salt-N-Pepa, Public Enemy, De La Soul, DJ Jazzy Jeff (scratching his way through Rock The Bells) Rakim, Ice-T, Method Man, an exquisitely-choreographed Missy Elliot, Queen Latifah and The Lox.
Busta Rhymes stole the show with a rapid-fire, syllable-spewing verse of Look At Me Now, while Nelly upped the fun factor with the goofy Hot In Herrre.
Everything was brought up to date with Lil Baby's Freestyle and GloRilla's F.N.F. (Let's Go) before Lil Uzi Vert closed the set with a snippet of Just Wanna Rock.
"We started in the Bronx," declared LL Cool J over the closing bars. "And ever since, we've gone everywhere,"
It was the undoubted highlight of the night... but there was a glaring absence from Drake and Eminem, both of whom are boycotting the Grammys, saying it sidelines hip-hop from the major categories.
To date, Childish Gambino's This Is America is the only hip-hop song to win song of the year; while Outkast's Speakerboxxx / The Love Below was the last rap album to scoop album of the year, back in 2004.
A tribute is one thing, but the Grammys still have a long road to travel.
5) It was a big night for Kim Petras
Warning: Third party content may contain adverts
---
Sam Smith and Kim Petras won best pop duo/group collaboration for their campy sex melodrama Unholy - which they also performed, with Smith dressed as the devil for good measure.
But the British singer ceded the microphone to Petras at the winner's podium, watching with pride as she delivered her speech,
"Sam graciously wanted me to accept this award because I'm the first transgender woman to win this award," Petras said, her face covered in a red satin veil.
She went on to thank the pioneers and activists who "kicked the doors open" - a list that would include Wendy Carlos, the first transgender woman to win a competitive Grammy back in 1970, for her pioneering synth album Switched-On Bach).
Backstage, she still couldn't get over the sense of occasion.
"All these years are going through my head of people saying I'd be a niche artist because I'm transgender, and my music would only ever play in gay clubs - and what's wrong with that, because I love gay clubs - but now I got a Grammy for making gay club music with my friend," she said.
"It's the best feeling in the world."