During her Nineties heyday, Britney Spears' music videos were greeted with hysteria from her global fanbase and lustful adulation from a legion of adolescent boys.
Fast forward to 2023 and it is a different story. Now her army of followers are more likely to wince each time she is in front of the camera, The Sun reports.
Her latest social media video, posted on her Instagram page on Tuesday, sparked more concern for her welfare, which is an increasingly regular occurrence since she won a high-profile 2021 court case to be released from her father's controversial 13-year "conservatorship".

In the clip she shows off a variety of dresses, speaking in an unfamiliar accent, before asking her fans not to call the police if she shuts down her account.
It makes little sense, like most of her social media content, which has got fans rightly worried about her mental health.
From full-frontal nudity and her public pregnancy turmoil to wild allegations about friends and family, it has certainly been an eventful first year of freedom for the pop superstar after the court quashed her father's control.
Jamie Spears' conservatorship over his daughter and her estate was terminated in November 2021.
Since then, Britney, 41, has had full control over her life and her social media accounts.
Keen to speak out after a decade of being silenced, the Toxic singer wasted no time in telling the world how she found even the smallest things — such as getting cash out of an ATM or drinking wine — exciting after being prohibited for so long.
However, over time Britney's posts have become more and more explicit and erratic.
She regularly shares and then deletes images and videos, and has shut down her page altogether.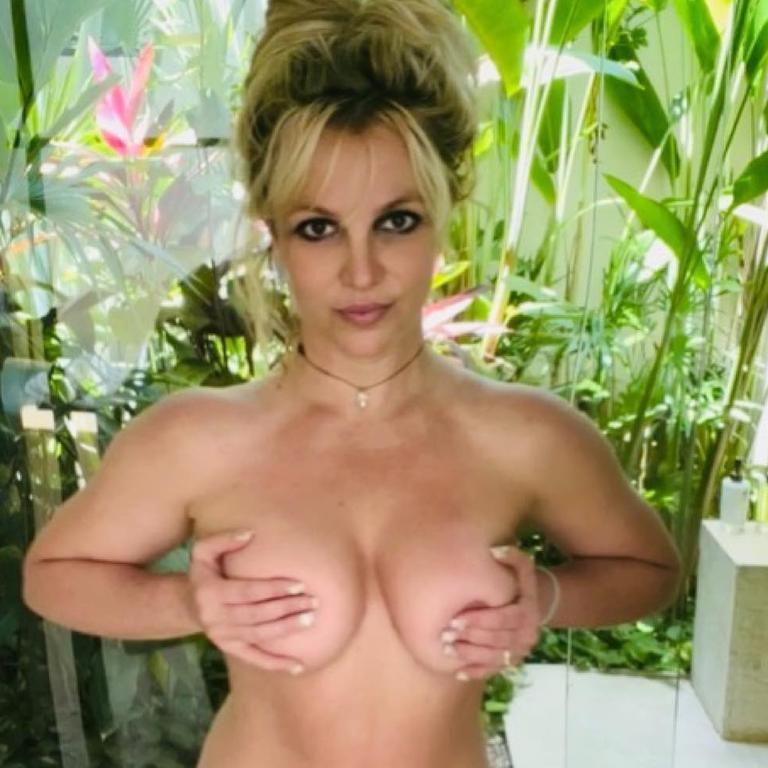 In February 2022, Britney took a holiday to Mexico, where she seemed to spend most of the time being filmed rolling around topless.
Fully nude images, usually with carefully placed emojis to protect her modesty, have become commonplace on her page, which has nearly 42 million followers.
Despite raising their eyebrows, fans were initially happy to swallow the line that a newly liberated Britney was simply hitting back at years of oppression.
And by April, it looked as if Britney had finally achieved her goal of starting a family with actor Sam Asghari, 28, who she went on to marry in June that year.
She announced she was expecting her third child — her first with Sam — via a rambling emoji-filled post.
She wrote: "If two are in there. I might just lose it. I obviously won't be going out as much due to the paps getting their money shot of me like they unfortunately already have.
"It's hard because when I was pregnant I had perinatal depression. I have to say it is absolutely horrible."
But barely a month later Britney and Sam's hopes were dashed when they confirmed they had lost their baby. A heartbreaking statement in May read: "It is with our deepest sadness we have to announce that we have lost our miracle baby early in the pregnancy.
"This is a devastating time for any parent. Perhaps we should have waited to announce until we were further along, however we were overly excited to share the good news.
"Our love for each other is our strength. We will continue trying to expand our beautiful family."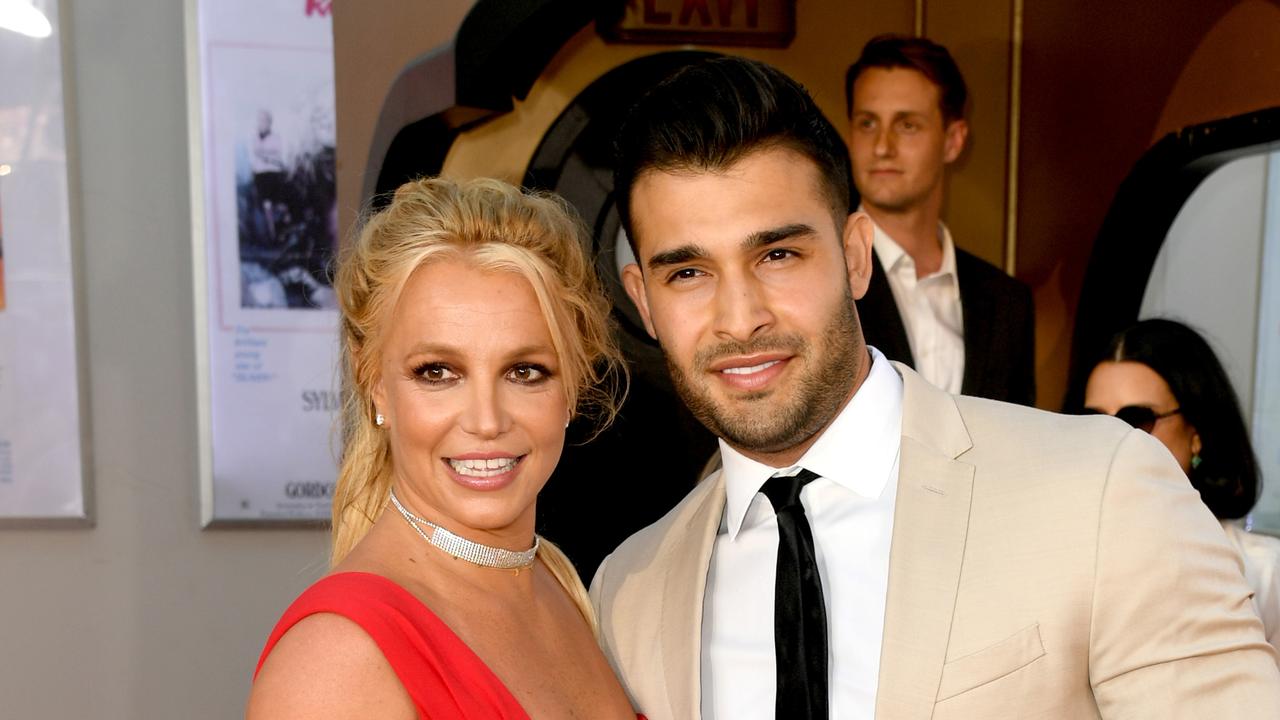 The loss was even more painful for Britney as she alleges her father stopped her from starting a family against her will during the conservatorship.
Speaking in a 30-minute plea during her court battle in June 2021, Britney alleged her father and her team had a contraceptive IUD placed inside her against her will.
She said: "I would like to progressively move forward and I want to have the real deal. I want to be able to get married and have a baby. I have an IUD inside of myself so I don't get pregnant.
"They don't want me to have children — any more children,"
A few weeks after her baby heartache, Britney's rollercoaster life seemed to be on the up once more with her surprise wedding.
It should have been one of the happiest days of her life, but it was more like a plotline from a soap opera.
Her first husband, Jason Alexander, whose 2004 Las Vegas wedding to Britney lasted 55 hours, managed to break into her house hours before she was due to walk down the aisle.
Erratic live-streamed footage showed him reaching the second floor of her property and even her wedding marquee demanding to speak to Britney.

Police said Jason, who has been branded "scary" by Britney, was armed with a knife.
The singer was later granted a three-year restraining order against Jason over the incident.
As for the ceremony itself, Britney's family — including sons Sean Preston, 17, and Jayden James, 16, who she had with second husband Kevin Federline — all chose not to attend.
So she walked herself down the aisle to Elvis Presley hit Can't Help Falling In Love as a 60-strong congregation, including Madonna, Drew Barrymore and Paris Hilton, watched on.
Jayden told The Sun in September that his mum did invite him and brother Sean, but her decision to snub the rest of the family resulted in them turning the invite down.
He said: "I'm not saying that I'm not happy for her. I'm really happy for them, but she didn't invite the whole family, and then if it was just going to be me and Preston, I just don't see how that situation would have ended on good terms."
He went on to issue a public plea for Britney to stop stripping off online, accusing her of being desperate for attention.
He added: "It's almost as if she has to put something on Instagram to get attention. This has gone on for years and years and years, and there's a high chance that this is never going to really stop, but I'm hoping for me, maybe she will.
"I just want her to get better mentally. When she gets better I really want to see her again."
After his comments, the bitter family feud spilled over again as Britney fired back: "I've tried my best at being the best person I can be . . . to be basically held hostage in homes under nurses and bulls**t.
"I hope my kids one day understand my reasoning of my play in water, revealing myself as would any woman being held under blankets and supervision under the conservatorship."
That was not the only time Britney decided to air her dirty laundry in public. Her feud with younger sister Jamie-Lynn, 31, who starred in teen sitcom Zoey 101, played out in front of the world, too.
Britney lashed out accusing her of cashing in on the family name by releasing a tell-all book, Things I Should Have Said, in 2022.
After months of more erratic behaviour, fans took matters into their own hands.
In January this year her followers grew so concerned with Britney's posts that they called the police for a welfare check after she announced she was changing her name to River Red and promptly deleted her Instagram page. Ventura County Sheriff's Office made the check and concluded she was not in any danger.
Slamming the move, Britney tweeted: "As everyone knows, the police were called to my home based on some prank phone calls.
"I love and adore my fans but this time things went a little too far and my privacy was invaded.
"The police never entered my home and when they came to my gate they quickly realised there was no issue and left immediately.
"This felt like I was being gaslit and bullied once again."
Britney's latest post, after reactivating her account once more, references the incident with a bizarre video.
During the minute-long clip, Britney can be seen holding up a dress before talking about it in a semi Australian/British accent.
She says: "So guys, I just want you to know if I shut down my Instagram, do not call the cops."
She then proceeded to shout, "Don't ever be a rollercoaster. Never be a rollercoaster", while running back and forth in front of the camera.
Despite rumours, her friends and family have yet to provide an intervention, so Britney's bizarre behaviour looks set to continue.
For a pop icon who has sold more than 150 million records worldwide, her legacy should be her music.
But if these disturbing actions continue, the overriding story of Britney's life will be a far less happy one.
This story was originally published by The Sun and was reproduced with permission