CNN —
When John Flores and Michael Leitz were looking for a home in which to spend the next stage of their lives, they realized that where they lived in San Francisco was too expensive.
Instead, they began looking further afield – eventually buying a beautiful 120-year-old, three-story home in rural Spain for less than $50,000.
Both Flores and Leitz worked in education in the US before retiring – Leitz was a high school history teacher while Flores was an administrator at UCLA.
While they said they both enjoyed their San Francisco lifestyle, they realized that it would be unaffordable to live in rented property on pensions much lower than their salaries.
"Europe was an obvious choice for us," said Leitz. "I am part German and part Irish, so there were European roots from the family. John is part Mexican, which makes for the Spanish connection, and he is fluent in Spanish too.
"The closest you can come to the Californian way of life in Europe is in Spain, so the choice was an easy one for us."
What it's like to be an American living in Paris
Finding the right place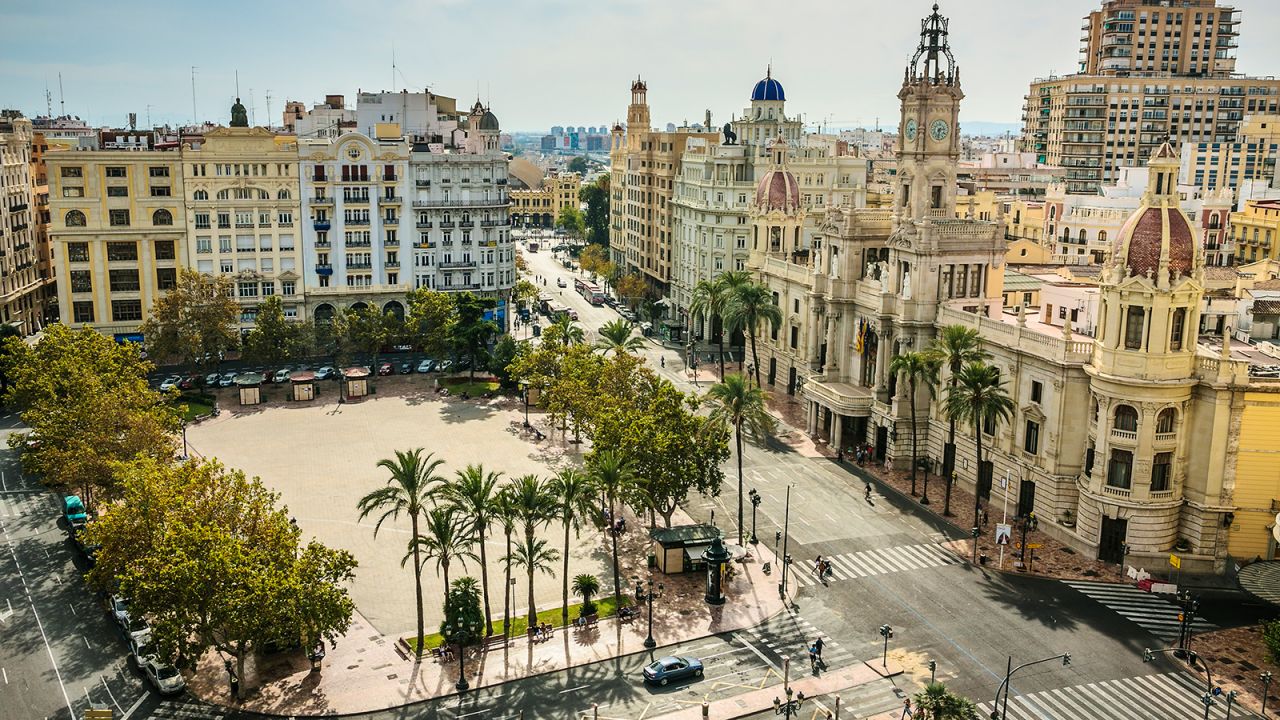 Leitz and Flores aren't alone. In recent years an increasing number of Americans have moved to Europe for business and retirement – with Spain emerging as a top destination according to a report by migration consultancy Global Citizen Solutions.
Part of the appeal is likely down to Spain's year-round mild climate and a laid-back lifestyle paired with relatively cheap essentials, including high-quality food and wine.
Visa and residency requirements have also been made much easier in recent years. Spain wants to attract foreign nationals to live and work to help counter a huge depopulation problem, especially in rural areas, and welcomes digital nomads as well as wealthy individuals, retirees and vacation homeowners.
Finding the right place and relocating to another country was by no means easy for Flores and Leitz.
"We were well aware that the move was not without obstacles," says Leitz. "I had never undertaken an enterprise like this but, many years before I met him, John had done something similar in Phoenix, therefore he had more ideas than I had."
Inevitably, the couple needed to navigate numerous challenges in making the move. Buying and selling property in Europe is very different to in the US. The entire process is much more formal, involving notaries, land registries and officials like sworn-in translators.
And then there are the language barriers and culture shocks. As retirees, Flores and Leitz didn't have to worry about schools and education – a major consideration for would-be expats moving to Europe with kids.
Siestas and sleepy Sundays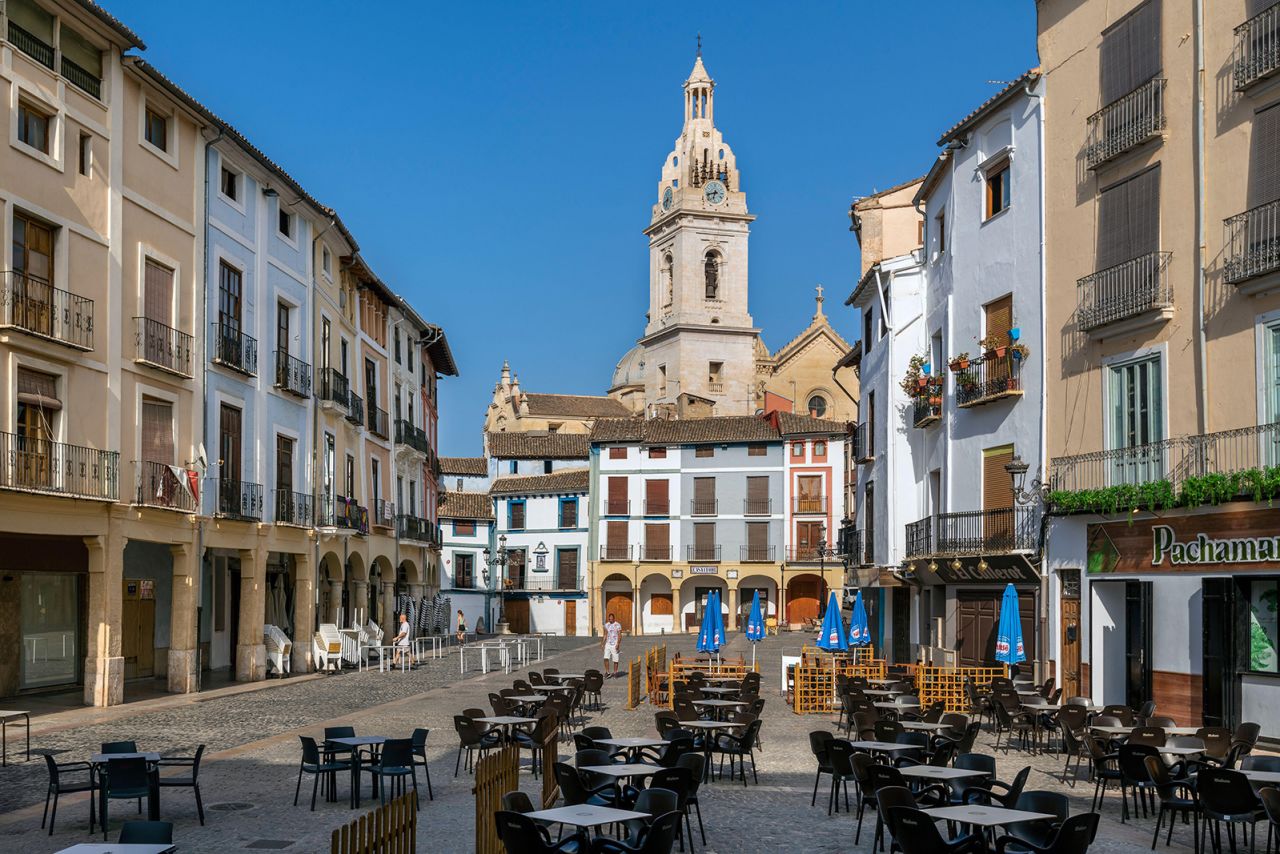 Since they both worked in the teaching profession, they had plenty of vacations and used them to go exploring Spain and Europe in anticipation of their move.
Spain is a huge country with many different regions, from snow-covered mountains in the north, to the beaches and islands of the Mediterranean. There are rural valleys, tiny, romantic villages and big cities like Madrid, Barcelona, Seville and Malaga.
Flores and Leitz took their time and traveled everywhere over several years, sizing up cultural changes like Spain's long siestas, numerous public holidays and the fact that shops don't open on Sundays.
Having decided on Spain and with retirement still some time away, they started preparations by brushing up on the local language – something they were already familiar with from living in California.
"Perfecting my Spanish is actually my priority now, that everything else has been resolved, "says Leitz. "It is just so important for everyday life to be able to communicate with workers and the locals."
When it came to house hunting, their first stop was Valencia, a beautiful city and port on the Mediterranean in southeast Spain.
Valencia - famous for oranges, the national dish paella, architecture, ceramics and culture - became their home for three years as they lived in rented accommodation.
US couple transforms abandoned Italian house into dream home with an elevator
Fixer-upper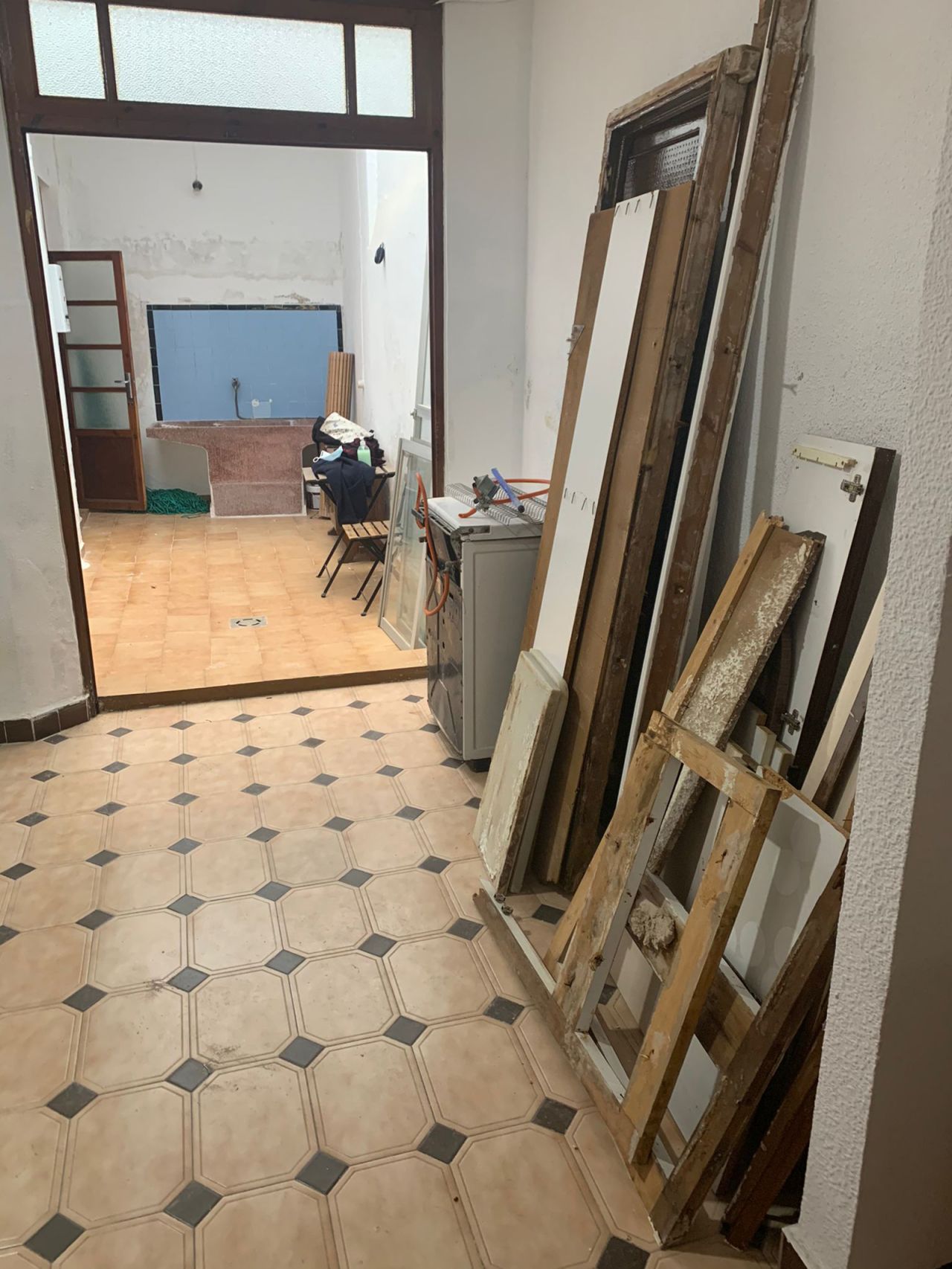 The city was, however, out of their price range when it came to buying a place on their pensions. They were also looking for somewhere more rural – preferably a fixer-upper that they could restore to their liking.
"Our hobbies are history and art and we wanted a place where both were present, as well as nature and woods," says Flores. "Another consideration was public transport and good train or bus connections to other parts of Spain."
Exploring the rural villages around Valencia, they finally decided on an historic small town called Xativa, which has an impressive castle and watchtower as well as museums, art galleries, bars and restaurants.
Crucially, it also has a fast train connection to Valencia and beyond.
The couple says what really appealed was the narrow streets filled with plenty of older properties crying out for restoration – some quite rundown, others in reasonable shape.
They were also won over by friendly residents – locals as well as other expats who had already happily settled there. They said they sensed a feeling of community that was very appealing.
Having decided on a place to live, they now had to find a suitable – and affordable – property.
Instead of going to a realtor, they turned to Idealista, one of the most popular property vending websites in Spain, finding somewhere that appealed to them almost immediately.
Handshakes and hurdles
It was a three-story stone building, big enough for their needs and offered at a reasonable price. They said they were surprised how low prices were compared to Valencia and other places in Spain they'd looked at – and of course as compared to the US.
It consisted of several small rooms on the ground floor, just one bathroom and two bedrooms. They could see the potential.
The next step was inspections to confirm the house was structurally sound and weatherproof.
Then there was the legal side of the purchase – complicated slightly by the building's age – approximately 120 years old. As is often the case in rural Spain, many records had been lost over the years. In times gone by, property frequently changed hands with a handshake.
Eventually, they negotiated with the vendor a price of 45,000 euros (about $48,000) including taxes. They managed to secure a mortgage, which meant that the bank took care of some of the paperwork.
After finalizing the purchase, they began to make plans. They decided to rip out internal walls on the ground floor to create one large, light space. Upstairs would also be reconfigured to produce another bedroom and bathroom. They also wanted to install AC, a necessity given southern Spain's high summer heat.
After finding a local architect and builder willing to take on the work for 40,000 euros (about $44,000), work began on the ground floor.
"This is where we found the most problems," Flores says.
"There were four small rooms and the space felt rather cramped. Also the ceiling was quite low, so we had the architect look and see if there were any solid beams above. There were, and none of them turned out to be rotten. Nevertheless, the workers sprayed everything with a special solution to prevent woodworm getting into the beams.
"After the dividing walls were removed, we got one big, airy and sunny room and the ceiling was lifted by 3-4 feet. This made all the difference."
In addition, the couple removed the one bedroom on the ground floor and extended the master bedroom on the second floor, adding a walk-in wardrobe, a guest bedroom and another bathroom with tub and shower.
Then came the final touches. There was no garden, but a covered tiled patio.
"We considered opening the patio up to the sky," Leitz said. "But you have to listen to the locals in the know. They strongly advised us to keep the patio closed because there are sometimes strong rainfalls and the house could be flooded. So, it is now covered with a transparent roof which allows lots of sunshine."
The quiet life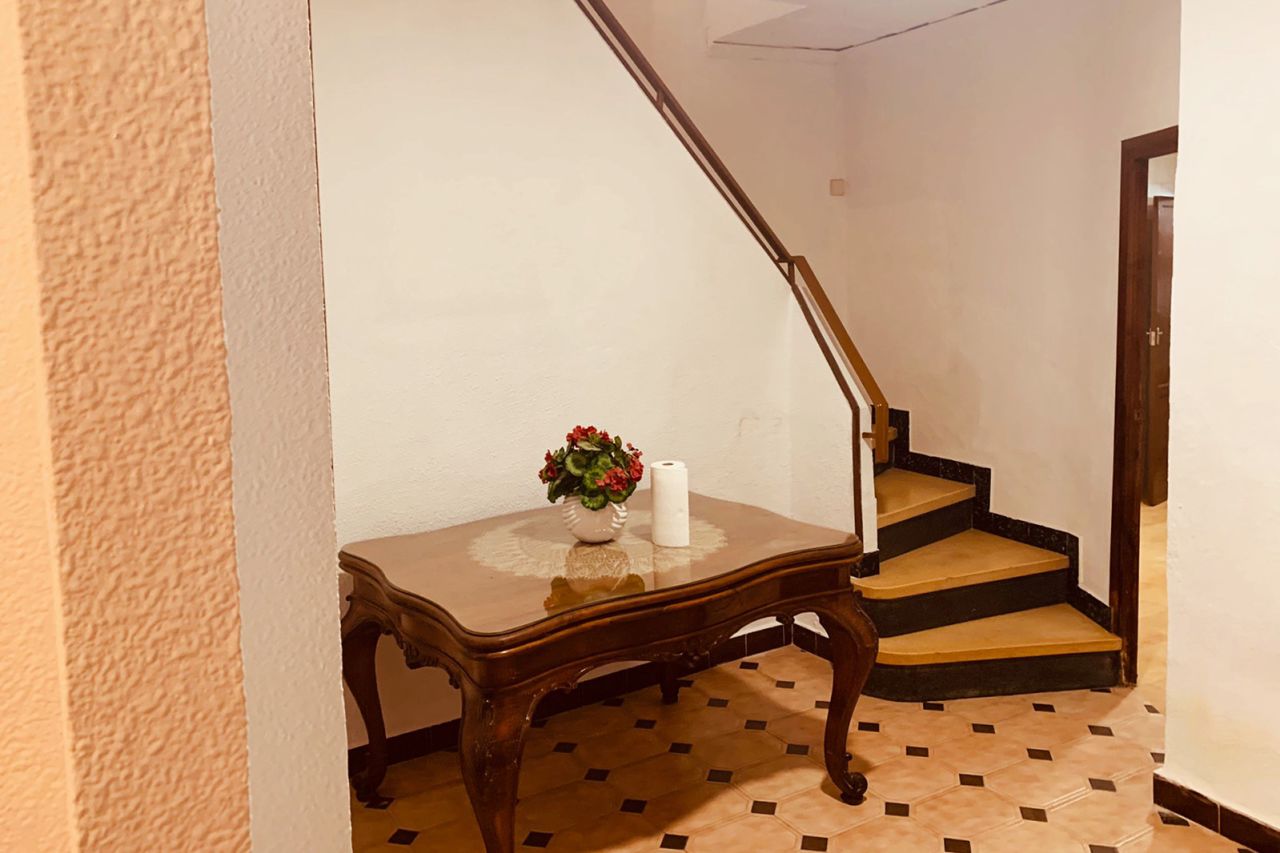 Not only do they have a patio but also a terrace with plenty of potted plants. To indulge their artistic interests, they installed a studio in the attic. Leitz says he loves to paint while Flores makes some colorful ceramics. Their works are displayed throughout the property.
Furnishings are a mix of items shipped from the US and local acquisitions.
"Some things we brought back from California, among them a Persian rug that had been in the family for a long time, some we bought in Ikea, but our best find was a furniture shop that specializes in estate sales," Leitz says enthusiastically. "We bought the most beautiful antique rural Spanish furniture there."
Work to renovate the house took about six months, but that followed the considerable time taken to get building permission from local authorities.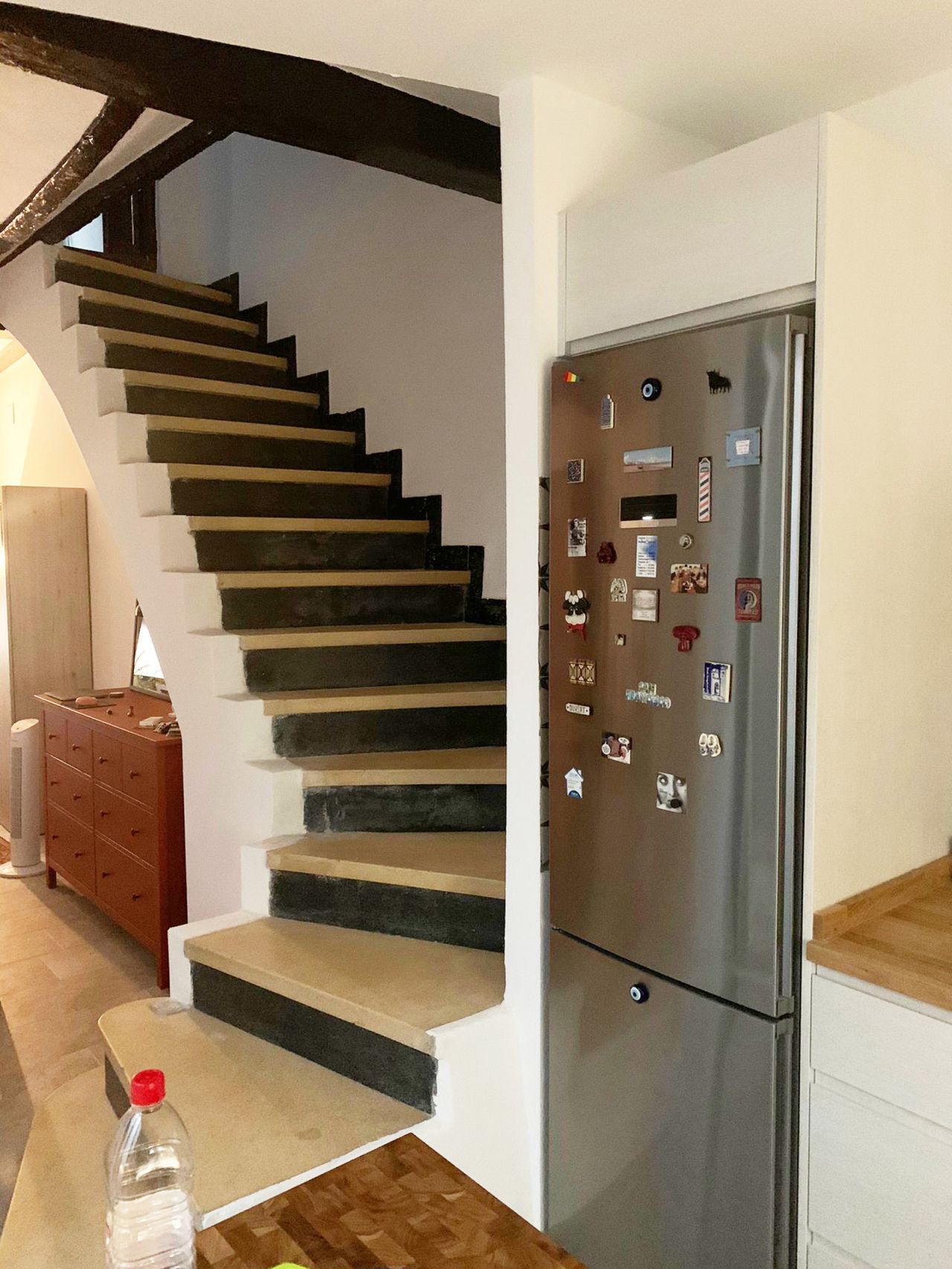 After the architect submitted plans, applications and other paperwork, the couple soon became familiar with the concept of "mañana" – a word that literally means "tomorrow," but in Spain can actually mean any length of time.
"The most difficult part was the long wait for the permit and the red tape," says Flores " But the building work as such took only about six months and went without major problems except to find the best place for the AC units."
With work completed in summer 2022, they've been able to move in and say they are now fully integrated in the community.
They have made many friends, including locals and other foreigners, and say they love how everyone greets each other in the street.
"Even our cat that came from California with us is happy," says Flores.
They've also gotten used to life in a small, sleepy town where everything shuts between 2 p.m. and 5 p.m.
"As we get older, " Leitz says, "the quieter life suits us. We don't need nightclubs and bars although we sometimes miss concerts and theaters. But then, Valencia is not far away."