Netflix's hit royal drama, The Crown, is set to hang up its robe and scepter after 60 episodes later this year, with the release of it's sixth and final series.
The chronological dramatization of the life and reign of Queen Elizabeth II and her family has been the recipient of both praise and the subject of controversy since its debut in 2016, but has proven to be one of Netflix's most successful and talked about original productions to date.
Though no official release date has yet been given, the show's final season is expected to debut before the end of the year. Here, Newsweek looks ahead at what to expect from season six of The Crown.

Where Season Five Left Off
Season five of The Crown ended at a crucial moment in the life of the royal family, in the summer of 1997. Prince Charles and Princess Diana had divorced a year earlier, leaving both free to seriously pursue other romantic relationships.
Charles and Camilla Parker Bowles were embarking on a PR offensive to make their relationship palatable to the public, while Diana was last seen packing for a vacation to the South of France with billionaire businessman, Mohamed al-Fayed, whose son, Dodi, was pursuing a relationship with model, Kelly Fisher.
SIGN UP FOR NEWSWEEK'S DAILY HEADLINES >
Queen Elizabeth was last seen walking the empty halls of the soon-to-be decommissioned Royal Yacht Britannia, while newly elected Prime Minister Tony Blair was preparing to drag the monarchy into the 21st century.

Key Cast and Characters in 'The Crown' Season Six
The key cast members for season six of The Crown remain the same as for season five. From its inception, writer and creator Peter Morgan decided that the principle actors would change after two seasons, eliminating the need to age-up those in the roles.
The actress playing Queen Elizabeth II in season six is Imelda Staunton, known for her roles in the Harry Potter and Downton Abbey franchises. She took over the role from Olivia Colman who left the series after her appearances in seasons three and four, having taken over from Claire Foy.
Prince Philip is played by Johnathan Pryce; Princess Margaret by Lesley Manville; Prince Charles by Dominic West; and Princess Diana by Elizabeth Debicki.
Newcomers to the cast are Ed McVey and Meg Bellamy, who play Prince William and Kate Middleton, as well as Luther Ford, who takes on the role of Prince Harry.

Key Events Coming Up
Diana and Dodi
Early on in season six, Princess Diana's developing relationship with Dodi Fayed will be established. The princess and Fayed became involved after the breakdown in her relationship with heart surgeon Hasnat Khan in July 1997.
When Diana and Dodi became an item he broke off his commitment to American model, Kelly Fisher. The couple's developing relationship was covered in the final episode of season five of The Crown.
In real life, Fisher sued Dodi for breach of promise after stating that the pair had been engaged. Fisher later revealed that Fayed had ended their relationship in a phone call from the South of France on August 7, 1997. Three days later, photographs of Fayed kissing Diana on his father's yacht were published by British newspapers. They were reportedly taken on August 4.
Fisher held a press conference on August 14 about her intended lawsuit wearing a ring stated to have been the one Fayed proposed with. This lawsuit was voluntarily dropped after Fayed's death just two weeks later.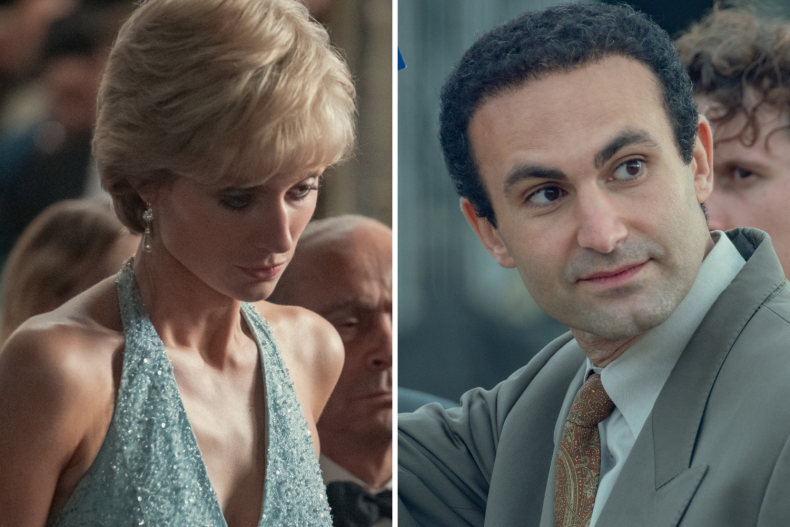 The Death of Princess Diana
In August 2023, The Crown's executive producer, Suzanne Mackie, told the Hollywood Reporter how significant the death of Princess Diana will be in the final season of the show.
"Over three episodes we follow what happens to Diana and the build-up to her death, the final days in Paris," she said. "It's very sad, and it feels very real and vivid [and] I hope very respectful and beautiful."
Diana died in the early hours of August 31, 1997, from injuries sustained when the car she was traveling in at speed through Paris collided with a pillar in an underground tunnel.
Dodi Fayed and the car's driver, Henri Paul, died at the scene. Diana died some hours later in hospital.
The events surrounding Diana's death have inspired a number of persistent conspiracy theories,many of which supported by Fayed's father, Mohamed.
This was despite a jury in a 2008 inquiry held in Britain to determine the cause of the princess' death to be injuries sustained in a car crash attributed to the negligent driving of Paul, the negligent driving of the pursuing paparazzi, Paul being over the legal limit for alcohol while driving, and the fact that the princess wasn't wearing a seatbelt.
Prince William and Kate Middleton's Romance
The tragedy of Diana's death will be followed by the burgeoning relationship of her eldest son, Prince William, with Kate Middleton.
William and Kate met while studying at university. They dated for 10 years before becoming engaged in 2010 and married at Westminster Abbey on April 29, 2011.
Season six of The Crown is expected to end at events in or around 2005, and so the couple's marriage is not expected to be covered on-screen.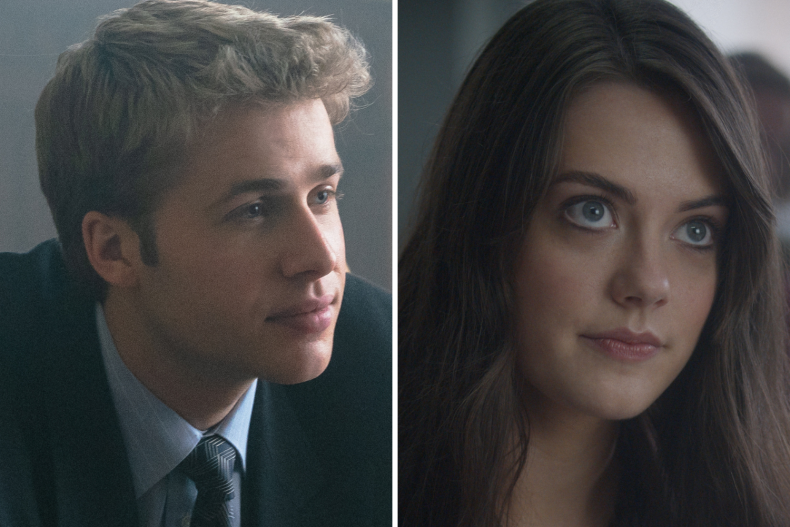 Deaths of The Queen's Closest Confidantes
Two more deaths will feature in The Crown's sixth season, both of which proved to have a great impact on the queen.
The monarch's younger sister and closest confidante, Princess Margaret, died aged 71 following a series of health issues in February 2002. This was followed just weeks later by the death of her mother, aged 101, in March.
With her mother's death, Elizabeth entered a new phase of her reign as the true matriarch of the royal family.

Operation PB
A core storyline of The Crown's sixth season will be Prince Charles' developing relationship with Camilla Parker Bowles and how the public's perception of this was impacted by the death of Princess Diana.
The PR process for getting the public and the queen's approval for the relationship was nicknamed by a royal aide "Operation PB" (for Parker Bowles), and the queen's approval for the relationship was reportedly hard won.
Charles and Camilla finally announced their engagement in February 2005, and were married two months later in Windsor.
Queen Elizabeth did not attend the legal marriage, which took place in a registry office, but did attend a blessing ceremony for the union held at St. George's Chapel.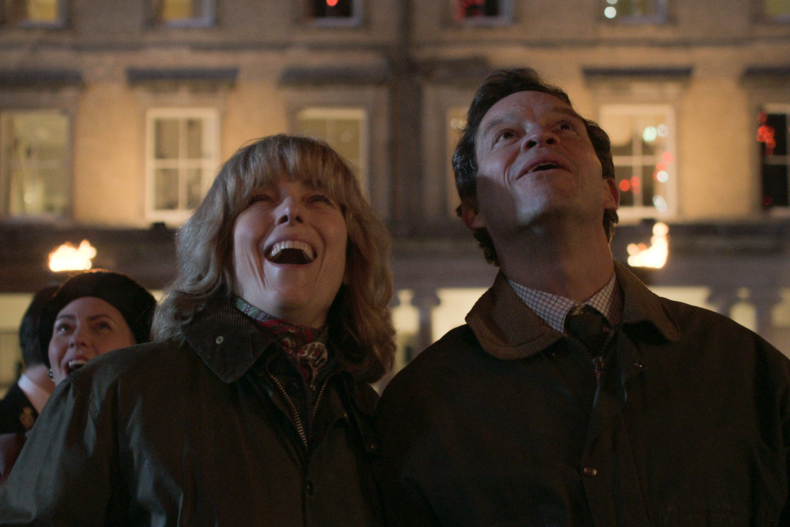 Tribute to Three Queens
Exactly how The Crown will end is not yet known. However, reports suggest that Foy and Colman will return for cameo performances in tribute to the queen who died at the age of 96 in September, 2022.
Speaking to the Hollywood Reporter, executive producer Mackie, said: "I don't want to spoil the very end, but it's really beautiful and, I think, quite profound, and it feels like a culmination of a very long journey. Talking about our other queens, it feels like it honors that, and you'll understand that when you see it."
James Crawford-Smith is Newsweek's royal reporter based in London. You can find him on Twitterat @jrcrawfordsmith and read his stories on Newsweek's The Royals Facebook page.
Do you have a question about King Charles III, William and Kate, Meghan and Harry, or their family that you would like our experienced royal correspondents to answer? Email royals@newsweek.com. We'd love to hear from you.