Terry Sanderson, 76, says the Hollywood actress caused the crash. He is seeking damages of $300,000 (£244,000).
Ms Paltrow, 50, has countersued. She testified that he collided with her and left her feeling "hurt and violated".
Lawyers for Mr Sanderson say Ms Paltrow was distracted by her children on the slope, and fled the crash.
According to his civil lawsuit, Mr Sanderson suffered a lasting brain injury and four fractured ribs.
Ms Paltrow testified in court on Friday, day four of the trial, that the crash left her with a sore knee and she got a massage afterwards.
"There was a body pressing against me and a very strange grunting noise," she said, describing how Mr Sanderson, a retired eye doctor, allegedly crashed into her from behind on a beginners' slope at Deer Valley in February 2016.
"Is this a practical joke. Is someone doing something perverted?" she told the court she recalled thinking in that moment.
"He was groaning and grunting in a very disturbing way," she added.
They fell on the ground together, and were almost "spooning", she said.
She later clarified that she was not accusing Mr Sanderson of sexual assault.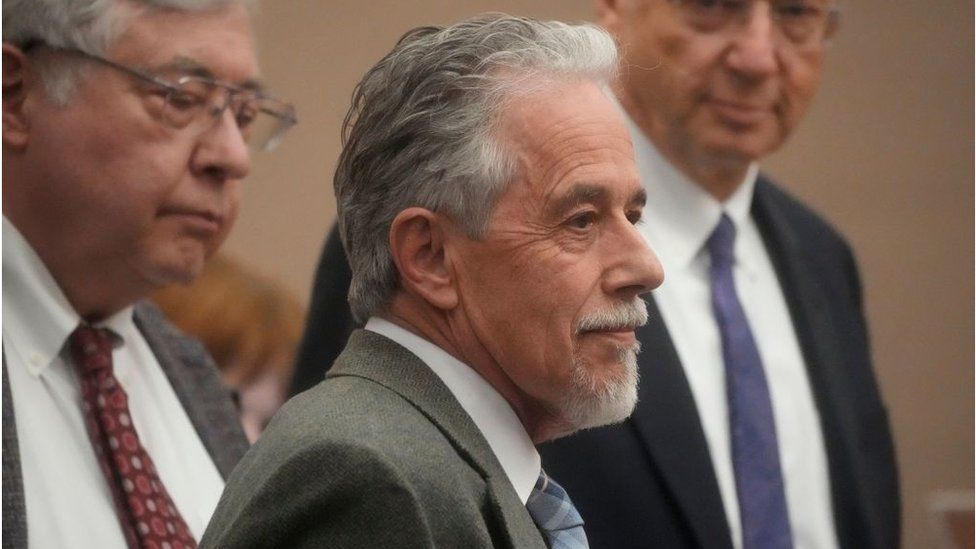 The Oscar winner also apologised for screaming a profanity at him after the crash.
"After an incident like that when you feel hurt and violated, unfortunately adrenaline can take over, and emotion as well," she said, explaining her anger at the time.
Lawyers for Mr Sanderson asked if she remembered her nine-year-old son, Moses, shouting "mommy, mommy, watch me." She said she did not recall that.
The Goop lifestyle brand founder also denied her children had been a distraction as she skied at the upmarket Park City resort.
"I was skiing and looking downhill as you do," she said. "And I was skied directly into by Mr Sanderson."
Mr Sanderon's legal team sought to undermine her credibility, suggesting it was misleading to say she was suing for a symbolic $1 when she is also seeking reimbursement of legal fees, which could amount to hundreds of thousands of dollars.
Throughout her testimony Ms Paltrow remained calm, sipping regularly on water, and even complimenting the shoes of the plaintiff's lawyer during cross-examination.
On Thursday, a doctor testified that Mr Sanderson had previously been a "high-energy person", but "deteriorated abruptly" after the crash.
On Friday, his daughter Shae Herath took the stand to tell the court: "This is not my dad. This is an alternate version of my dad."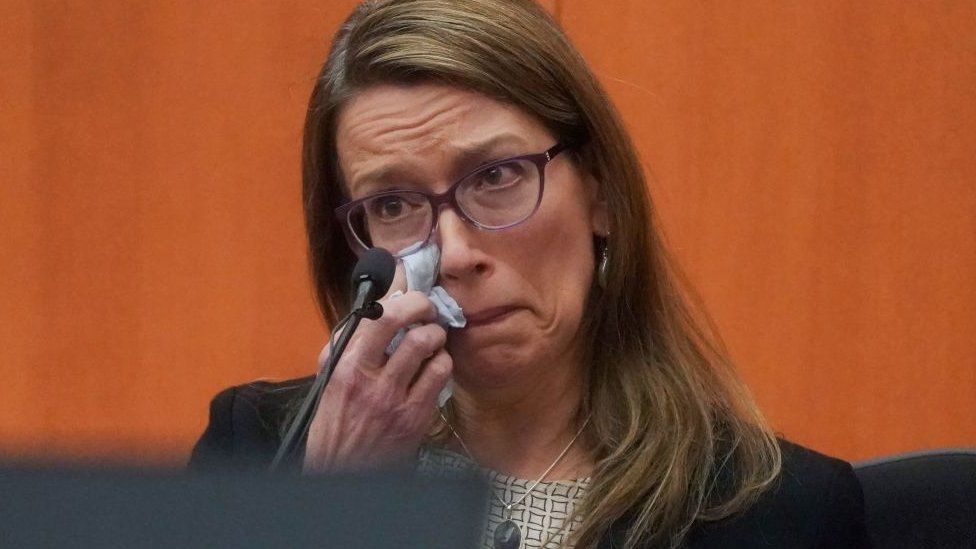 Lawyers for Mr Sanderson on Friday grilled Ms Paltrow on why she did not personally inquire if he was OK.
She said she was too angry about the crash to do so herself, but her ski instructor had checked on Mr Sanderson. Mr Sanderson, she said, had mumbled that he was OK.
"I did not cause the accident, so I cannot be at fault for anything that subsequently happened to him," Ms Paltrow said.
The day's skiing - including lessons for her, her now-husband, Brad Falchuk, and four children - cost over $9,000, lawyers for Mr Sanderson noted.
Ms Paltrow's lawyers argue Mr Sanderson is to blame for the accident and that he had several medical conditions before the collision, including vision and hearing loss from a stroke; a brain disorder that caused excessive fluid build-up; and occasional depression.
The trial, before a jury of eight people, will continue on Monday.
This case hinges on skiing etiquette with both parties claiming that they were the downhill skier and therefore had right of way.