People magazine confirmed the star of films such as Collateral and Ray was in a Georgia hospital undergoing tests.
Last week, his daughter Corinne Foxx said in a statement that her father had "experienced a medical complication".
"Luckily, due to quick action and great care, he is already on his way to recovery," she added.
The statement was published on Instagram on behalf of the Foxx family.
It continued: "We know how beloved he is and appreciate your prayers. The family asks for privacy during this time."
The family did not share details about what caused the health issue.
But People confirmed the incident did not happen while Foxx was on set, and he was not taken to hospital by an emergency vehicle.
"They are running tests and still trying to figure out what exactly happened," a source told CNN.
Foxx has been in Atlanta filming his upcoming Netflix movie Back in Action, alongside Cameron Diaz and Glenn Close.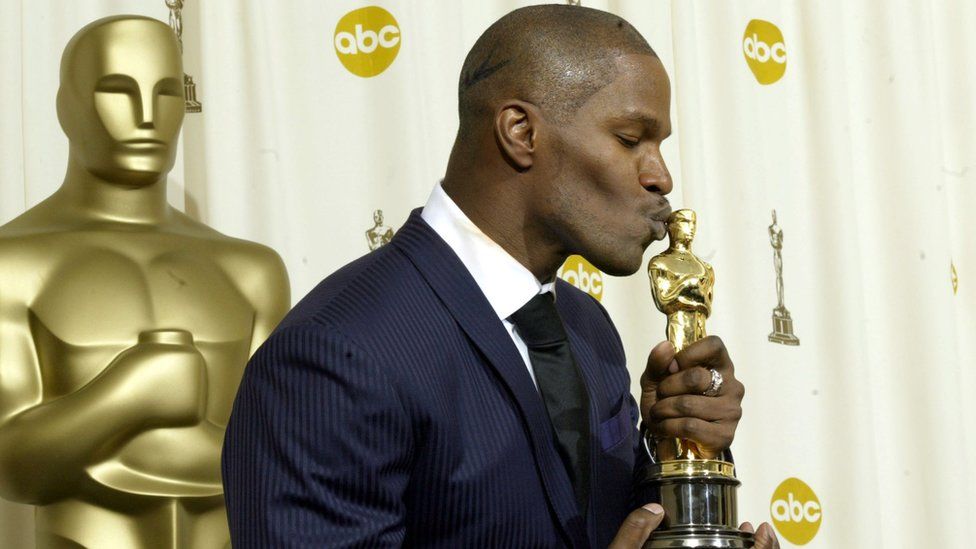 The star won an Oscar best actor for playing musician Ray Charles in Ray in 2005. He was also nominated for best supporting actor the same year for his role in Collateral.
His other films include Baby Driver, Annie and The Amazing Spider-Man 2.
In 2017, Foxx revealed an intervention from US talk show queen Oprah Winfrey helped him get his life back on track.
The actor told DJ Howard Stern that Winfrey had rebuked his "gallivanting" and had told him he was "blowing it".
Winfrey, Foxx went on, also arranged a meeting with Sidney Poitier "to make me understand the significance" of being nominated for an Academy Award.
Foxx said the meeting had taken place on Poitier's birthday - 20 February - and had made him realise his nomination was "way bigger" than he had originally thought.
"To this day, it's the most significant time in my life where it was, like, a chance to grow up," he added.