US defence officials said they believed the balloon, seen above sensitive areas in recent days, was in fact a "high-altitude surveillance" device.
But in a statement, China's foreign ministry said it was used for "mainly meteorological" purposes.
China "regrets the unintended entry" of the balloon into US airspace, it added.
The object flew over Alaska's Aleutian Islands and through Canada before appearing over the city of Billings in Montana on Wednesday, according to officials.
Montana is home to some of the US's nuclear missile silos.
The US decided not to shoot down the balloon because of the danger posed by falling debris, and the limited use of any intelligence the device could gather, a US defence official said.
However, the government prepared fighter jets in case the object had to be shot down.
The Chinese statement said the balloon had been blown off-course by unexpected winds.
"Affected by the Westerlies and with limited self-steering capability, the airship deviated far from its planned course.
"The Chinese side regrets the unintended entry of the airship into US airspace due to force majeure."
The statement referred to the incident as an "unexpected situation" and said Beijing would continue to communicate with the US side.
On Friday, Canada said it had summoned China's ambassador over the incident and will continue to "vigorously express" its position to Chinese officials.
The balloon has been reported in US media as being about the size of three buses.
During Thursday's briefing at the Pentagon, US defence officials declined to disclose the aircraft's current location and did not give information on where it was launched from.
They added that the balloon was "appearing to hang out for a longer period of time" than others tracked by the US over the past several years.
The unfamiliar sight caused confusion as the balloon hovered above Montana, with some people posting images of the pale round object high above the Earth's surface.
Billings office worker Chase Doak told the Associated Press news agency that he noticed the "big white circle in the sky" and went home to get a better camera.
"I thought maybe it was a legitimate UFO," he said. "So I wanted to make sure I documented it and took as many photos as I could."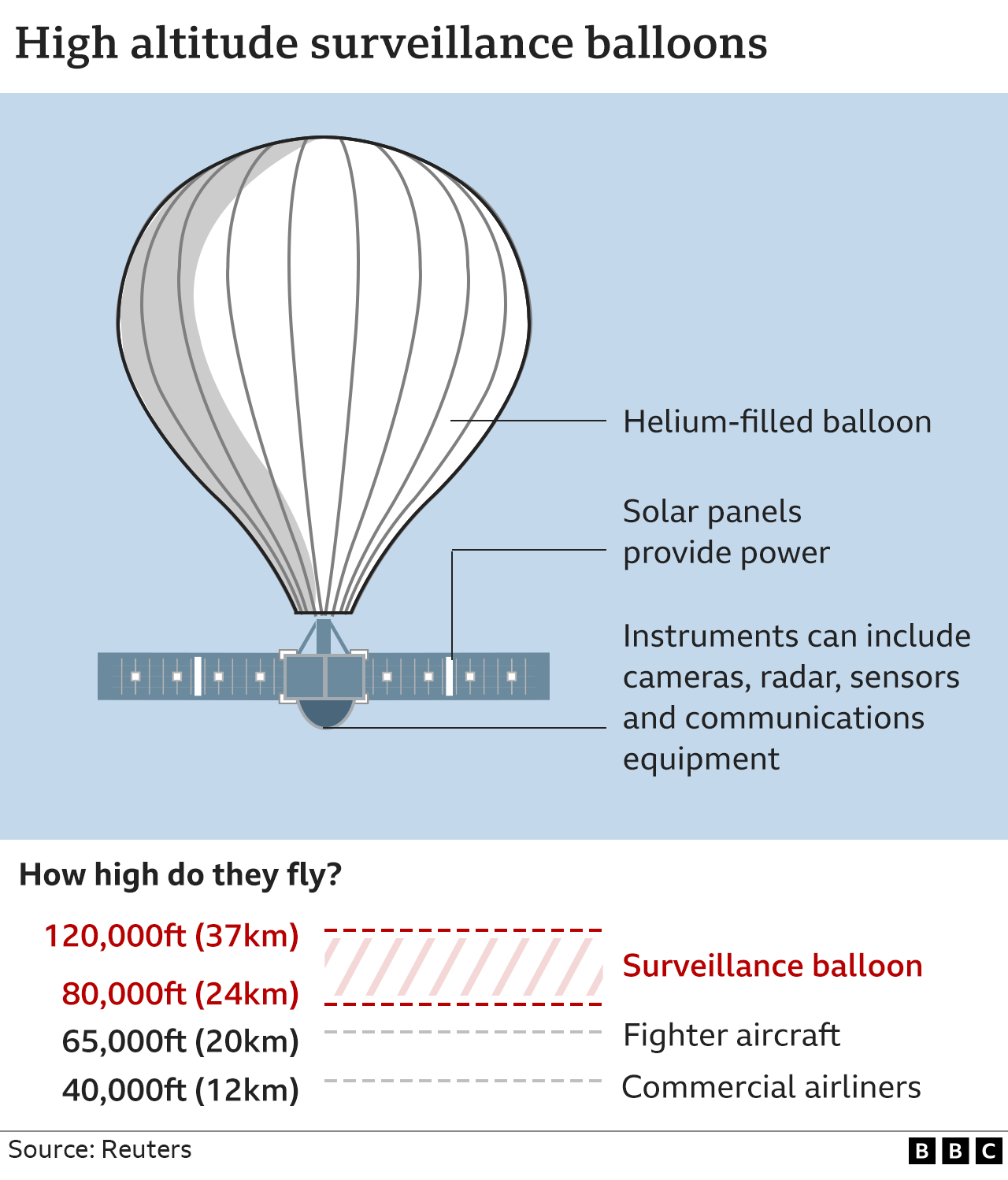 China initially warned against "conjectures and hyping up the issue" while it worked to "verify" the reports of the balloon, with state media outlet the Global Times accusing the US of aggravating tensions between the two countries.
Despite China's explanation, the incident is likely to increase tensions ahead of US Secretary of State Antony Blinken's visit to China next week. It will be the first visit to the country by a Biden administration cabinet secretary.
The top US diplomat will be in Beijing to hold talks on a wide range of issues, including security, Taiwan and Covid-19.