Iran and Russia have established direct links between their countries' banks, strengthening ties between the heavily sanctioned nations as the war in Ukraine continues.
Iranian media reported on Sunday that direct financial communication channels had been set up between banks in the Islamic Republic and more than 800 financial institutions in Russia.
Deputy Governor of the Central Bank of Iran (CBI) Mohsen Karam said that Iranian banks can "exchange standard banking messages with the Russian banks" after the countries signed a memo of understanding, Fars News reported.
Iranian officials and state-affiliated media outlets have reported the agreement as a way circumvent Western sanctions on Iran and Russia and compared it to the SWIFT messaging system that Moscow was kicked out of following Putin's invasion.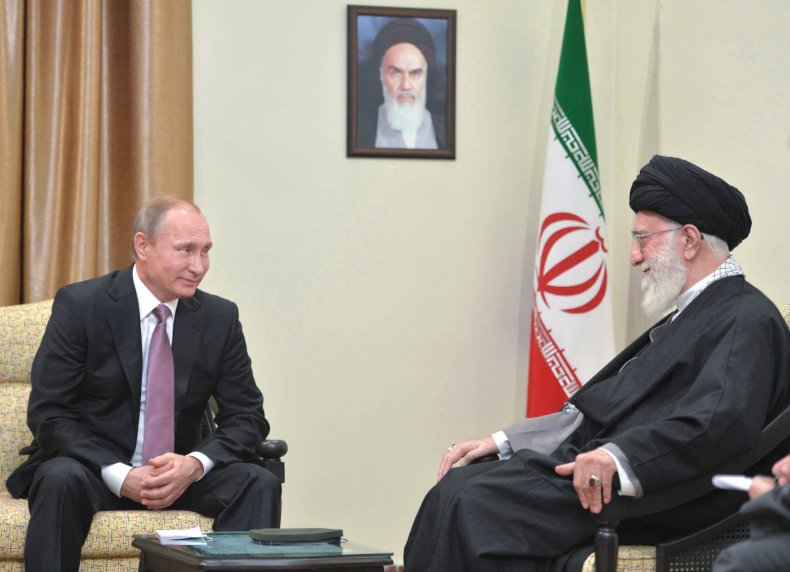 An assessment published by the Critical Threats Project in September also reported "direct financial communication channels" between Iranian and Russian banks.
The Russian economy has been hit hard by sanctions since Vladimir Putin's invasion of Ukraine. But Moscow is boosting its cooperation with Tehran, which is well used to dealing with trade restrictions, due to concerns over its nuclear program.
Iranian-made Shahed-136 loitering munitions, also known as "kamikaze drones," have played a key role in Russian air attacks on civilian and energy infrastructure in Ukraine. Iran is also reportedly providing Russia with advanced precision guided missiles.
Away from the military sphere, economic relations are also strengthening. In December, Iran's ambassador to Russia, Kazem Jalali, said the countries were looking to work together to make cars, and that Iran's two biggest auto makers, Iran Khodro and Saipa, were both involved in the talks.
Meanwhile, the National Iranian Oil Company (NIOC) and Russian energy giant Gazprom signed a memorandum of understanding in July to develop oil and gas fields in Iran and to work on a liquefied natural gas (LNG) project.
The countries have "continued efforts to deepen economic ties," the Institute for the Study of War (ISW) said on Monday. This reiterated its analysis published on January 23 in which it said that closer financial and military ties between Tehran and Moscow were "in an effort to engage in mutually beneficial sanctions evasion."
That same day, Russian Duma Chairman Vyacheslav Volodin met with Iranian Parliamentary Speaker Mohammad Bagher Ghalibaf and Iranian President Ebrahim Raisi in Tehran. Ghalibaf said Moscow and Tehran should strengthen ties in the banking, energy and commodity-trading sectors in the face of U.S. sanctions.
Moscow and Tehran have always collaborated significantly, economically and militarily, but the war in Ukraine "is what has brought them closer to each other," said Saeed Bagheri, a lecturer in international law at the University of Reading, in England.
"Iran was tested by hefty economic sanctions for years. In the same way, Russia is now tasting the Western sanctions, which is in a way a common pain and so impelled them to expand economic cooperation as much as possible," he told Newsweek.
"Perhaps the most fundamental question that remains is whether Iran and Russia will continue this expansion of cooperation if the imposed sanctions against each of them are lifted."
However, Bagheri said that Iran doesn't keep the door of diplomacy open in the same way that Russia does, even in a time of crisis and this is "what will reduce the flexibility of cooperation," between the countries.