The World Cup is still in its relative infancy, but it will take some doing between now and the final match to eclipse the performance Cristiano Ronaldo delivered against Spain in the opening match of the tournament which will most likely be his final appearance at football's top table.
Ronaldo, who will be 34 on his next birthday, is at an age where his skills are supposed to be declining, but judging by the evidence in Sochi on Friday evening, this man is no mere mortal. On the back of another 40+ goal season (his eighth in succession, by the way), Ronaldo didn't miss a beat against the Spaniards, tormenting the opposition with the type of display which can really only be delivered by a true artisan of the game.
Portugal had three efforts on goal, each of them from the boot of Ronaldo, and each resulted in David De Gea's net rippling amid a collective Spanish sigh.
The first, a penalty won and converted by Ronaldo following a clumsy challenge courtesy of his Real Madrid colleague Nacho, was one of the tournament's first true talking points. Was there contact? Did Ronaldo embellish his tumble to the Russian turf? Either way, the Portuguese captain held his nerve, sending his side into the lead.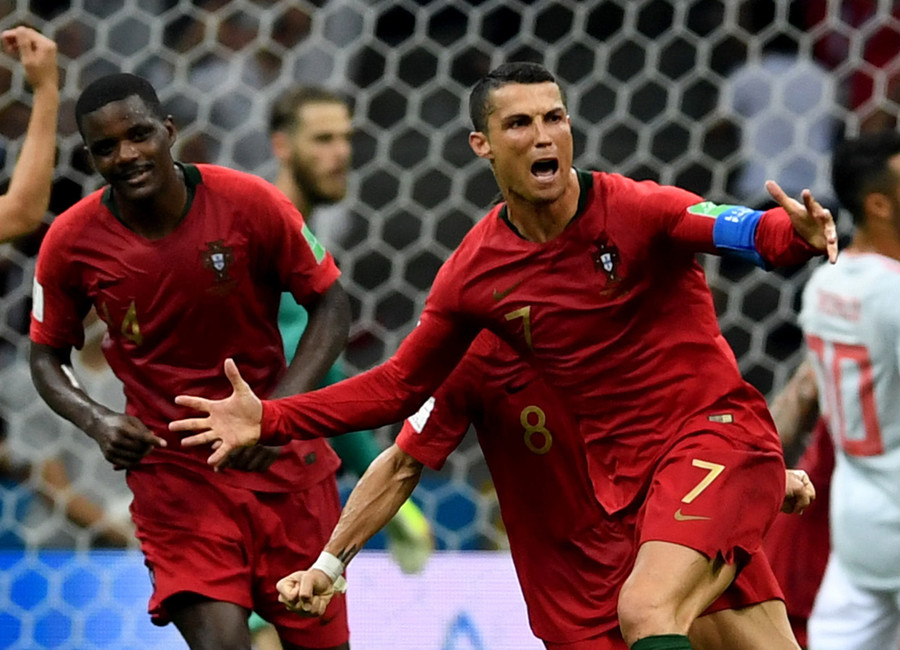 The second – eerily reminiscent of the Loris Karius' blunder in the Champions League Final against Ronaldo's Real Madrid – was an anomaly for the usually uber-reliable Manchester United shot-stopper, David De Gea, as he allowed CR7's low drive to slip past his grasp.
READ MORE: 'There are players for special matches. He is a great example': Mourinho on hat-trick hero Ronaldo
The third? Well, that was pure magic. With his side 3-2 down in the final minutes of the match, Ronaldo stood over a dead ball, pulling his shorts high on his right thigh as if to provide himself with as much torque as possible. Choosing to use his instep instead of his usual 'laces' technique, Ronaldo guided the ball into De Gea's top left corner, rescuing a valuable point for his team in the battle of the Group B heavyweights.
A lot more is to be revealed between now and the World Cup's conclusion, but for now, in the early days of Russia 2018, the main talking points center around the Portuguese ace.