COMMENT
I don't think that Kate, Princess of Wales has ever been to Basingstoke but should she want to, there's a two-bedroom apartment with ensuite, close to a railway station, and with some lovely Formica built-ins that she might consider buying.
Not mind you, because she might have any desire to move out of the historic estate she currently calls home on the Windsor estate, but because Casa Basingstoke costs the same as the amount ($337,218.50 precisely) that the Princess spent on new clothes and accessories in the past year.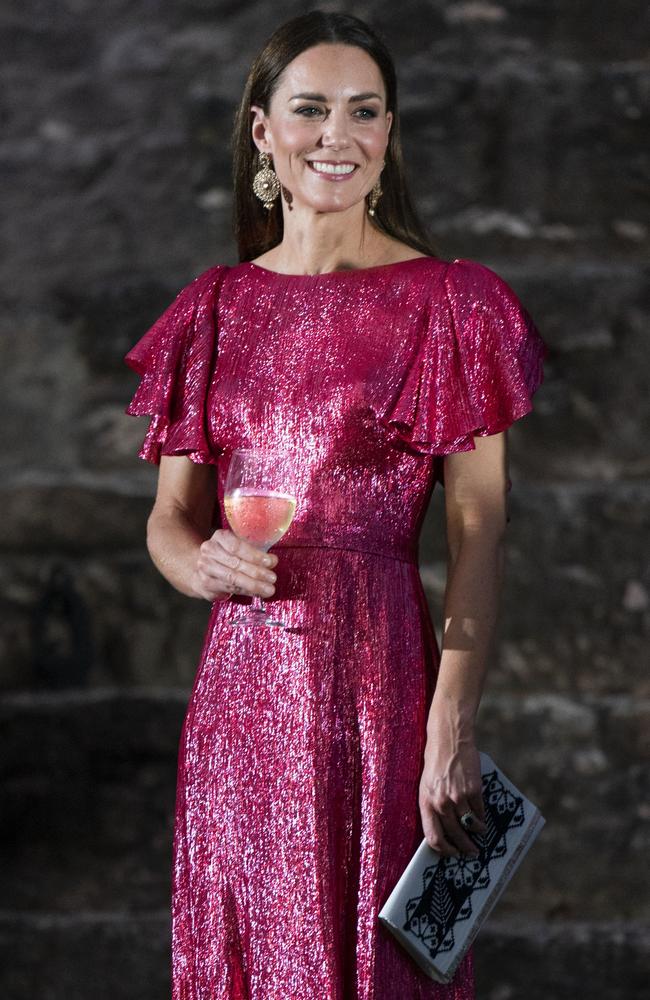 This week the brave souls at royal fashion site UFO No More (a site dedicated to unmasking 'unidentified fashion objects' worn by European royalty) put out their annual list of the value of new pieces debuted by 19 titled women of Europe, based on the 1359 identified pieces.
Don't even consider reading these numbers if you have recently received your Christmas credit card bill.
By far and away the biggest splasher of regal cash was Princess Charlene of Monacowho somehow managed to spend $1.14 million on designer stuff and yet never once cracked a smile. (The former Olympian is living proof that money can't buy happiness.)
Kate comes in at the comparatively demure spot of third, behind Charlene and It Girl Princess Olympia of Greece, the granddaughter of the exiled King Constantine of Greece. But the issue isn't the amount the Princess of Wales has racked up on her Amex Rhodium (I'm guessing) but the extent that her yearly clothing bill has shot up.
In 2020 she spent $134,636 and in 2021 $159,339, even though the UK was in lockdown for parts of both years, only for that figure to rocket up past the $300,000 mark in the last 12 months.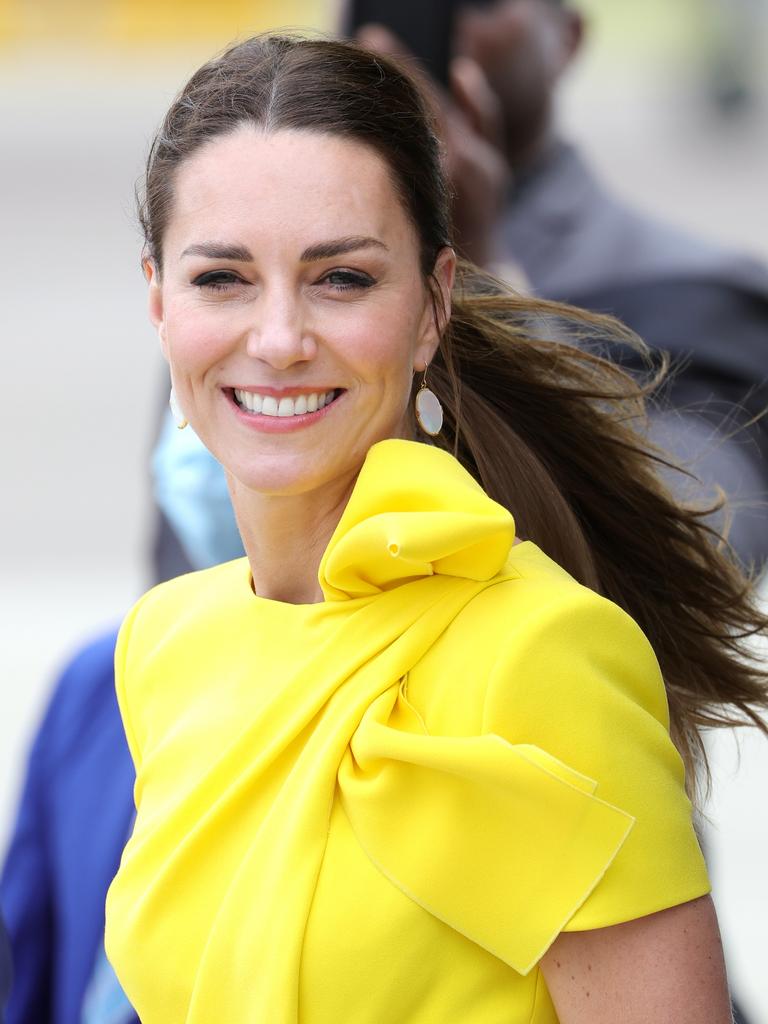 To be fair, it was a stonkingly, historically momentous year that required Kate to roll out a series of frocks and outfits for such occasions as Prince Philip's memorial service, the four days of the late Queen's Platinum's Jubilee celebration and then, oh-so-sadly, to prove she has sublime taste in black in September.
None of these were occasions when she would have earned the praise of hard-nosed commentators or fashionerati for rolling up in a recycled Zara number and a cheapie pair of high-street earrings. (There is a time and place for a well-deployed polyester bargain and State occasions are not it.)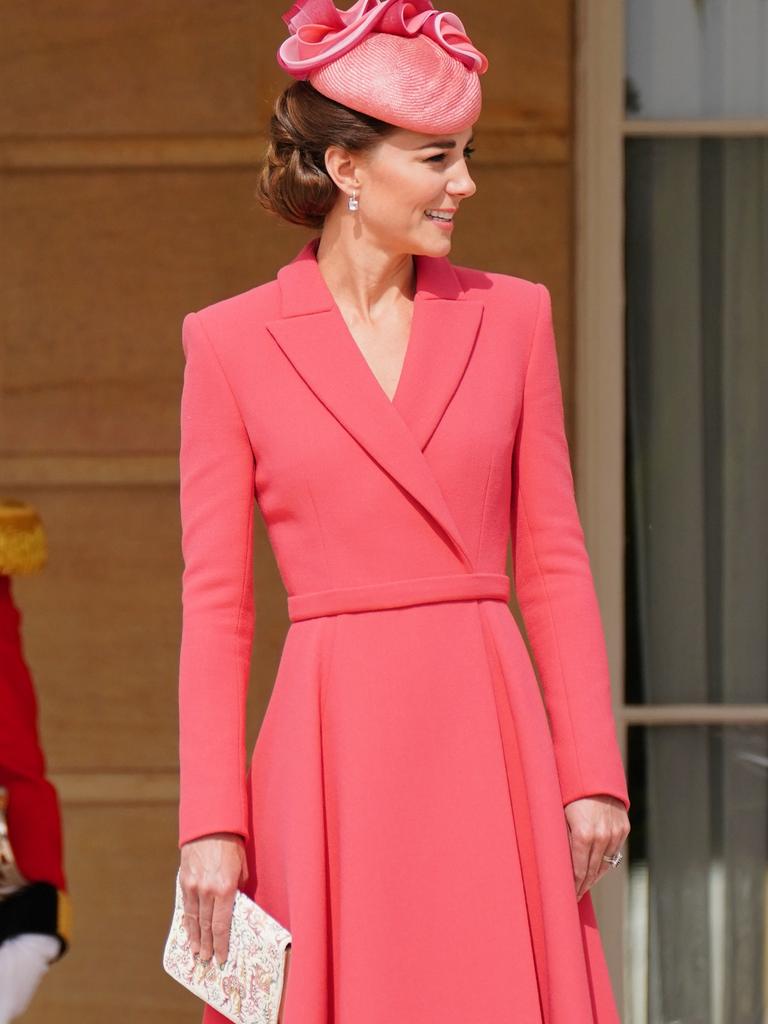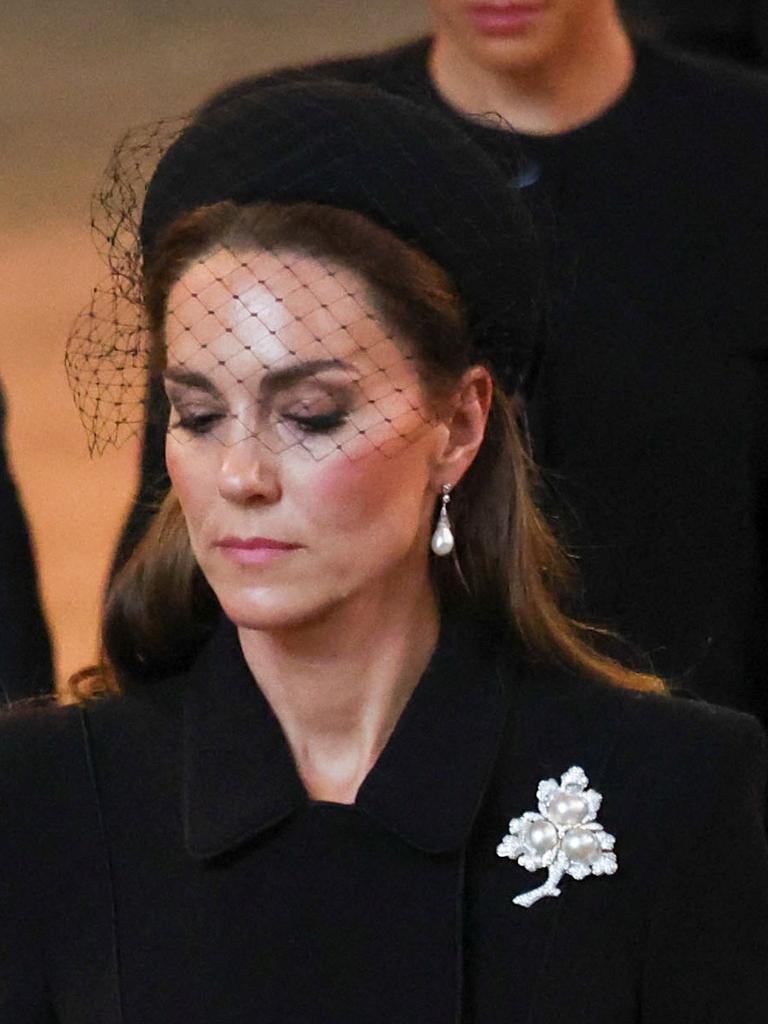 However, the events of 2022 don't quite explain the Princess' sartorial excesses.
It's not as if she worked that much more. In 2020 she undertook 108 engagements, in 2021, that figure was 123 and last year, 138. And yet over the course of that same period of time, the number of new things she has worn has risen from 134 in 2020 to 204 in 2022.
So too has the average cost per item increased over those three years, from $1171 per item to $2007 per item.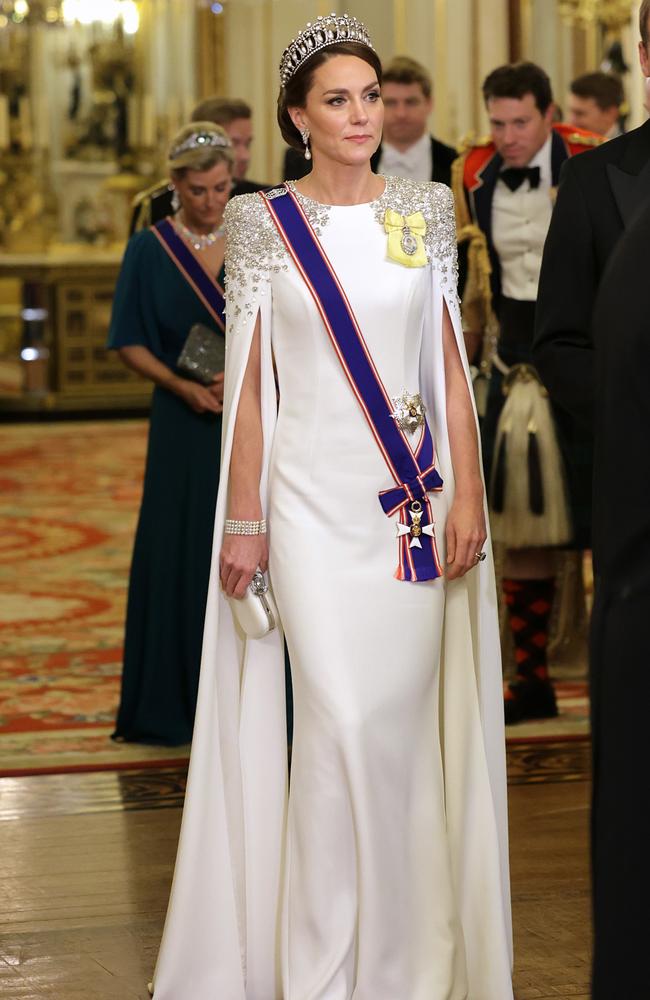 The $53 billion-dollar problem here, literally, is the amount the British economy tumbled in October thanks to blink and you will miss her Prime Minister Liz Truss' budgetary moves. Coming on top of the war in Ukraine's dramatic impact on heating costs and the world's post-Covid inflation woes, things in the UK are looking about as fetching right now as the Queen Mother's teeth.
In December, it was reported that the UK's National Health Service is a "breaking point" with more than seven million people waiting for routine treatment – more than the total population of Denmark. In early January, it was revealed that emergency department delays could be causing up to 500 deaths per week.
Nearly 10 million adults and four million children were being forced to skip meals or go hungry, according to data from October, while millions are unable to pay power bills.
More than 3500 'warm banks' have been set up by councils and charities – places where people can access free heating as the cost-of-energy crisis deepens, including one inside London's Royal Opera House.
Against this backdrop of the UK teetering on some sort of new and horrible brink, Kate merrily spending the equivalent of nearly six full-time NHS nurses' annual wages on Lovely Pretty Things is just asking for rabble-rousing trouble.


I get it, Kate is in a seriously tricky spot.
Essentially this quandary comes down to the inherent, largely unsolvable tension between the Every Mum persona Kate has spent years carefully cultivating via what must be hundreds of engagements involving children and her Early Years Foundation work, all hugs and finger painting, and the fact she is member of an institution that is synonymous with extreme, unearned privilege.
There is the high degree of expectation that comes with her recently elevated position of Princess of Wales aka Queen-in-waiting that means that she has to look bloody good, at all times, an obligation she can't meet by simply popping down to Whistles on the reg. The British people want their royal family to have a bit of the sort of magic you just can't get from mid-priced Tencel.
However, nor can the House of Windsor flash the cash, despite King Charles being personally worth about $650 million (well, that's how much his mother was worth) and Kate and husband Prince William now getting to spend the $37 million in annual profits from the Duchy of Cornwall. It's a nearly impossible tightrope they are expected to walk.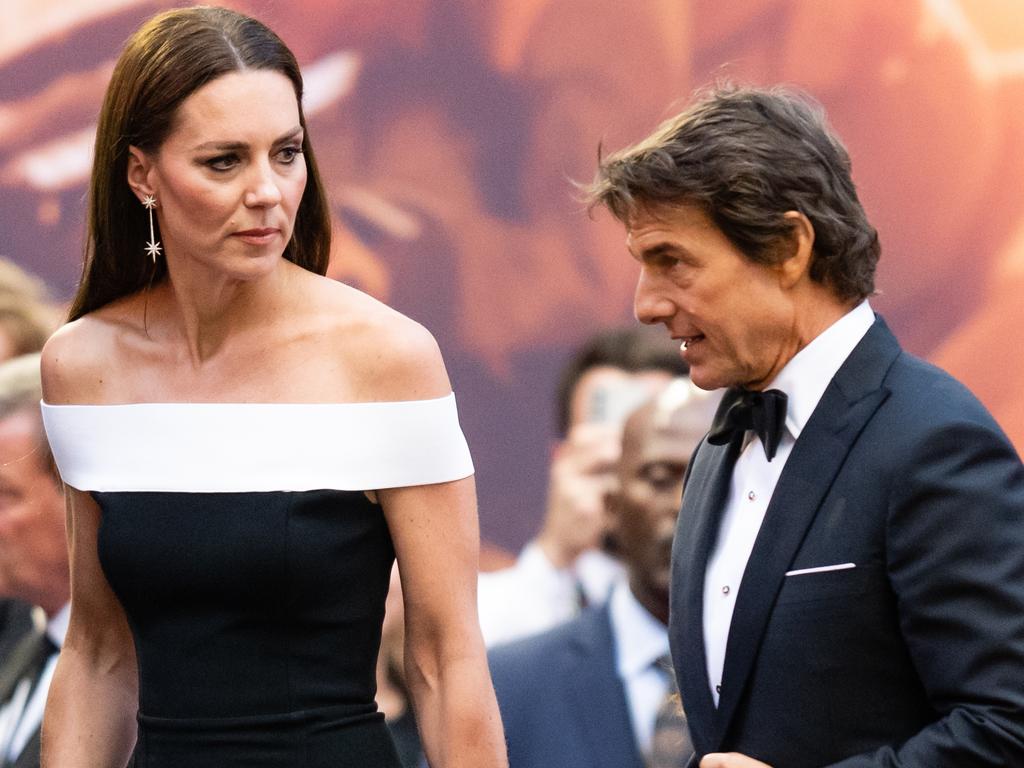 So how to reconcile these two opposing forces along with the added requirement of looking vaguely in touch with what the vast majority of the country is currently going through?
That's something that the late Queen managed to do with her penchant for $50 bar heaters and the legacy of her wartime thriftiness, but with her passing we now have a King who loves skiing in Switzerland and hand-stitched Savile Row shirts.
Still, at least he's trying. In his first Christmas speech as King he acknowledged the current mess, talking about "this time of great anxiety and hardship" including "for those at home finding ways to pay their bills and keep their families fed and warm".
In December, it was revealed that the King had made a "substantial personal donation" along with a grant from The Prince of Wales' Charitable Fund to help buy hundreds of fridges and freezers for food banks and that money donated in memory of Queen Elizabeth was being given to a fuel bill charity.
Is it enough? I don't think so, but it's something at least – a well-intentioned gesture – which is much more than can be said for William and Kate, despite their personal finances having taken a stratospheric leap after assuming control of the $1.7 billion Duchy.
In December, Kate attended the second Earthshot Prize in Boston wearing a rented dress – why not keep doing this? Or, why not make some sort of commitment to not buying anything new for 12 months a la the 'green carpet challenge' started by Livia Firth more than a decade ago?
Or the Princess could just say nothing at all and quietly go about only wearing pieces she already owns and thus making a powerful point about sustainability to boot.
The one thing that Kate can't keep doing is spending while London burns, or more accurately, freezes. If she has any doubts, she just needs to Google Marie-Antoinette – just imagine how many maisonettes in Acton she could have afforded.
Daniela Elser is a writer and a royal commentator with more than 15 years' experience working with a number of Australia's leading media titles.