But when the Duke and Duchess of Sussex stepped out of the car at the Great West Door of St Paul's Cathedral they were back in the full glare of the royal spotlight.
Unsurprisingly they looked slightly nervous. They held hands tightly. Meghan straightened out the collar of her Dior coat.
They chatted to one another but you could sense their caution.
Huge crowds had gathered outside St Paul's Cathedral for Friday's Platinum Jubilee Service of Thanksgiving. Most of them dedicated supporters of the Royal Family.
Would they welcome the return of Prince Harry and Meghan?

---
As the couple climbed the steps, the crowds clapped and cheered. It was a warm, spontaneous response to the couple making their first appearance together at a royal engagement since 2020.
That event was the Commonwealth Service at Westminster Abbey held that March.
Then the mood was far darker. The friction within the Royal Family was played out in front of the cameras for everyone to pick apart, with Prince William and Prince Harry barely exchanging a glance even though they were sat near each other.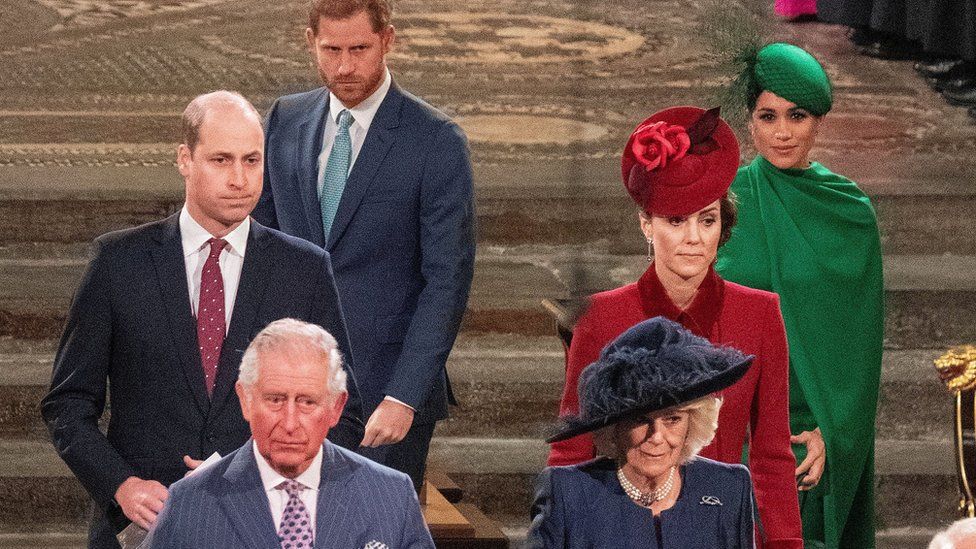 The choreography of royal events is always careful and precise and Friday was no exception.
Prince Harry and Meghan were seated on the opposite side of the aisle to the Duke and Duchess of Cambridge avoiding any awkward visuals.
They sat alongside Princess Eugenie and her husband Jack Brooksbank on one side. The couples are close. Eugenie and Jack with their young son had visited the Sussexes in California back in February.
On the other side of them was Lady Sarah Chatto - the daughter of Princess Margaret and the Queen's much-loved niece. A calm and comforting presence. This was a safe seating plan.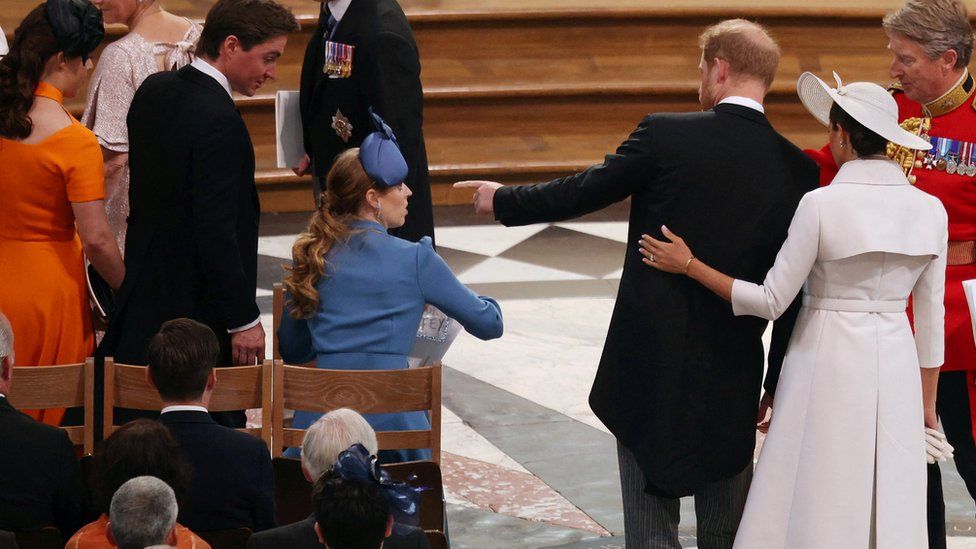 When the couple left the cathedral, there was the odd boo from the crowd but it sat amongst plenty of cheering. There was no real hostility.
Amid the pomp, ceremony, party and reflection this weekend, the Platinum Jubilee is also about family with all its flaws and tensions.
The Queen had to watch from home but she had previously made it clear that, whatever the problems and history, her grandson, Prince Harry and his wife, Meghan, were very welcome at the Jubilee celebrations.
The first public hurdle of Harry and Meghan's brief return to royal duty has been successfully navigated.