Prince Harry has made explosive new claims about his infamous crisis meeting with the Royal Family, accusing his brother of "screaming and shouting" at him as the group discussed a plan for his exit from duties.
In early 2020, just days after he and Meghan Markle sensationally released a statement announcing their intention to seek financial independence and live outside of the UK, an emergency conference was arranged between Harry, the Queen, Prince Charles and Prince William, which was dubbed the "Sandringham Summit".
The whole world was watching on, but the exact details of what went on behind closed doors have never been revealed by the royals who were in the room... until now.
In episode five of his new Netflix docu-series, Harry spoke bluntly of the incredibly tense family meeting, which took place at the royal estate at which he'd once had "such happy memories".
"I went in with the same proposal that we'd already made publicly, but once we got there, I was given five options: one being, all in, no change; five being, all out. I chose option three in the meeting, half in, half out. Have our own jobs, but also work in support of the Queen. But it became very clear very quickly that that goal was not up for discussion or debate," Harry revealed.


"It was very terrifying to have my brother (Prince William) scream and shout at me, and my father (then-Prince Charles) say things that just simply weren't true – and my grandmother, quietly sit there and sort of take it all in.
"But you have to understand that from the family's perspective, especially hers, there are ways of doing things and her ultimate mission, goal, slash responsibility, is the institution."
Harry also hinted that the late Queen was heavily reliant on the advice of those around her.
"People around her are telling her, 'By the way, that proposal, or these two doing X, Y, Z, is going to be seen as an attack on the institution' – then she's going to go on the advice that she's given."
Harry's stunning accusation about joint statement with William
The shocking new details about Harry's showdown with his family are far from the only jaw-dropping revelations in the second half of the Meghan & Harry docu-series.
The Duke of Sussex also sensationally accused Kensington Palace – specifically, his brother's press team – of releasing a statement co-signed by him without his knowledge or consent.
"Once I got in the car, after the (Sandringham) meeting, I was told about a joint statement that had been put out in my name and my brother's name, squashing the story about him bullying us out of the family."
He was referring to a newspaper article published at the time which alleged that William had "bullied" Harry and Meghan, which had seen them "pushed away" from the Royal Family.
The statement of denial, released on January 13, read: "Despite clear denials, a false story ran in a UK newspaper today speculating about the relationship between the Duke of Sussex and the Duke of Cambridge.
"For brothers who care so deeply about the issues surrounding mental health, the use of inflammatory language in this way is offensive and potentially harmful."
Harry admitted he "couldn't believe it" when he read the statement, which had apparently been co-signed by him.
"No one had asked me. No one had asked my permission to put my name to a statement like that. And I rang (Meghan) and I told her, and she burst into floods of tears," he revealed.
"Because within four hours, they were happy to lie to protect my brother, and yet for three years they were never willing to tell the truth to protect us."
In the documentary, Meghan then chimed in: "Suddenly what clicked in my head was, 'It's never going to stop. Every rumour, every negative thing, every lie that I knew wasn't true – and the Palace knew wasn't true – that was just being allowed to fester."
Harry added: "There was no other option at this point. I said, 'We need to get out of here'."
Stay up to date with the latest news on the British Royals with Flash. 25+ news channels in 1 place. New to Flash? Try 1 month free. Offer available for a limited time only >
While Harry and Meghan's docu-series has attracted a wave of criticism for its content, its proven a ratings hit for Netflix.
In less than a week, Harry & Meghan had already broken the streaming giant's record for the biggest documentary debut, with 81.55 million hours of viewing.
The show has also appeared in Netflix's top 10 category in 85 countries – and, unsurprisingly, hit number one in the UK.
Tonight's new revelations came after the first three episodes of Harry & Meghanaired last Thursday, exposing a number of new details about the early days of the couple's relationship.
Meghan and Harry met on Instagram
In episode one, Meghan and Harry revealed the truth about how they met – slightly contradicting what the duke has said previously.
In 2017, Harry told the BBC: "It was definitely a set-up — it was a blind date. It was a blind date for sure."
But in episode one released last week, Harry said: "We met on Instagram.
"I was scrolling through my feed and someone who was a friend had this video of the two of them and I thought 'Who is that?'"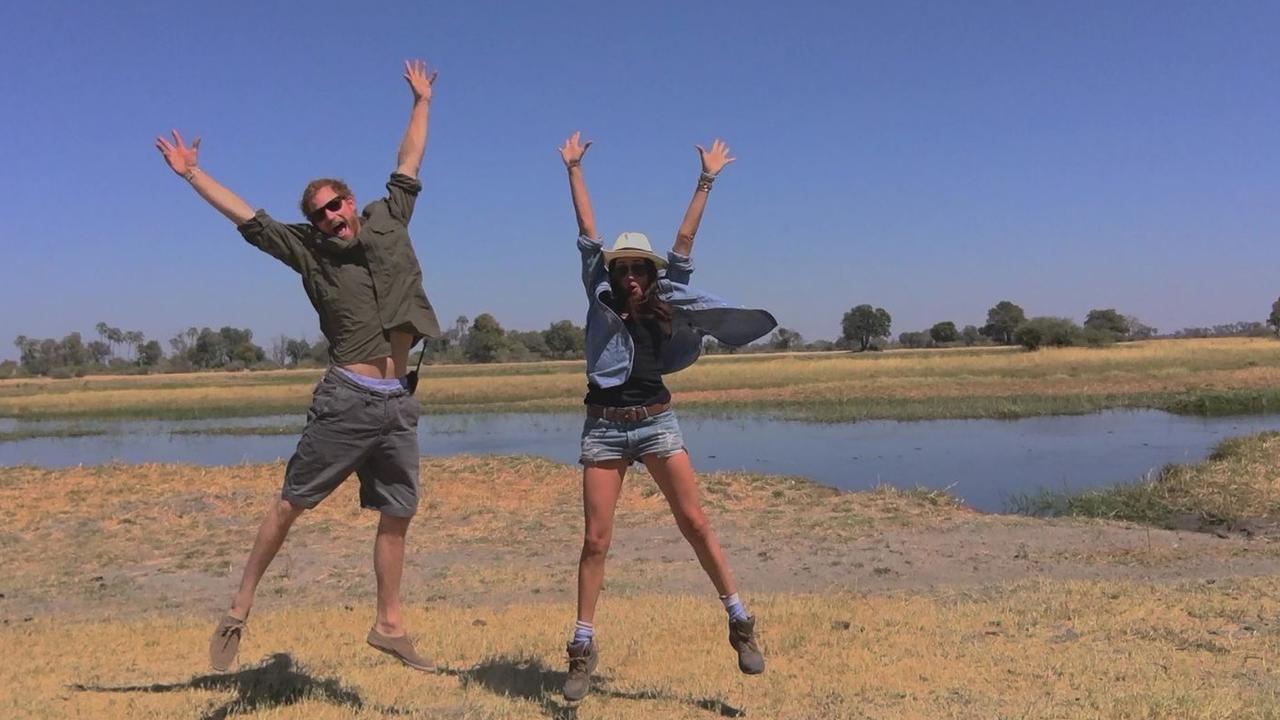 Meghan was in London to attend Wimbledon and met Harry at a bar – and their romance was almost over before it began, when Harry was very late.
"I didn't know him," Meghan said. "So [when he was late] it's like 'Oh, is this what he does?' No. I'm not doing this. Guys who have so much of an ego that you think any girl would sit around and wait half an hour for you, I was just not interested in that."
But when Harry showed up red-faced, sweaty and clearly mortified at his lateness, Meghan forgave him, and the rest is history.
Harry's subtle dig at Kate
In episode one, Harry appeared to reference his sister-in-law, the Princess of Wales, while discussing how his relationship with Meghan differs from what the Royal Family have come to expect.
He said: "I think for so many people in the family, especially men, there can be a temptation or an urge to marry someone who would fit the mould as opposed to somebody who you are perhaps are destined to be with."
Harry's warning to Meghan about paparazzi
In the second episode of the highly-anticipated series, Meghan explained that during the early days of their relationship, while she was still based in Toronto and filming Suits, she'd encountered a pack of "9 or 10" paparazzi as she left a florist.
"They were all sort of blocking the cars, going, 'Hey, how you doing, Meghan?', and I said 'Oh, thanks, stay warm guys,'" the Duchess of Sussex recalled.
The next day, she told the filmmakers, she'd gotten a very strict instruction from her new boyfriend.
"I remember (Harry) saying the next day, 'You can't talk to them'," Meghan said.
"And I was like, 'I'm just trying to be pleasant, I don't know what to do, I've never dealt with this before', and he said, 'Yes, but the UK media is saying you love it. You're smiling. You love it."
'Jarring': First meeting with William and Kate
Also in episode two, Meghan unveiled details of her "surprising" first meeting with Kate.
She said: "Even when Will and Kate came over and I met her for the first time.
"I was in ripped jeans and I was barefoot.
"I'm a hugger I've always been a hugger. I didn't know that could be jarring for a lot of Brits."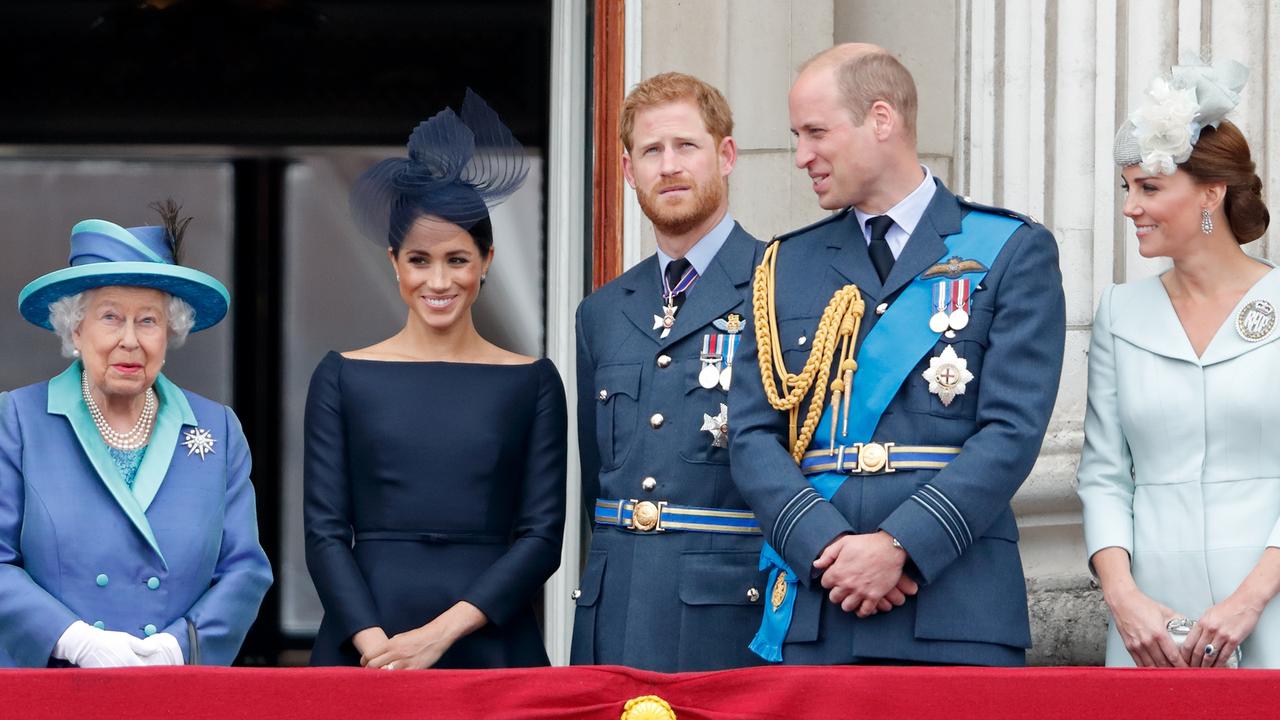 "I guess I started to understand very quickly that the formality out on the outside, carried through on the inside.
"That there is a forward facing way of being then you close the door and you go phew, great we can relax now.
"But that formality continues on both sides and that was surprising to me."
'A bit weird': Meghan's first encounter with Queen Elizabeth II
During the second episode, Meghan and Harry also revealed new details about her first meeting with his grandmother, the late Queen, with Harry admitting the situation was a bit "weird".
"(Meghan) had no idea what it all consisted of, so it was a bit of a shock to the system for her," he said.
"How do you explain (to people) to bow to your grandma? And that they'll need to curtsy? Especially to an American – it's weird."
Meghan described the "surreal" and unexpected moment she realised she'd be meeting the monarch, and that it had been sprung on her at the last minute by her then-boyfriend.
"We were in the car and we were going to Royal Lodge for lunch and he goes, 'Oh, my grandmother's here – she's going to be there after church'," she recalled.
"And I remember in the car driving up, he says, 'you know how to curtsy right?' And I thought it was a joke."
2017 engagement interview was 'rehearsed'
Meghan scoffed at the memory of her and Harry's 2017 BBC royal engagement interview in episode three of the couple's Netflix docu-series.
The episode began with a flashback to Meghan and Harry's memorable first TV appearance, which Meghan called an "orchestrated reality show," revealing that from their adorable photo shoot to sit down chat, everything about the announcement was "rehearsed."
From the get-go, Meghan says, they "weren't allowed" to tell their true story when faced with questions about their relationship.