He made the announcement during a recording of the CBS network's show in Los Angeles.
Corden - best known in the UK for TV series Gavin and Stacey - has hosted the US-based talk show since 2015.
Speaking on Thursday's edition of the show, he said it had been "the hardest decision I've ever had to make."
"I never saw [the show] as my final destination and I never want this show to overstay its welcome in any way, I always want to love making it and I really think in a year from now that will be a good time to move on and see what else might be out there," he said.
Corden took over the role of hosting the late-night talk show from comedian and actor Craig Ferguson in 2015.
He has become a household name in the US, presenting notable showbiz awards such as the Tony and Grammy awards.
During his time on The Late Late Show, he introduced segments such as Drop the Mic and Carpool Karaoke - which featured celebrities including singer Adele and Prince Harry. The segments went onto have their own standalone series.


Corden said hosting the show had changed his life.
"I am so proud of what we've achieved, it's been beyond my wildest, wildest dreams," he said.
He added that the coming year's show would be "the best year we have ever had... we are gonna go out with a bang".
Corden's career highs and lows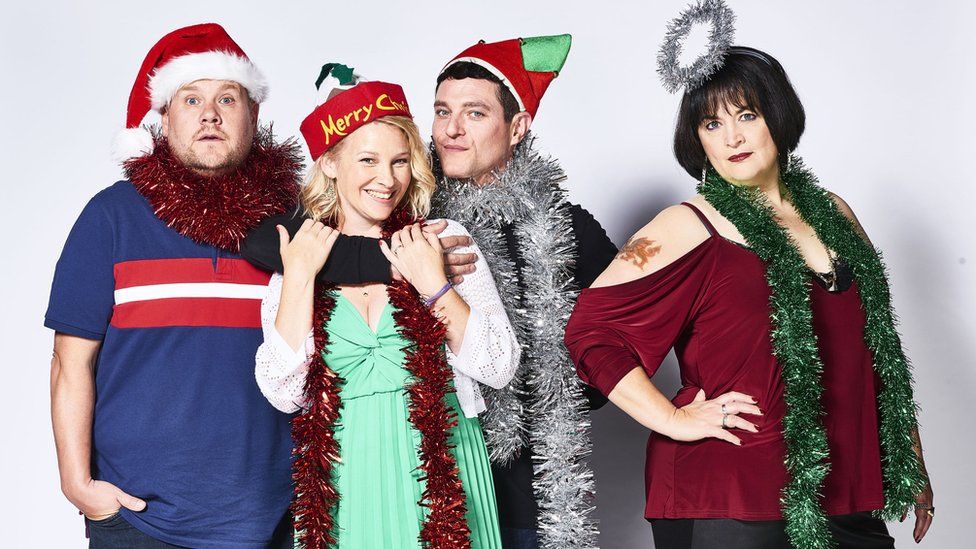 Corden started his career in the West End in the 1990s before appearing in TV shows like Boyz Unlimited, Teachers and Fat Friends

He was back on the London stage in Alan Bennett's award-winning The History Boys at the National Theatre in 2004, and reprised his role as schoolboy Timms in the 2006 film

By the following year, he and former Fat Friends co-star Ruth Jones had created and starred in Bafta-winning BBC comedy Gavin and Stacey, which ran for three series and returned for a 2019 Christmas special

A BBC Three sketch show with Gavin and Stacey's Mathew Horne in 2009, Horne and Corden, did not go down particularly well with critics - and was only made into one series

The pair also starred in the film Lesbian Vampire Killers, which was also badly received, and co-hosted the 2009 Brit Awards, with Corden asked back as a solo host from 2011 to 2014

He returned to the National Theatre in One Man, Two Guvnors, which transferred to the West End and then Broadway, where he established himself in the US and won a Tony Award for best actor

Comic Relief in 2011 included the first version of Carpool Karaoke, featuring George Michael

In 2015, Corden took over The Late Late Show and took Carpool Karaoke with him, attracting A-list guests including Michelle Obama, Prince Harry, Lady Gaga, Britney Spears, Ed Sheeran and Madonna

He starred in the 2019 live-action remake of Cats - but the film was panned and won Corden a Razzie award for worst supporting actor

He also voiced Peter Rabbit in two hit films and got Hollywood roles in 2020's The Prom with Meryl Streep and Nicole Kidman, and Cinderella with Camila Cabello in 2021

In a statement, CBS president and CEO George Cheeks said: "From Crosswalk the Musical to the legendary Carpool Karaoke, and every unique comedy segment he introduced, James has truly reimagined many elements of the late night format.
"We wish he could stay longer, but we are very proud he made CBS his American home and that this partnership will extend one more season on The Late Late Show."