At the 94th Academy Awards on March 27, Will Smith, prompted by a joke at his wife's expense, walked up on the stage and slapped Chris Rock before heading back to his seat to yell, "Keep my wife's name out of your fucking mouth." He repeated it again, and that's when everyone realized it wasn't a skit.
It was a completely unexpected occurrence for the movie star, who has had a nearly blemish-free 30-year career and used to keep his personal life under wraps. But everything changed when his wife, Jada Pinkett Smith, launched her Facebook talk show The Red Table Talk, where she discusses deeply personal topics, including her and Will's marital issues. When singer August Alsina revealed in 2020 that he had been in a relationship with Pinkett Smith, the married couple addressed it by having a conversation about it on the show. Pinkett Smith called it an "entanglement," which is now part of the pop culture lexicon, and Will became a meme. All of that, along with a revealing memoir he released in 2021 titled Will, left Smith a bit more vulnerable, more human, and more exposed than ever. And Chris Rock's off-color quip about Pinkett Smith's haircut was enough to break the King Richard Oscar winner in front of 16.6 million viewers.
But the question now is: Can Will recover from such a shocking event? And does he even need to?
Dreena Whitfield, founder and CEO of WhitPR, a public relations company whose clients have included Black Lives Matter, Eboni K. Williams, and The Recording Academy, says rehabilitation for the occurrence started with the speech he gave after winning the Best Actor Oscar for King Richard that night. The speech drew criticism because it was a convoluted attempt to connect his role as Venus and Serena Williams' father to defending his wife at the awards ceremony. He also didn't address Rock, but he did apologize to the Academy, expressing that he hopes they invite him back. Whitfield believes Smith's publicist Meredith O. Sullivan did what was best given the circumstances, but there was an opportunity to divert the attention from his actions and focus on the most notable aspects of the show including Regina Hall, Wanda Sykes, and Amy Schumer hosting, producer Will Packer employing an all-Black production team for the show, and Ariana DeBose being the first openly queer, Afro-Latina to win an Oscar.
"If there were clearer minds, mentioning the historic moments that were overshadowed would have deepened his recognition of how his actions dimmed the light on so many others' night," says Whitfield.
Patientce Foster has been down this road before. She is part of the team that helped Cardi B go from a Love & Hip Hop star to a household name in record time. Foster also orchestrated the "Up" rapper's responses after her public scuffle with Nicki Minaj at the Harper's Bazaar Icons Fashion Week party in September 2018. Many believed the Grammy winner would be blacklisted from the event after throwing a shoe at the "Seeing Green" rapper, but she appeared on the cover of the magazine's March 2019 issue, just five months after the fight. Foster believes that after the Oscars moment, Smith's publicist had a responsibility and an obligation to give him a few bullet points and a quick breakdown of what to say prior to his speech. "I could tell through his speech that he was beginning to ramble, he was saying some of the same things over and over again," she said. "Will Smith is somebody who's naturally great at words, speaking, he's charismatic. He already has a reputation for just being the stand-up guy so she doesn't have to do too much coaching. But you have that word with your client to help them refocus, and reset, and refresh, so that you still are able to capitalize, or you're still able to find an advantage in the moment to come."

The day after the event, Smith posted an apology via an Instagram text post, a style of apology that fans dislike but celebrities often rely on when it's time to show contrition. "Violence in all of its forms is poisonous and destructive. My behavior at last night's Academy Awards was unacceptable and inexcusable. Jokes at my expense are a part of the job, but a joke about Jada's medical condition was too much for me to bear and I reacted emotionally," the Focus star's statement read. "I would like to publicly apologize to you, Chris. I was out of line and I was wrong. I am embarrassed and my actions were not indicative of the man I want to be." Whitfield said the public apology to Rock was necessary. "This incident will be attached to Will Smith's legacy and associated with his first Oscar win, so his public apology [needed] to consist of a myriad of layers," the publicist shared. "It should accept responsibility for his egregious behavior, offer transparency by sharing a glimpse into what triggered his reaction, condemn violence of any kind, and recognize that he, like each of us, is a flawed human being who doesn't always get it right."
Both agree that Smith and Rock being Black makes it a more nuanced situation with various sides to consider. You have people like Kareem Abdul-Jabbar who feel like Smith has let down his race, others who feel he shouldn't be held to that standard, and others who might use the moment as a way to further perpetuate stereotypes surrounding Black men.
"Shit happens. Will Smith is a Black man, and Chris Rock is a Black man. You have two different audiences that are like, 'Oh my gosh, that was the Oscars. That wasn't the time or the place.' But then you got to ask yourself, are you saying it's not because it's a traditionally white audience and white environment? Does that not continue to push the narrative that you have to be a respectable Black person amongst a group of white people? You really have to ask yourself these questions before you determine how bad the situation was."


Whitfield believes that regardless of the opposing views, in order to move forward Will has to "prioritize authentic, changed behavior that shows remorse."
For Whitfield, that means laying low on social media. Since joining Instagram, the actor has amassed more than 62 million followers thanks to his comedic and creative over-the-top posts. Prior to the apology, he posted about the Oscars just once—a video of him and his wife with the caption: "Me 'n @jadapinkettsmith got all dressed up to choose chaos." He has been silent ever since his apology. Pinkett Smith published a text post that read, "This is a season for healing and I'm here for it."
Foster, on the other hand, says that he's doing a disservice to who he really is by staying away from Instagram. She says sharing the apology with the comments turned off and letting it breathe for a few days was a good idea, but that he shouldn't go into hiding. "You always have to keep in mind who your talent is at heart, and what your talent contributes to the culture on a daily basis. Will Smith is someone that posts consistently. He doesn't really go off the grid for weeks at a time, or for days at a time. So, I would not have suggested him to hide and to not say anything, or to go into a social media hiatus," the brand manager says. "What I don't think a lot of people realize is the majority of the people you offended were most likely not fans of you anyway. I've always said to a client in a situation that is not the most positive, 'What you choose to do from this day forward should be for the people who you've been doing it for before this happened. Those are the people that care the most.'"
Discussing the incident on Red Table Talk is also an option. While Whitfield thinks the Gemini Man star should avoid appearing on the show, she believes a strategic media interview on a different platform could help for the initial discussion. "I think it would be refreshing to see or hear a reconciliation conversation with Chris Rock and Will Smith addressing the situation, the intricacies of Black male friendships, and reiterating the importance of protecting and defending Black women."
Foster disagrees, saying an interview will only prolong the attention they are getting. "You only give power to what you empower. If he continues to empower the situation, it will only continue to fuel it, and it will continue to live longer. Publicists have an advantage nowadays. The news cycle is so quick to turn. There's always something coming around the corner that's going to deflect the focus of today," she said. "To consistently choose to highlight a negative situation would be tragic, and so unnecessary. The general public is already onto the next scandal. They're already onto the next thing, they're already talking about the next person."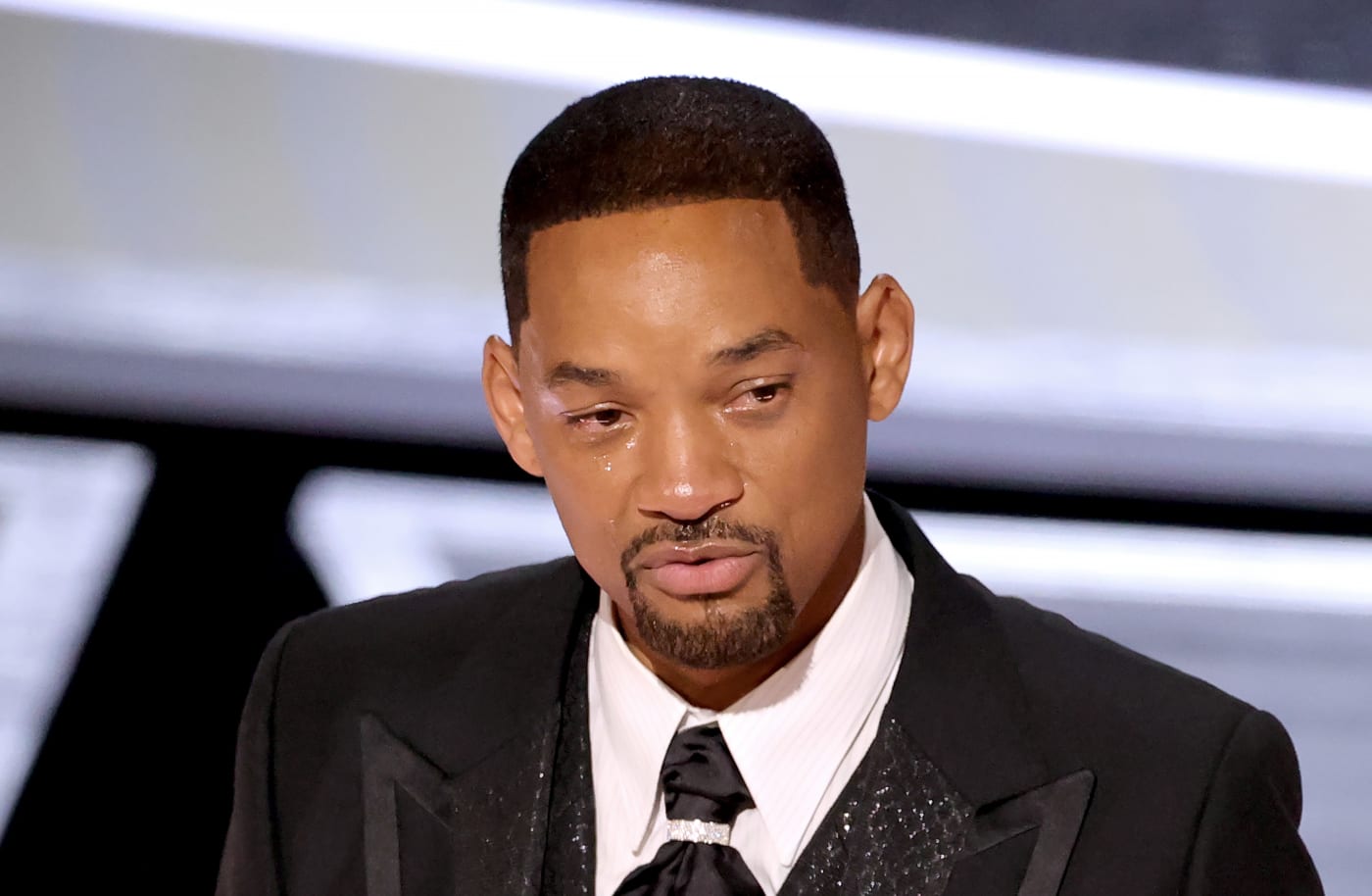 This also isn't the first time a shocking onstage ambush threatens to shake a celebrity's career. In 2009, Kanye West went on stage and interrupted Taylor Swift as she was getting the Best Video of the Year award at the MTV Video Music Awards. At the time, it didn't matter what his contributions to music or to culture were, a large part of the country sided with Swift and vilified the rapper for years to come. The event deeply affected West's image with certain demographics, but Foster doesn't think the same will apply to Smith: "I don't think that it's going to continue to have a negative effect on who Will Smith is, because the person that he is, and the legacy that he's built, and the legend that he is, I don't believe what we saw could ever discount that and negate that."
Smith has so far chosen the silent route, and his future with the Academy remains unknown until they vote on further steps on April 18. The Academy released statements saying they initiated disciplinary proceedings against Smith who they said violated the Academy's Standards of Conduct, including "inappropriate physical contact, abusive or threatening behavior, and compromising the integrity of the Academy," and called his behavior "unacceptable and harmful." There was also a report that the Academy could revoke his Oscar (an actor has never been stripped of an Academy Award), and that would mean that a lapse in judgment that lasted under a minute could erase decades of work. Rock chose not to press charges the night of the ordeal, but the LAPD said that the Head of State actor has the option to file a police report at a later date should he choose to. The comedian kicked off his stand-up tour on March 30, and while he didn't address what happened with Smith, he said he will talk about it at some point in the future.
As for what's ahead for Smith's future, Foster believes that he should not stop being who he is. "There needs to be no interview, no further statements, nothing else to be said. The only thing that needs to be said or rectified is whatever personal or professional relationship he wants to have with Chris Rock. That conversation is a private one, that should be internal. He already publicly apologized, there's nothing else that he needs to say about it, because you're only further fueling the negativity that surrounds it and still giving people a platform and an opportunity to talk about something that should have died that same night."
"He should carry on, continue to do everything that he does that is positive, that is great. He should continue to be vulnerable the way that he is because people should have that," Foster adds. "He had such a squeaky clean reputation and he wasn't allowed to be human, because a lot of us vicariously just want to live through this great untouchable, never-makes-a-mistake, Black man, that it really honestly does him a disservice because he can't own his humanity and who he is as a human being."