As Americans gear up to celebrate Juneteenth over the coming week by memorializing the end of slavery in the United States, many states still don't recognize it as a paid holiday, even though a year has passed since President Joe Biden signed the holiday into federal law.
Juneteenth is celebrated annually on June 19, commemorating an important moment in African American history. The holiday marks the day that Union soldiers marched into Galveston, Texas, in 1865 to control the state and inform the remaining slaves that they had been freed. There were 250,000 enslaved people in Texas, according to a report by the non-profit The Pew Charitable Trusts.
Around 24 states and the District of Columbia are set to legally recognize Juneteenth as a public holiday this year, according to a Pew Research Center analysis which forecasts that more states will recognize it as a paid holiday next year.
June 19 falls on a weekend this year, and, therefore, some states are celebrating it on different days that week. Since the holiday was signed into federal law, multiple states have had Juneteenth as a paid holiday for employees.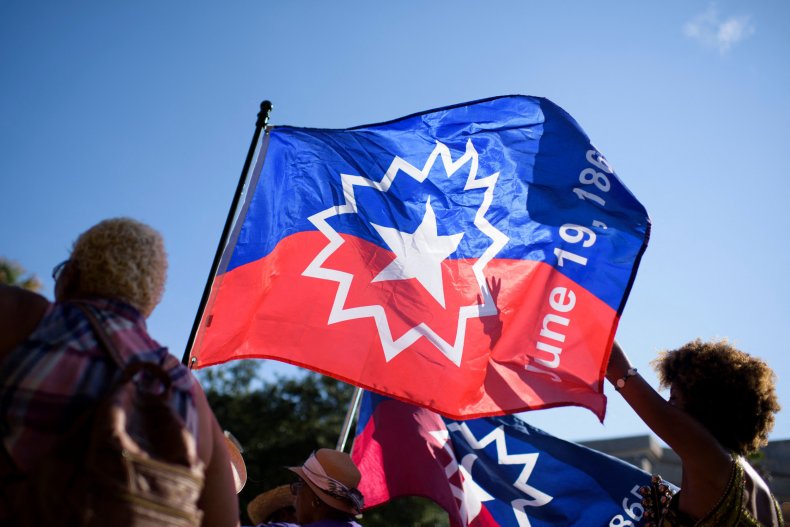 States With Juneteeth As Paid Holiday
According to The Pew Charitable Trusts:
States Viewing Juneteenth as Day of Remembrance
However, some states are treating Juneteenth as a day of remembrance or observance rather than a legal paid holiday. Those states include:
Tennessee
The state's Republican Governor Bill Lee proposed having Juneteenth as a paid holiday in the state and even had funding for it that was listed in his spending plan for the upcoming year, but the proposal didn't pass in the GOP-controlled legislature.
The proposal failed after Republican Senator Joey Hensley claimed that not a lot of people in the state know about Juneteenth, according to The Pew Charitable Trusts' report.
Hensley said during a committee hearing that he asked over 100 people in his district if they knew what Juneteenth is, and only two of them knew, according to the Christian Science Monitor.

"I just think it's putting the cart before the horse to make a holiday people don't know about. We need to educate people first and then make a holiday if we need to," Hensley said.
However, Nashville and Chattanooga have recognized Juneteenth as a paid holiday for city employees, even though Tennessee doesn't recognize it as one for state employees, according to The Pew Charitable Trusts report.
Florida
A state holiday bill failed in the sunshine state after historians argued that Florida's Emancipation Day on May 20 should be honored instead of Juneteenth.
It has not been made an official holiday as Governor Ron DeSantis has ordered recognition of the May 20th date, according to Florida Today.
California
Juneteenth has been recognized as a Day of Observance since 2003, according to The Pew Charitable Trusts' report, but a bill introduced to make it a legal state holiday is still pending in the legislature.
The bill passed the Assembly and reached the Senate this month, according to NPR. Still, some cities including Los Angeles have issued decrees making Juneteenth official.
South Carolina
A bill to recognize Juneteenth as a formal paid holiday failed in South Carolina where Confederate Memorial Day is a legal state holiday on May 10.
"Juneteenth is a very important day off, in South Carolina in particular, since it is the state that started the Civil War, firing on Fort Sumter and first state to secede," said state Senator Darrell Jackson, a Democrat who sponsored the bill, according to The Pew Charitable Trusts' report.
"There are people like me who don't feel comfortable celebrating Confederate Memorial Day. How could I?" said Jackson, adding that he is going to reintroduce the bill early on" next session.
Mississippi
Lawmakers in Mississippi were unable to pass proposals that would recognize Juneteenth as a paid holiday for state employees, according to NPR.
However, the birthdays of Martin Luther King Jr. and Confederate General Robert E. Lee are treated as a shared paid state holiday, according to The Pew Charitable Trusts' report.
Some of the challenges in recognizing Juneteenth as a paid holiday include the lack of awareness of the holiday and the cost it bears as another state holiday, according to Pew Charitable Trusts report.
How Do I Learn More About Juneteenth?
Interested in learning more about Juneteenth? Here's what you need to know.
Here's how Juneteenth went from a pipe dream to reality.
When it became an official holiday, however, not all Black people were impressed; here's why.