epublicans have hailed Mayra Flores after she flipped a House district in Texas in a special election on Tuesday.
Flores beat her nearest Democratic challenger, former Cameron County commissioner Dan Sanchez, by 51 percent to 43 percent, edging past the 50 percent threshold needed to avoid a runoff.
Flores' victory in the 34th district, which was left vacant by Filemon Vela's resignation in March, makes her the first Latina Republican from Texas in Congress.
The victory will pile pressure onto the Democrats, who are trying to hold onto their slim majority in the midterms. The GOP will also be hoping Flores' victory will boost the congressional campaigns of other Latina candidates in southern Texas, such as Janie Lopez, Monica De La Cruz and Cassy Garcia.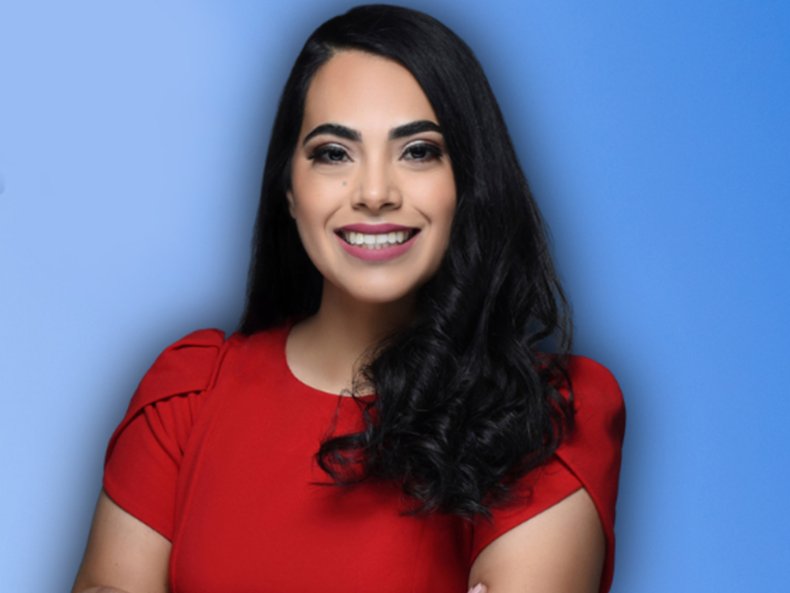 Texas Governor Greg Abbott, who endorsed Flores, praised her victory and said the signs were promising for other Republicans in the state.
"Republican Mayra Flores just beat a Democrat to win an open seat for Congress in an historically Democrat district in South Texas," he tweeted.
"Congress just got more Republican. Texas just got more red. The future is looking bright red in Texas."
Texas House Speaker Dade Phelan posted: "Big congratulations to our newest member of Congress, Mayra Flores who joins Reps. John Lujan and Ryan Guillen in securing a major victory for the GOP in South TX. And we are not done yet. This fall, we'll add Janie Lopez to the list of successes for our party."
Sean Davis, co-founder of the conservative magazine The Federalist, tweeted that the "red wave that swept Glenn Youngkin" into office last year in Virginia, a traditionally Democrat state, is "only getting bigger as Biden's policies destroy the country."
After Flores was declared the winner, the Twitter account for the Texas GOP tweeted: "VAMOS [let's go] Mayra Flores."
However, Flores' term of office may last only a few months. The district's map is being redrawn and will massively favor the Democrats in November's midterm elections.
Rep. Vicente Gonzalez, a Democrat who has represented the neighboring 15th congressional district since 2017, will be standing against Flores in the midterms.
As a result, the Democratic Party did not put much effort into the special election, choosing to focus on November when Gonzalez will be the overwhelming favorite to win the redrawn seat.
In a statement after conceding defeat, Sanchez said the national party could have done more to defend the seat from the GOP.
"We came up short tonight despite being outspent by millions of dollars from out-of-state interests and the entire Republican machine," Sanchez told The Texas Tribune. "Too many factors were against us, including little to no support from the national Democratic Party and the Democratic Congressional Campaign Committee."
Gilberto Hinojosa, chairman of the Texas Democratic Party, also downplayed Flores' victory, pointing out that she only just avoided a runoff.
"Despite flooding south Texas with over $3 million in far-right dark money—in a special election called by the governor at a time specifically chosen to give Republicans an overwhelming advantage—Republicans could barely squeak out a win," Hinojosa said.
"Tonight's disappointing news aside, we applaud Dan Sanchez and his team for their hard-fought grassroots campaign—and for exposing the truth about the Republicans who purchased this seat: that they're just using the working-class Hispanic families of the Rio Grande Valley as pawns in their partisan culture wars.
"In January 2023, this seat will rightfully return to Democratic hands."
Flores has been contacted for comment.