Rafael Nadal has officially pulled out of Friday's semi-final against Nick Kyrgios because of an abdominal injury, sending the Australian straight into Wimbledon men's final on Sunday.
Kyrgios will play the winner of the other semi-final between Novak Djokovic and Cameron Norrie.
Watch Tennis Live with beIN SPORTS on Kayo. Live Coverage of ATP + WTA Tour Tournaments including Every Finals Match. New to Kayo? Start your free trial now >
Kyrgios is the first Australian man to make the Wimbledon singles final since Mark Philippoussis in 2003.
Nadal confirmed his withdrawal from the competition after it was reported he had a 7mm tear in his abdomen.
"Unfortunately, as you can imagine, if I am here, I have to pull out from the tournament," Nadal said in a press conference on Friday morning (AEST).
"As everybody saw yesterday, I had been suffering with pain in the abdominal. I was not OK there, as yesterday I said. That's confirmed. I have a tear in the muscle in the abdominal.
"I was thinking during the whole day about the decision to make. It doesn't make sense to go (on), even if I try through my career to keep going.
"It is very tough circumstances but it is obvious if I keep going the injury will be worse and worse.
"That's the thing I can say now and feel very sad to say that."
Nadal estimated that it will take "three, four weeks" to recover from the injury, but a firm timeline for his return to action was unclear, according to multiple reports.
But he reiterated that he will continue playing.
The last man to achieve the calendar Grand Slam was Rod Laver, in 1969. Nadal, who said his injury prevented him from being able to serve properly, added: "I never thought about the calendar Slam, I thought about my diary and my happiness.
"I make the decision because I don't believe I can win two matches under the circumstances. It is not only I can't serve at the right speed, it is I can't do the normal movement to serve.
"After that to imagine myself winning two matches, and for respect for myself in some way, I don't want to go out there and not be competitive enough to play at the level I need to play to achieve my goals."
Nadal was bidding to win his 23rd grand slam title and equal Serena Williams in second place on the all-time list for most major singles trophies.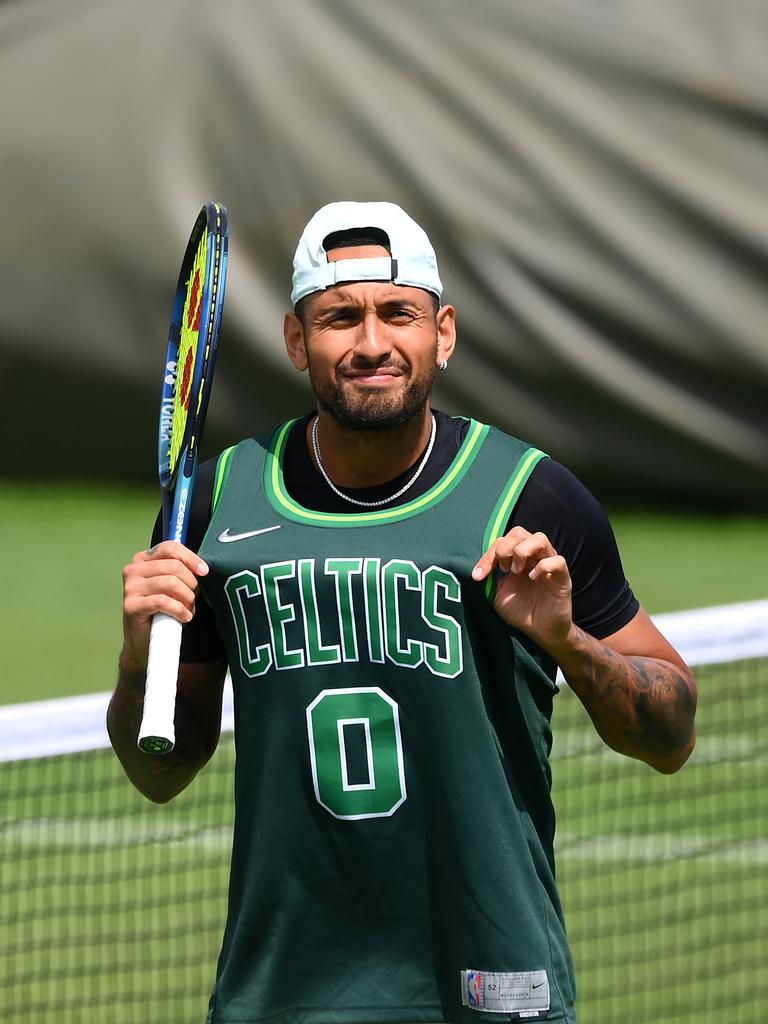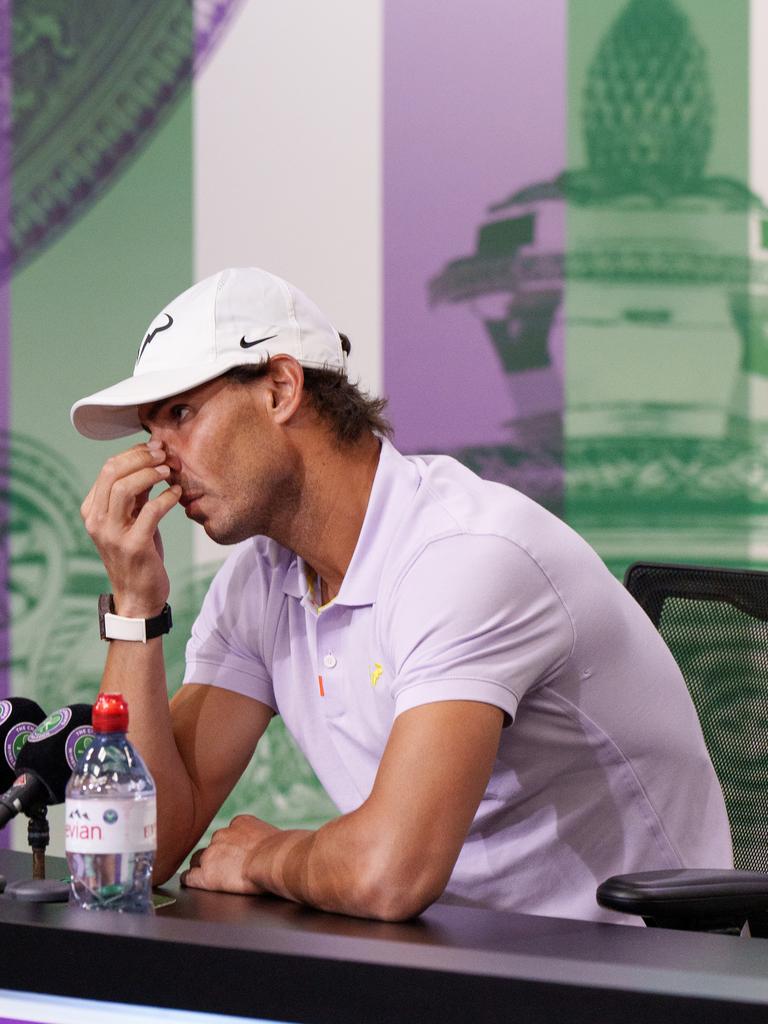 Kyrgios and Nadal haven't got on in the past but the Canberran took to Instagram after the announcement to wish his rival well.
"Different players, different personalities. @rafaelnadal I hope your recovery goes well and we all hope to see you healthy soon. Till next time," Kyrgios wrote.
A meeting between 22-time Grand Slam champion Nadal and the mercurial Australian had been on the cards since Kyrgios defeated Stefanos Tsitsipas in an ill-tempered third-round meeting.
Kyrgios cruised through his last-eight match against unseeded Chilean Cristian Garinon Wednesday in straight sets to reach his first Grand Slam semi-final.
But it was a different story for Nadal, who had to battle an abdominal injury in a gruelling five-set win against 11th-seeded American Taylor Fritz.
The second seed, visibly in pain, looked unlikely to finish the match when he was forced to take a medical time-out in the second set.
But he returned to the court and twice recovered from a set down to win in four hours and 21 minutes.
The extra time on court for Nadal – two hours longer than Kyrgios – was a factor in itself but the Spaniard's injury ultimately meant he would not be fit enough to play his semi-final.
Earlier, Nadal, the 2008 and 2010 Wimbledon champion, said he was unsure over his ongoing participation in the tournament as he targeted the third leg of a rare calendar Grand Slam.
"I can't give you a clear answer because if I gave you a clear answer and tomorrow another thing happens, I will be a liar," the 36-year-old said after his quarter-final win.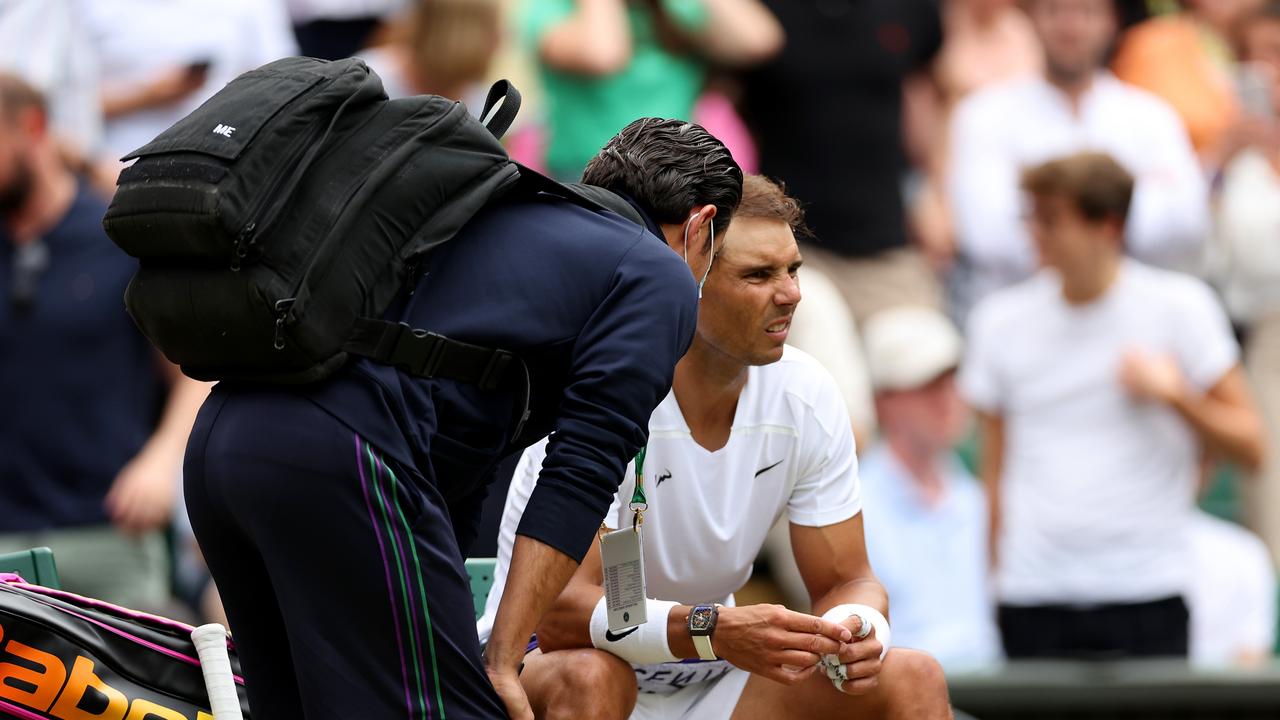 Spanish sports daily Marca reported on Thursday Nadal had a "seven-millimetre" tear to his abdomen but still intended to play.
He played with a similar injury at the 2009 US Open, where he reached the semi-finals before losing to eventual champion Juan Martin del Potro.
Nadal did turn up for practice after undergoing medical tests in London, although adjusted his schedule to be on an outside court, away from the cameras after turning up 45 minutes later than expected.
The Times' tennis writer Stu Fraser reported Nadal was hitting only forehands and backhand early.
When he tried serving, he was at "nowhere near full power".
"Never hit the serve at full power and sat down at the end for a long discussion with his team. Going to be tough for him if he plays tomorrow but you can never count him out," Fraser concluded.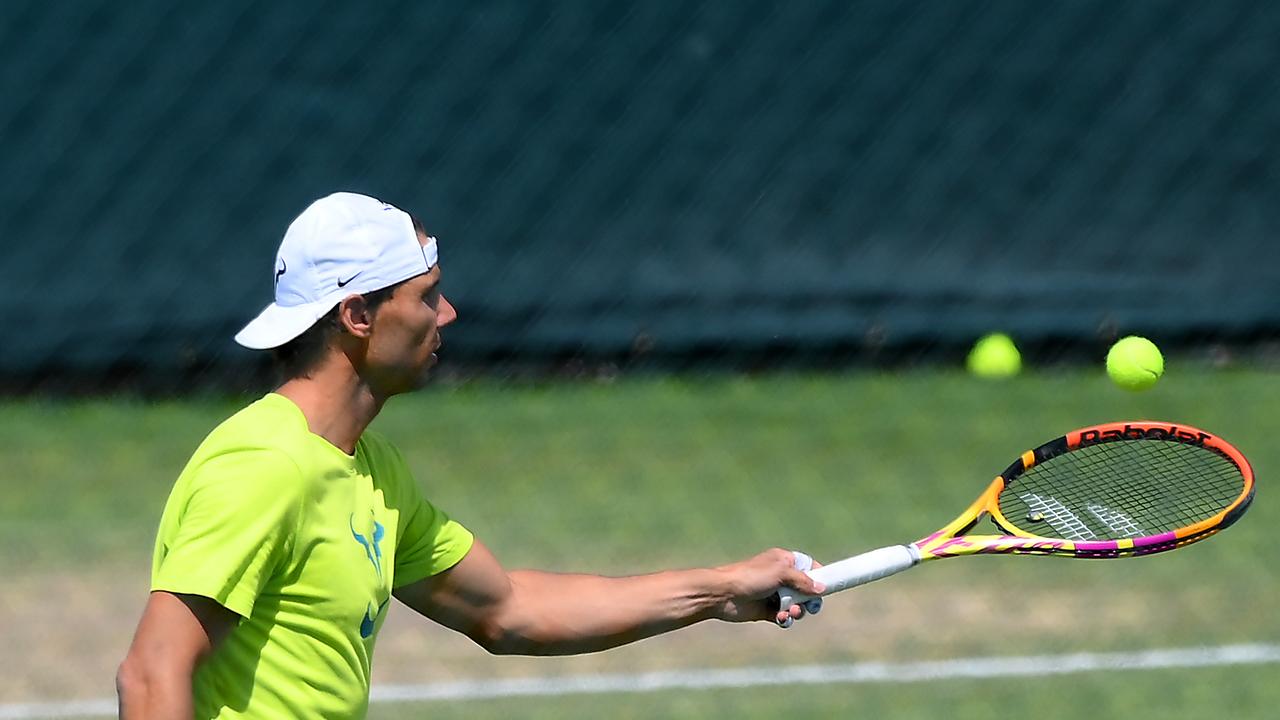 Sports Illustrated's Jon Wertheim posted that Nadal's 44 minute practice included 33 minutes of hitting and an 11-minute break.
"Streaming Nadal practice … leaving court five, now posing for photos. the good news for tomorrow, he hit serves … the less good news, this was deeply abbreviated … can't imagine – having won last two sets, and last 19 matches at Majors – he won't give it a shot tomorrow," Wertheim wrote.
However, others were stunned Nadal was still going.
Following a stress fracture of his rib in March and finishing the French Open with a left foot injury that required needling throughout, Nadal has battled through this season but claimed both grand slam events this season and is on track for a rare Grand Slam, a clean sweep of all four major tournaments.
This is despite his team and family seemingly calling for Nadal to quit against Fritz.
Former World No. 1 and US Open champion Tracy Austin had a theory why Nadal is persevering with the injuries — that he is set to announce his retirement in the near future.
"I didn't think he was going to finish (against Fritz)," Austin said on BBC.
"I really thought he was going to retire. You got to remember Rafael Nadal won the Australian Open and the French Open so he's halfway to the Calendar Grand Slam.
"He's also 36 years old. So at 36, Rafa's had so many problems with his foot. He had a procedure to numb the nerve right before Wimbledon and did not know if he'd be able to play Wimbledon.
"At this stage, he may be thinking, 'A year from now, I don't know if I'll still be playing. I don't want to finish Wimbledon and my last match retiring'. So he hung in there. The serve speed went way down, into the 90s and he just got the serve in.
"Then he had to rely on a huge forehand and just guile coming to the net, the slices and basically battling, being the warrior that he is."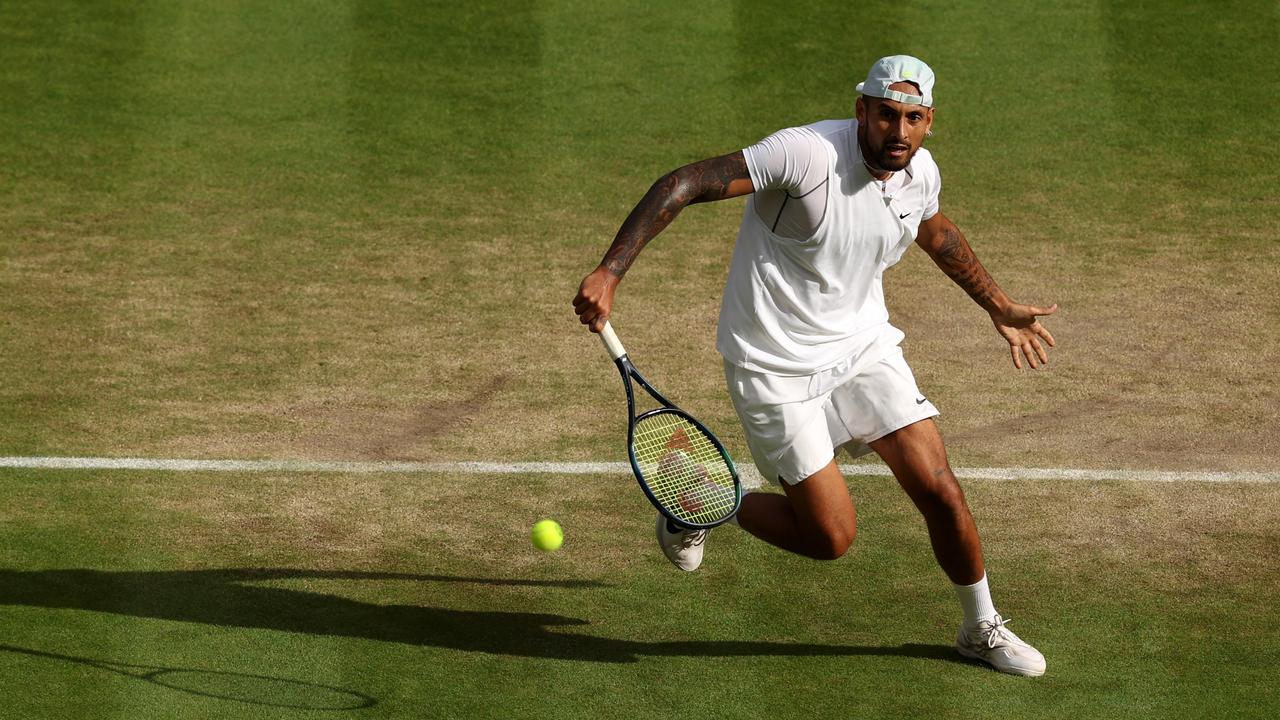 Kyrgios's tournament has been defined by breathtaking shot-making but also his familiar rants on court – including a demand that Tsitsipas be thrown out of the championships for hitting a ball into the crowd.
The 40th-ranked player has been fined a total of $14,000 and he now has the added distraction of a looming court appearance in Australia, related to an allegation of assault.
Nadal has six wins against Kyrgios in nine meetings between the pair.
The Australian famously beat Nadal – then world number one – on his way to the Wimbledon quarter-finals on his debut in 2014 but the Spaniard took his revenge in 2019.
With AFP