Russian President Vladimir Putin is hoping one of his new "wonder weapons" will help restore his tarnished tough-man image by ordering a warship to parade it around the world.
He farewelled the frigate Admiral Gorshkov on Thursday as it departed for the North Atlantic, the Mediterranean Sea and the Indian Ocean. It's carrying Zircon hypersonic missiles – weapons capable of flying at about nine times the speed of sound (11,000km/h) to strike targets up to 1000km away.
It represents an attempt by Mr Putin to up the ante against the West as his fortunes continue to flag in Ukraine.
"I am sure that such powerful weapons will reliably protect Russia from potential external threats and will help ensure the national interests of our country," the 70-year-old leader said in a video conference, alongside the frigate's commander and Defence Minister Sergei Shoigu.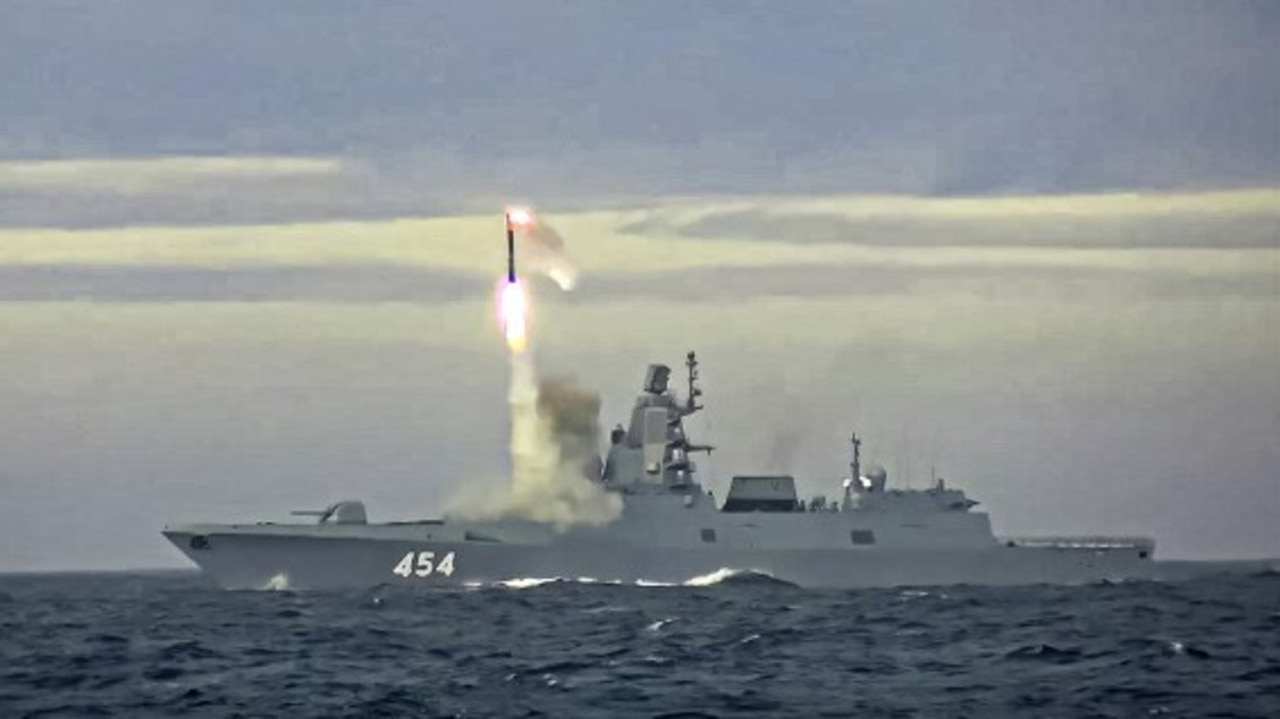 "This ship, armed with Zircons, is capable of delivering pinpoint and powerful strikes against the enemy at sea and on land," Mr Shoigu said, adding that Admiral Gorshkov's mission was to "solve problems" and maintain "regional peace and stability jointly with friendly countries".
The deployment comes as Mr Putin's navy struggles to remain relevant in the Black Sea amid the invasion of Ukraine.
The old guided missile cruiser Moskva was sunk in April last year. And raids by Ukrainian speedboat drones have sent its other warships seeking safer waters.
But Mr Putin hopes the sleek, modern lines of the Admiral Gorhkov – commissioned in 2018 after a protracted trial period – will help restore a measure of respect.
During the live hook-up, the Russian President pronounced the Zircon a "unique weapon" without "equivalent in any country in the world".

But pro-Putin military commentator Sergei Markov took the news of the deployment one step further.
"This is a message to the West that Russia has nuclear-tipped missiles that can easily pierce any missile defences," he stated online.
Speed kills
Vladimir Putin puts particular pride in his suite of new wonder weapons.
In 2018, he announced to the world that Russia had stolen a technological edge on the West with its new Sarmat (Satan) nuclear-warhead-carrying ballistic missile, Burevestnik (Petrel) nuclear-powered cruise missile, Poseidon nuclear-powered torpedo, Avangard hypersonic glide vehicle, and Kinzhal (Dagger) air-launched hypersonic missiles.
The Zircon is one of the few to have since reached operational status. Kinzhal hypersonic missiles carrying conventional explosive warheads have been used – with minimal effect – against Ukrainian infrastructure.
These would strike "like a meteorite, like a fireball", Mr Putin declared when they were unveiled.
"Russia remained a nuclear power, but no one wanted to listen to us. Listen to us now," he warned.
Shortly before his forces invaded Ukraine in February, Mr Putin declared that his new weapons could strike hostile "decision-making centres" across Europe within 10 minutes.
A recent Congressional Research Service report conceded that the US is behind in the race to develop hypersonic missiles.
"Funding for hypersonic weapons has been relatively restrained in the past; however, both the Pentagon and Congress have shown a growing interest in pursuing the development and near-term deployment of hypersonic systems," the report reads.
"This is due, in part, to the advances in these technologies in Russia and China, both of which have a number of hypersonic weapons programs and have likely fielded operational hypersonic glide vehicles – potentially armed with nuclear warheads."
It notes that Australia, France, Germany, South Korea, North Korea and Japan are also actively researching the technology.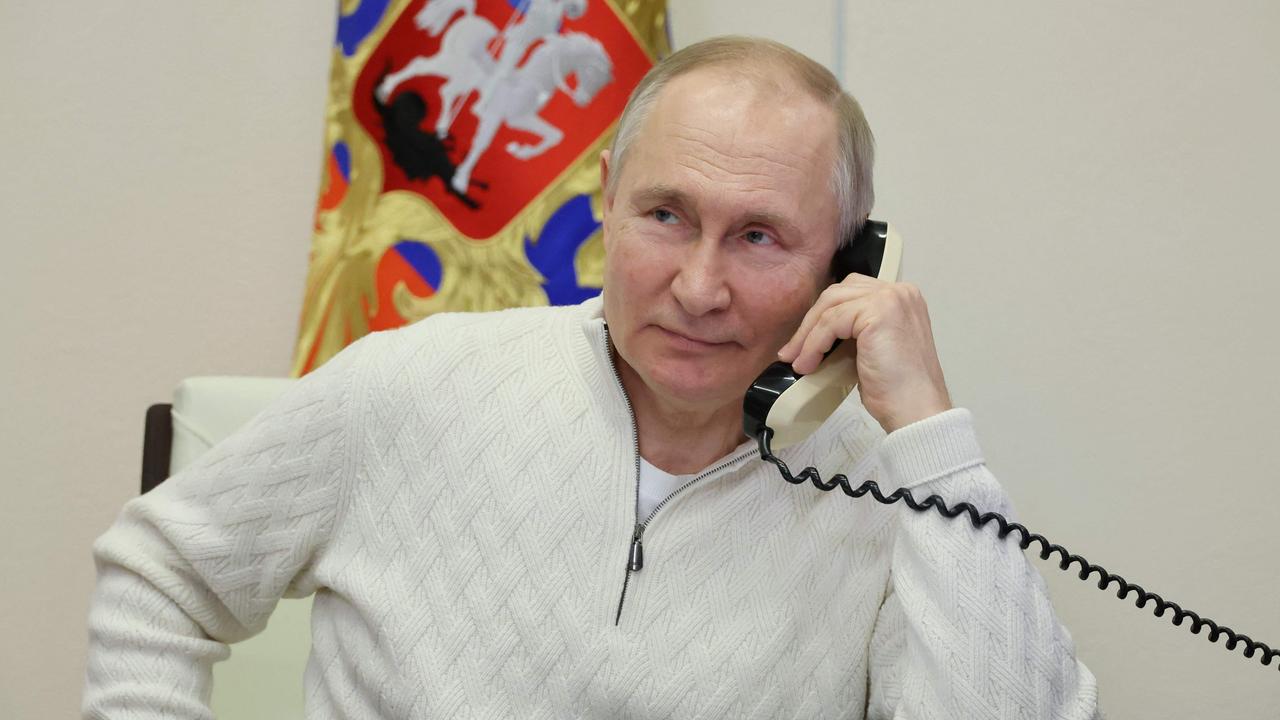 Gunboat diplomacy
Admiral Gorshkov is unlikely to participate in the war against Ukraine. Turkey does not allow military vessels engaged in combat to pass through the narrow Dardanelles passage between the Mediterranean and the Black Sea. And firing long-range missiles from the Mediterranean risks an international incident if they breach the airspace of any NATO member countries.
The US Pentagon responded to news of the frigate's deployment by saying it would monitor its movements, but added it did not consider it a serious threat.
"We are aware of the reports regarding the Russian launch of a frigate, the Admiral Grorshkov. We will continue to routinely monitor its activities as we maintain awareness of our operating environment," Pentagon spokesman Colonel Roger Cabiness told media on Thursday. "While we do not comment on specific capabilities or speculate on hypotheticals, the Department of Defence remains confident in our ability to deter our adversaries and defend United States national security interests at any time, in any place."
Zircons are designed to be carried by Russian warships and submarines. Their guidance systems can target opposing ships and shore installations, even while taking evasive action to fly around radar and dodge interception attempts.
Admiral Gorshkov is one of just a few ships capable of carrying them.
It's the lead ship of the new Project 22350 class of stealth frigates designed to replace Russia's ageing fleet of Soviet-era destroyers. Gorshkov is 130m long with a crew of about 200. It is fitted with 16 multipurpose vertical-launch cells that can carry Zircon hypersonic missiles along with Kalibr and Oniks cruise missiles.
Three of the frigates are operational, with another seven under construction.
Jamie Seidel is a freelance writer | @JamieSeidel