The Africa Cup of Nations in Cameroon
The year began with a bang on the continent with the 33rd edition of the Africa Cup of Nations (CAN), organised in Cameroon from January 9 to February 6. "It's our own World Cup", legendary Cameroonian footballer Roger Milla told FRANCE 24 in January.
The competition brought together 24 teams from all over the continent and ended with Senegal's victory after a thrilling match against Egypt won on penalties. Three years after their failure during the final match in Cairo, the Lions of Teranga won their first-ever Africa Cup of Nations trophy.
Burkina Faso's ex-president Compaoré sentenced to life
In a historic trial 34 years after the murder of Thomas Sankara, known as the "father of the revolution in Burkina Faso", a military court in Ouagadougou sentenced former president Blaise Compaoré to life in prison on April 6. The tribunal found Compaoré, his former head of security and a commander of the army during the 1987 coup to be guilty of "complicity in assassination" and an "attack on state security". All three received life sentences. Eight others received sentences ranging from three to 20 years in prison.
Exiled in Abidjan since his fall from power 2014, Compaoré did not attend the hearings. After the verdict, he responded with a message brought by a government delegation from Ivory Coast asking the Burkinabe people to forgive him for all the acts committed during his tenure, "and especially the family of my brother and friend, Thomas Sankara".
Military coups, power struggles in Burkina Faso
Military leaders ousted Burkina Faso's president Roch Marc Christian Kaboré in a coup on January 24. Lieutenant-Colonel Paul-Henri Sandaogo Damiba anointed himself president of the country while promising to pursue jihadist groups and restore constitutional order. But the security situation continued to deteriorate, creating tensions within the army. With several cities in the north besieged by armed Islamist groups, jihadists affiliated with al Qaeda attacked a humanitarian convoy bound for Djibo on September 27, killing 27 Burkinabe soldiers.
A new putsch led by Captain Ibrahim Traoré a few days later forced Damiba to flee to Togo. Named transitional president, in October Traoré appointed a government of 23 ministers, including three soldiers, to lead the country until the elections scheduled for July 2024.
William Ruto elected president of Kenya
On August 15, six days after the polls closed, Kenya's electoral commission unveiled the name of the new president: William Ruto defeated Raila Odinga with 50.49% of the vote. Odinga, supported by several members of the electoral commission, contested the electoral victory, calling it a "parody". But the Supreme Court eventually confirmed the vote. During his swearing-in, Ruto – who served as vice president under former president Uhuru Kenyatta – described the electoral process as an "exemplary democratic performance" and promised to work for the "economic well-being" of every Kenyan.
The end of French military operations in Mali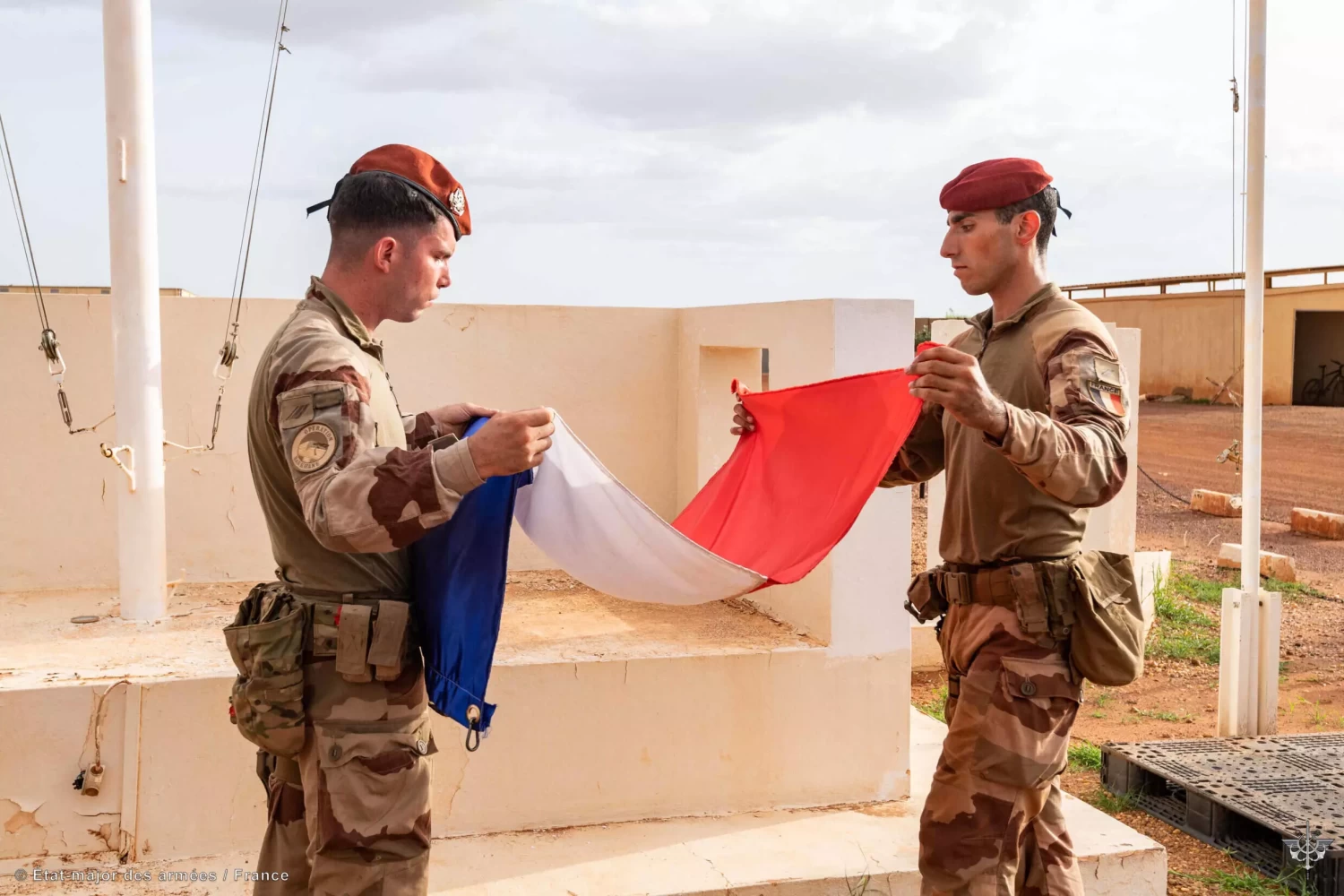 The last contingent of French soldiers present on Malian territory left the country on August 15, ending an almost decade-long military operation aimed at battling terrorism in the region. Responding to a request by the Malian government to help stop a jihadist advance on the capital Bamako, France first launched Operation Serval in January 2013. The mission later morphed into Operation Barkhane with a mission to fight disparate jihadist groups throughout the Sahel.
Relations between Mali and France rapidly deteriorated after Colonel Assimi Goïta seized power in an August 2020 coup, with Mali ejecting France's ambassador and withdrawing from defence accords it had with former colonial ruler France. Paris responded by pushing for EU and ECOWAS sanctions against the country.
In February, Mali asked France to withdraw its troops "without delay". Russian mercenaries from the Wagner Group subsequently arrived to assist the Malian army.
The Malian government accuses Paris of supporting terrorist groups, accusations France denies, and recently banned all aid groups funded by France on its soil.
The UN has warned of a significant increase in human rights violations against civilians across the country, saying there has been an "exponential rise" in deaths and abuses linked to the Malian army as well as "foreign military elements".
Bloody repression in Chad
Several hundred people protested across Chad on October 22, responding to a call by opposition groups to denounce transitional president Mahamat Idriss Déby's decision to stay in power by putting off a promised democratic transition by two years.
The protests turned deadly when authorities, accusing the demonstrators of an attempted insurrection, used lethal force. Prime Minister Saleh Kebzabo told a news conference that at least 50 people had been killed, including 10 police officers, and some 300 people injured. International organisations including the United Nations put the toll much higher, estimating that up to 150 people were killed.
The two main opposition leaders, Succès Masra and Max Loalngar, announced their request for the International Criminal Court to open an investigation into crimes against humanity in connection with the violence. In November, the government accepted in principle an international fact-finding mission aimed at shedding light on the tragedy.
Tigrayan rebels, Ethiopian government agree to peace pact
After two years of civil war between the Ethiopian government and Tigray rebels, the two parties agreed to a truce. Concluded on November 2 in Pretoria, South Africa, and monitored by the African Union, both parties agreed to the restoration of law and order, the return of basic services in Tigray and unimpeded humanitarian access to all in need, as well as "methodical" and "coordinated" disarmament.
Since then, the commander-in-chief of the Tigray rebel force announced that 65 percent of his forces had withdrawn from the front lines. The Ethiopian authorities reconnected the capital of Ethiopia's Tigray region, Mekele, to the national power grid after more than a year of cuts caused by war. While the toll of the war is still unknown, the UN and other relief agencies say that more than 2.6 million Ethiopians have been displaced. In August, the UN warned that half of those in Tigray face "severe" food shortages.
Egypt hosted the 27th UN Climate Change Conference of the Parties (COP27) in November. It was the first time the international event dedicated to the fight against global warming was organised on the African continent, which has been severely affected by rising temperatures.
Particularly devastating floods caused the deaths of several hundred people in Nigeria but also in Chad, Niger and South Africa in 2022. After difficult discussions, negotiators reached a deal at COP27 to compensate the most vulnerable countries for the damage caused by climate change. The measure will be implemented at COP28, to be held in Dubai in November 2023. Although hailed as "historic", the deal fails to respond to the root causes of climate change because it does not contain any new goals for reducing greenhouse gases.
Former militia leader Charles Blé Goudé returns to Ivory Coast
After eleven years of exile, Charles Blé Goudé returned in November to Ivory Coast, where thousands of supporters welcomed him. The former right-hand man to ex-president Laurent Gbagbo had been prosecuted alongside the former president for the post-election violence of 2010-2011, when Gbagbo challenged Alassane Ouattara's victory, leading to some 3,000 deaths. President Ouattara allowed Goudé to return and participate in the national reconciliation process after the International Criminal Court acquitted him of crimes against humanity.
Goudé has announced that he aims to stand as a candidate in the next presidential election of 2025. Gbagbo, for his part, launched a new movement called the African People's Party a few months after his return in June 2021, confirming his return to the political scene.
M23 massacres in eastern Democratic Republic of Congo
A security crisis is developing in eastern Democratic Republic of Congo. After more than 10 years in exile, rebels claiming to belong to M23, a mainly Tutsi armed group, relaunched their offensive in the east of the country in 2021. Since October, fighters have been seizing large swaths of territory north of Goma, the capital of North Kivu. On November 29-30, the villages of Kishishe and Bambo were the scenes of massacres when rebels killed at least 131 civilians in reprisal attacks, according to a preliminary UN investigation.
Congolese authorities denounced the role of Rwanda in this crisis, accusing it of supporting M23. UN experts, the United States and France support the assessment denied by Kigali. The situation on the ground continues to evolve, with M23 rebels announcing on December 23 that they would withdraw from a strategic frontline position near the city of Goma.
South African President Cyril Ramaphosa dodges impeachment
South African President Cyril Ramaphosa avoided impeachment on December 13 thanks to the support of most members of parliament from the African National Congress. Mired in scandal for months, he faced allegations of trying to conceal from police and tax authorities the 2020 theft of large sums of cash hidden in one of his properties.
Ramaphosa was re-elected leader of the governing African National Congress (ANC) in December, paving the way for his second term as president of South Africa. The investigation of the origin of the money found in his home continues.
• Political crisis in Tunisia
Nearly a year and a half after President Kais Saied's power grab in which he dissolved parliament and sacked the prime minister, polls opened December 17 in a parliamentary election boycotted by the opposition. The first round of the election, which was expected to tighten Saied's grip on power, saw historically low turnout of around 11%.
Saied is trying to consolidate power even as he tries to negotiate a crucial loan with the International Monetary Fund to help Tunisia emerge from a deep economic crisis. Several opposition parties who boycotted the elections are calling for the immediate departure of the president, claiming he has lost all credibility.
Morocco takes fourth place in World Cup 2022
In an unprecedented feat for an African or Arab team, the Atlas Lions made World Cup history by reaching the semi-finals of the prestigious tournament in Qatar. Victorious in the quarters against Portugal (1-0), then eliminated by France (0-2), the Moroccan team took fourth place. Following their historic performance, the players were rapturously applauded by tens of thousands of supporters when they returned to Rabat.