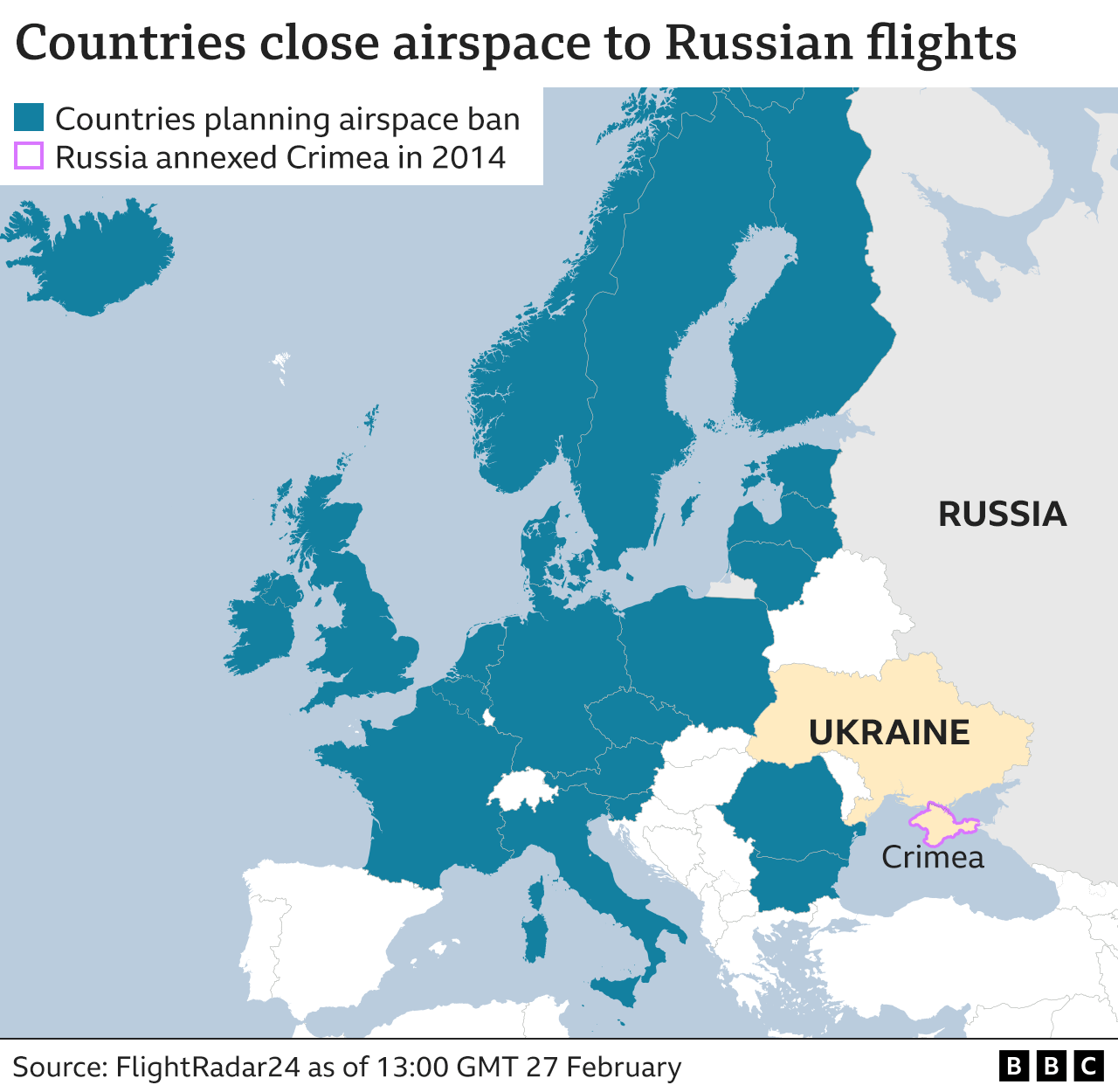 A formal decision is expected on the measure later on Sunday.
One by one, European countries said they were closing their airspace, including Germany for three months.
With airspace curbs over Ukraine, Russian flights now have few route options for westbound journeys.
Departure boards at Moscow's Domodedovo and Sheremetyevo airports showed dozens of cancellations on Sunday, including flights to Paris, Vienna and Kaliningrad.
Russia's S7 Airlines said on Facebook it would cancel flights to many of its European destinations until at least 13 March.
Aeroflot, Russia's biggest airline, said it would cancel its services to Latvia and Romania until at least 26 March, and its Prague and Warsaw routes until 28 March.
Meanwhile, Russia has responded with tit-for-tat restrictions on countries banning its flights.
Russian-owned planes, including private jets, can no longer enter the skies above the Baltic states, Poland, the Czech Republic, Bulgaria, Romania and Slovenia. Russian planes have also been banned from UK airspace.
Several more EU countries have now joined the action to close airspace to Russian flights:
Germany has imposed a three-month ban

Spain, France, Denmark, the Netherlands and Italy will also close their airspace to Russian aircraft

Finland, which shares an 800 mile (1,300km) border with Russia, "is preparing to close its airspace to Russian air traffic," Transport Minister Timo Harakka wrote on Twitter

Belgium's Prime Minister Alexander De Croo said European skies were "open for those who connect people, not for those who seek to brutally aggress"

Ireland and Austria have thrown their weight behind an EU-wide ban.
The restriction on flights over many of the countries to Russia's west will require its airlines to take circuitous routes, resulting in longer flight times.
Finland's decision may leave the Gulf of Finland - around 74 miles (120km) wide at its broadest point - as the only viable passage for Russian planes travelling to European countries that have yet to ban flights.
Commercial airlines are also avoiding airspace around Ukraine, Moldova and Belarus following Russia's invasion.
In the United States, Delta Air Lines said it would suspend a flight booking agreement with Russia's Aeroflot.
The UK's ban on Russian flights led Moscow to retaliate with a similar curb on British planes.
Virgin Atlantic said avoiding Russia would add between 15 minutes and an hour to its flights between the UK and India and Pakistan.
Australian airline Qantas said it would use a longer route for its direct flight between Darwin and London that does not overfly Russia.