If you think you're tough, you're not. If you think you know what bad is, you don't. Chicago's Englewood will teach you that.
On my first day living there in 1989, a group of guys in the street got upset that my sister and I weren't talking to them. When they called another group of girls to fight us, I put my sister behind me and got ready to fight. My other brother and his friend ran to stop them, claiming that my sister and I were his siblings.
I knew at that moment I needed to join a gang to protect my family and protect myself. Around that time in Englewood, gangs were more about territory and the colors that you represented. The colors red and black, or blue and black, identified the gang affiliation.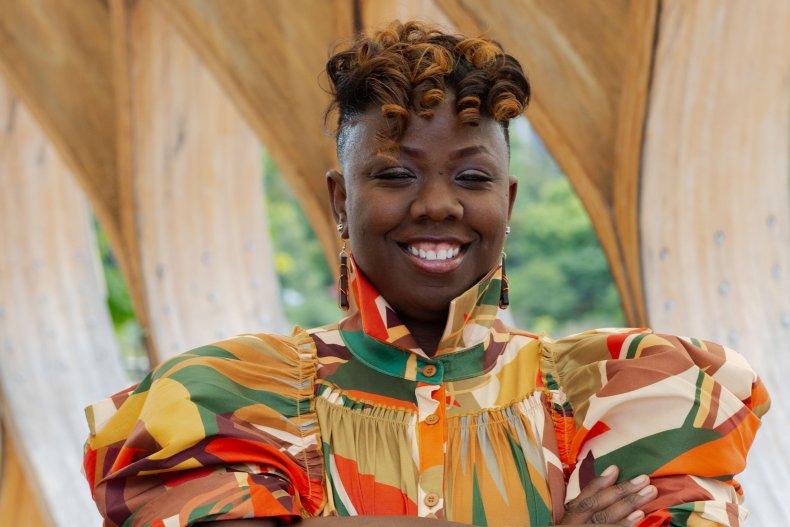 There were always fights to run to and drugs to hide from the police. Being young in Englewood, you would find yourself doing one or the other unless you had a strong family structure of discipline.
In my early years, I moved around Chicago constantly. We never had a place of our own, and my education suffered. I had already missed kindergarten and, while I attended first grade, I didn't go back to school until the fifth grade for half the year.
During those years, my mother would not come home sometimes, so I needed to stay with my four younger siblings who were not yet of school age. But I did learn a lot from my older brother and cousins when they'd practice spelling aloud when preparing for spelling tests; I'd listen and learn.
My grandmother did the best she could, but I found myself gravitating towards what became my new safe place. At times, I drifted into a desensitized mindset when I thought about being separated from my siblings and how my mom abandoned us.
NEWSWEEK SUBSCRIPTION OFFERS >
I became angry and self-destructive, bulldozing over anything and anyone.
But the crazy part is after my rage, I would feel horrible for what I had done to hurt innocent people, all in the name of gangbanging. I would cry and pray for forgiveness. Who told or taught me to pray? No one. But I had to pray. It's just what came naturally to me at that time.
The gang became my protection and guided my life choices for several years. I became known as a person who would get the job done and was a top foot soldier by the time I reached grammar school. In that one-year period during school, I was arrested 26 times for assault and battery-related incidents.
I was between 12 and 13 years old at this time and it never became normal to me. I was afraid each time I was arrested. I also cared about what this would do to my grandmother and how she felt, but I was committed to my gang.
It was a good feeling to belong and be accepted; having people looking up to me was an even greater feeling. Yes, many feared me, but I never liked that feeling.
By the time I got to sixth grade, the years of missed schooling caught up with me–and that meant I needed to be even tougher to protect my reputation.
I had trouble with the fundamentals of reading, comprehension, and test-taking. My attention to learning was poor because I couldn't focus on what I didn't know.
Thankfully, one teacher made an impression on me that I'll never forget. Mrs. Dorothy Robinson pulled me out of class one day to tell me: "I declare that, in your life, you will rise above the ordinary."
That's where I eventually got the idea and name for my organization to inspire and train young people, but we're not there yet in my story. I was still deeply locked into the gang.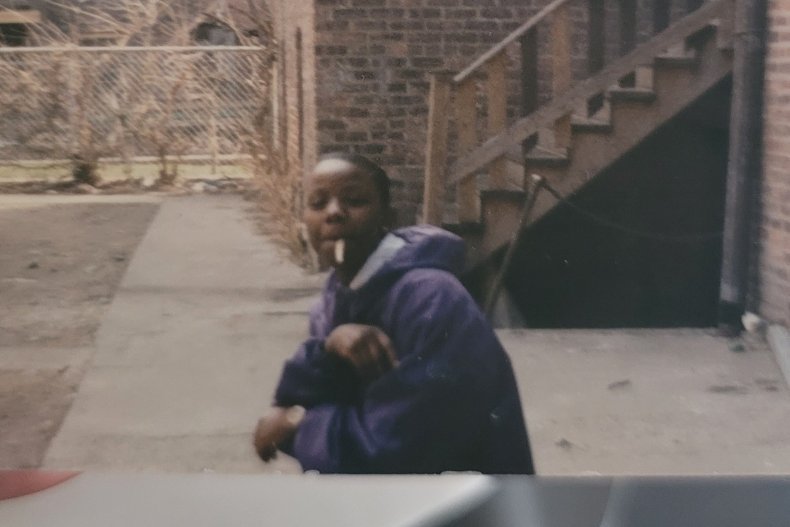 It all started in grandma's kitchen when she chose me to help make Sunday dinner. Back then, I didn't love to cook. Soul Food for dinners every night is what made my grandmother's home feel safe, comfortable, and lived.
We cooked enough food to feed the entire project building, from black-eyed peas fried chicken, butter rice, smothered pork chop, neckbones, and white potatoes. My favorite dish to cook with my grandmother was her famous chili and well-seasoned turnip and mustard greens.
During the first chapter of my life, I faced distraction, adversity, and challenges that most people couldn't imagine before I ever thought about going back to the kitchen.
Cooking might have been forced on me before, but it was an important skill in those years when my siblings and I had to fight for every meal, hustling for what groceries we could in whatever condition we could afford.
Rice that mice had swam through, old bread, neck bones—the list goes on.
The first meal I ever made by myself was rice and neck bones. Grilled cheese sandwiches, pork, beans, and hotdogs were on consistent rotation, and we stretched it for as long as we could.
There was always a house full of children but hardly ever any adults around. We made light of every situation, even when we were without lights and electricity.
Having seven siblings in the household was crowded, but we had fun. We found a creative way to entertain ourselves trying not to think about the fact that we were without heating on some nights, sleeping on piles of dirty clothes as our bed at night.
But what was left of my childhood was cut short when my seven siblings and I became wards of the state. We were taken from our mom and separated in 1988 when I was 10 years old.
My four younger siblings were placed in foster homes and we three older siblings were placed with my grandmother, in Englewood.
There are truly no words to truly express how being separated from my siblings made me feel. All I knew is that I had to work hard to get my siblings and me back together again.
During high school, I signed up for a class that a lot of my friends were taking at the time – the National Restaurant Association ProStart culinary arts class with a first-year teacher.
I knew how to cook, but I still didn't love cooking. I even tried to get out of the class initially. But I stuck with it while continuing to manage my gang, form meetings, and carry out what needed to be done. I believe that I stuck to the class because of the teacher.
The culinary class was a safe space for me, reminding me of that comfortable feeling when I was cooking with my grandmother in the kitchen.
When my ProStart teacher Darlene Austin caught wind of my gang activity, she took me aside and told me that, if I was going to be a part of the culinary program, I couldn't be a part of the gang.
At first, I thought she was crazy. Soon after, I thought it was divine intervention. From that point on, I knew what I was supposed to do as if God was showing me the way.
I was 17 when I left the gang. At that time, the area I was affiliated with was being abolished, which meant I had to move to another region. After talking with my leader, I decided to resign and be removed from my gang. My request was honored.
I no longer had protection from my gang, but I didn't feel unprotected. It felt as if God had protection around me.
From there, I knew that I didn't just want to cook. I wanted to be the best and eventually own my own business. That led me to get more involved with the National Restaurant Association and its Educational Foundation.
My love of all things cooking pushed me to also take advantage of the ProStart program's restaurant management training, showing me how I could make money from my new skills and passion.
After high school, in 1997, I used a scholarship from the Chicago Culinary Arts Program to go to Lexington College for chef and hospitality management training.
I also began teaching as a Pro-Start teacher at Westinghouse High School.
Finally, after managing culinary services on Odyssey Cruises in Chicago, I launched the catering service and food truck business that I own and operate today, That Jerk Spot, LLC. I also started "Rise Above the Ordinary," an organization that helps young people prepare for a successful future in restaurants and food service.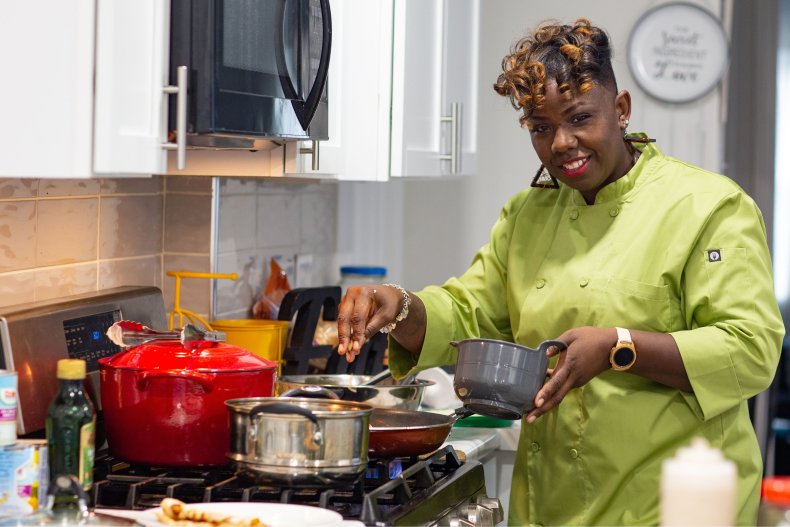 Through "Rise Above the Ordinary", I am providing mentoring and culinary training to participants in Hospitality Opportunities for People (re)Entering Society, better known as HOPES, a National Restaurant Association Educational Foundation program that helps young adults become re-acclimated to society through cooking and job training.
We all have gifts and talents that were meant to be inside and outside the four walls of a building. I must help, it's my passion to help, and it's my calling to help give back and assist young people in the community as my village did for me.
My grandmother reminds me of a promise she made to me and to my siblings the day we were separated: "I promised y'all, when I get older, I'm going to find you and bring you to live with me."
I prayed and I asked God to keep my siblings together, and not allow them to be separated, misplaced, or lost in the system. One foster mother, Allie Mae Bishop, was able to take all four of my siblings and they stayed together in the same home until we reunited in the year 2000.
Throughout my life, circumstances and people have tried again and again to close the door on me. But I've run through every hurdle life has thrown out.
First, I worked at it, from putting everything I had into my former gang life to moving that energy into culinary arts. Second, I had people and interventions in my life that provided a platform where I could finally see what I was meant to do.
When I think about the future, I think about continuing to help my community. I think about places all over Chicago where the next generation can feel safe to go, learn and train in the culinary arts. I think about my food on every corner.
No matter what, I know that to stay ahead, I need to continue to take advantage of the experiences that make me and my art unique. From the drizzle on my dishes to the way I lead my students.
I have two messages for the next generation. One, education is the most important part of your life. Two, choose wisely and take advantage of every opportunity given to "Rise Above the Ordinary".
Lakisha Hunter is the founder and chef of That Jerk Spot LLC in Chicago, a catering and food trucking culinary business. She is also a mentor and culinary trainer. You can find out more about the National Restaurant Association and its Educational Foundation here.
All views expressed in this article are the author's own.
Do you have a unique experience or personal story to share? Email the My Turn team at myturn@newsweek.com.