Kanye West stormed out of a fiery interview with Piers Morgan as the two locked horns on air.
The rapper, who has legally changed his name to Ye, appeared on Piers Morgan Uncensored, available to stream on Flash, after facing backlash over anti-Semitic comments he made earlier this month.
"You don't hold accountability to my pain, you're being a Karen," West told the Sky News host in a preview of the two-hour interview, which will run later this week.
"I'm not a Karen," Morgan responded.
"I'm not going to cancel you and I'm not going to uncensor you. I'm simply going to challenge you on what you're saying.
"I think you don't understand the pain you have been causing with some of these comments."
"God forbid one comment could cause people to feel any of the pain that my people have went through for years," West said.
Stream Piers Morgan Uncensored first on Flash, Tuesday to Saturday. Flash gives you 25+ news channels in 1 place. New to Flash? Try 1 month free. Offer ends October 31, 2022 >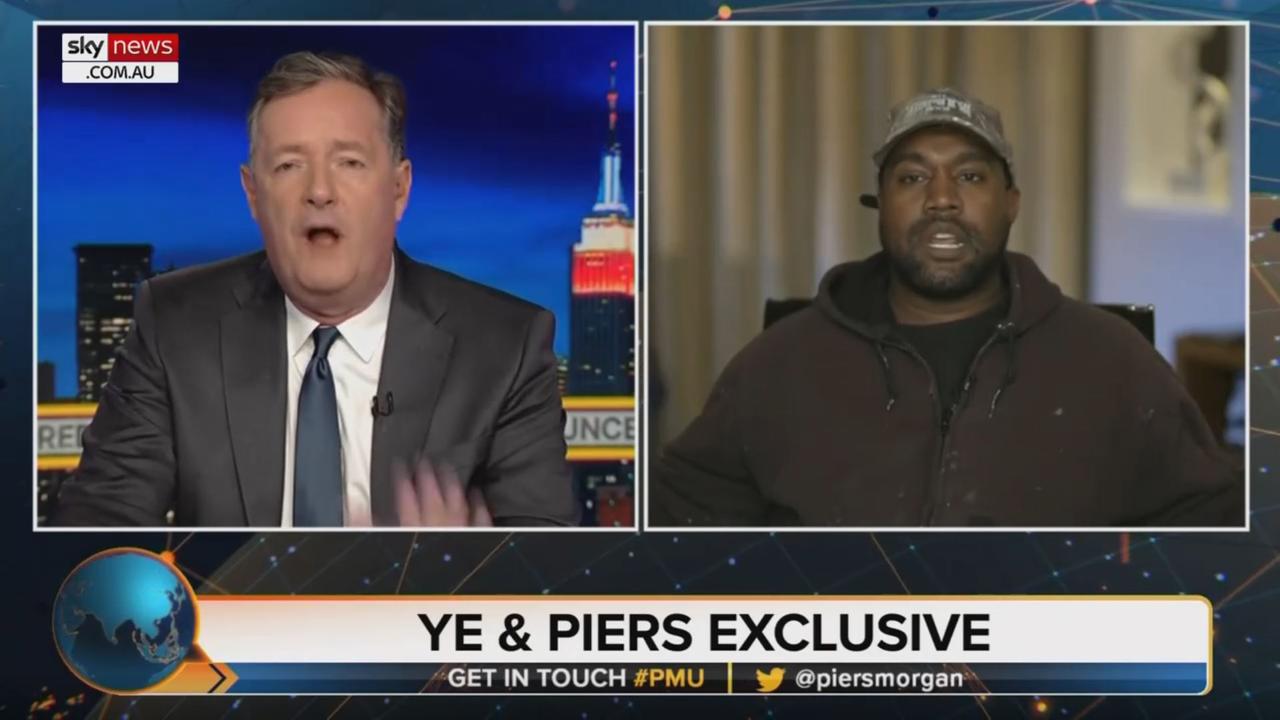 While the broadcaster pointed out that one form of racism does not justify another, West argued: "It's not racism … I was in a position where I was hurt and this was the way I had the right to express myself."
Things got personal as the Donda singer asked the presenter: "How much money are you worth?" To which Morgan replied: "Not as much as you, sadly."
"Exactly, so take my advice! Maybe you'll get richer," West said.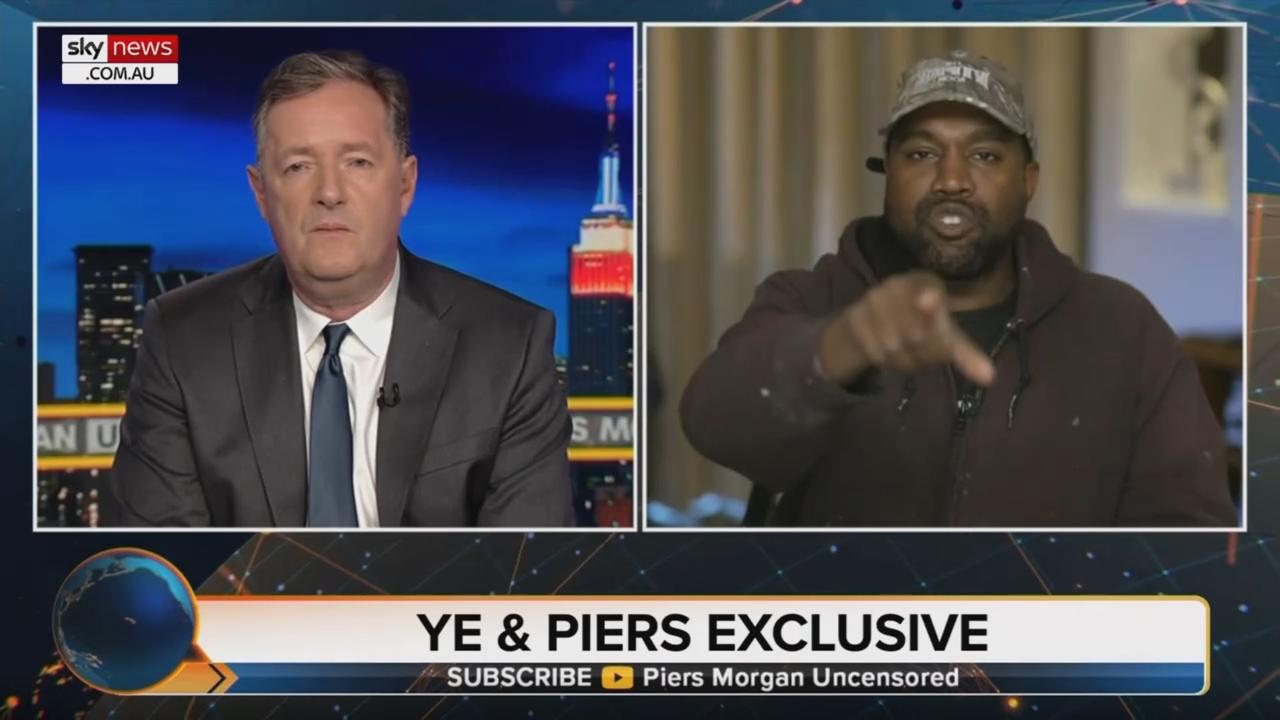 In another preview, the TV presenter asked West if he regretted writing a tweet in which he vowed to go "death con 3 On JEWISH PEOPLE."
"Are you sorry you said it?" Morgan asked, to which West replied, "No. Absolutely not."
"You should be," Morgan scolded his guest, prompting both men to repeat themselves several times.
While the musician refused to apologise for his anti-Semitic rant, he did admit to Morgan that he was only "sorry for the people I hurt," while trying to justify his actions as "fighting fire with fire".
"I will say I'm sorry for the people I hurt with the 'death con,' with the confusion," the hip-hop artist said.
"I feel like I caused hurt and confusion and I am sorry for the families of the people who had nothing to do with the trauma that I had been through.
"And that I used my platform where you say, I hurt people, and I was hurt."
Morgan later revealed West walked out of filming the interview.
The former Good Morning Britain presenter claimed that Ye's walkout left the team facing "quite a struggle to come and get him back" but went on to say he is glad the singer did reappear.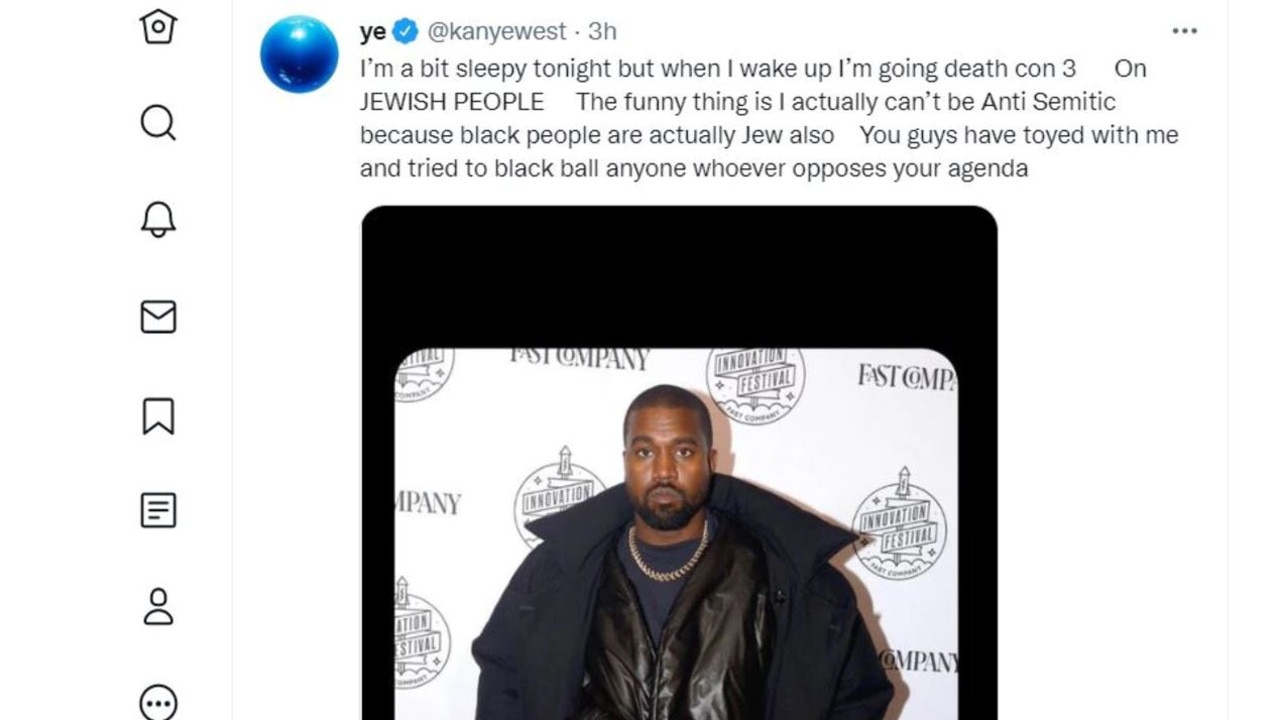 Earlier this month, the Gold Digger star targeted Jewish people in his tweet.
"I'm a bit sleepy tonight but when I wake up I'm going death con 3 On JEWISH PEOPLE," the Grammy winner wrote. It is likely he meant DEFCON 3, a reference to the US military's alert system.
"The funny thing is I actually can't be Anti Semitic because black people are actually Jew also," he continued.
"You guys have toyed with me and tried to black ball anyone whoever opposes your agenda."
The infamous post has since been taken down after the rapper violated the platform's policies.
West has since been temporarily banned from both Twitter and Instagram.
– With New York Post and Page Six