For the New Yorkers on the M3 bus to Harlem, jams are nothing new on Madison Avenue, the ritzy thoroughfare dotted with Chanel, Alexander McQueen and Manolo Blahnik boutiques.
But today's commute on the Upper East Side really is a punish. The bus has come to a halt around 72nd Street and has barely moved since. Every time the doors opened a great distant cheer fills the vehicles.
"It's the Met Ball," growls one indignant passenger.
Four blocks ahead it's excited, exuberant – and at times dangerous – chaos.
Hundreds of people, phone cameras high in the air, blindly stream into the busy road – without a care in the world for the buses, trucks and taxis headed towards them – at the merest whiff of a celebrity.
"It's pretty crazy here isn't it?" one passer-by tells news.com.au as they try to work out what the crowd is actually looking at.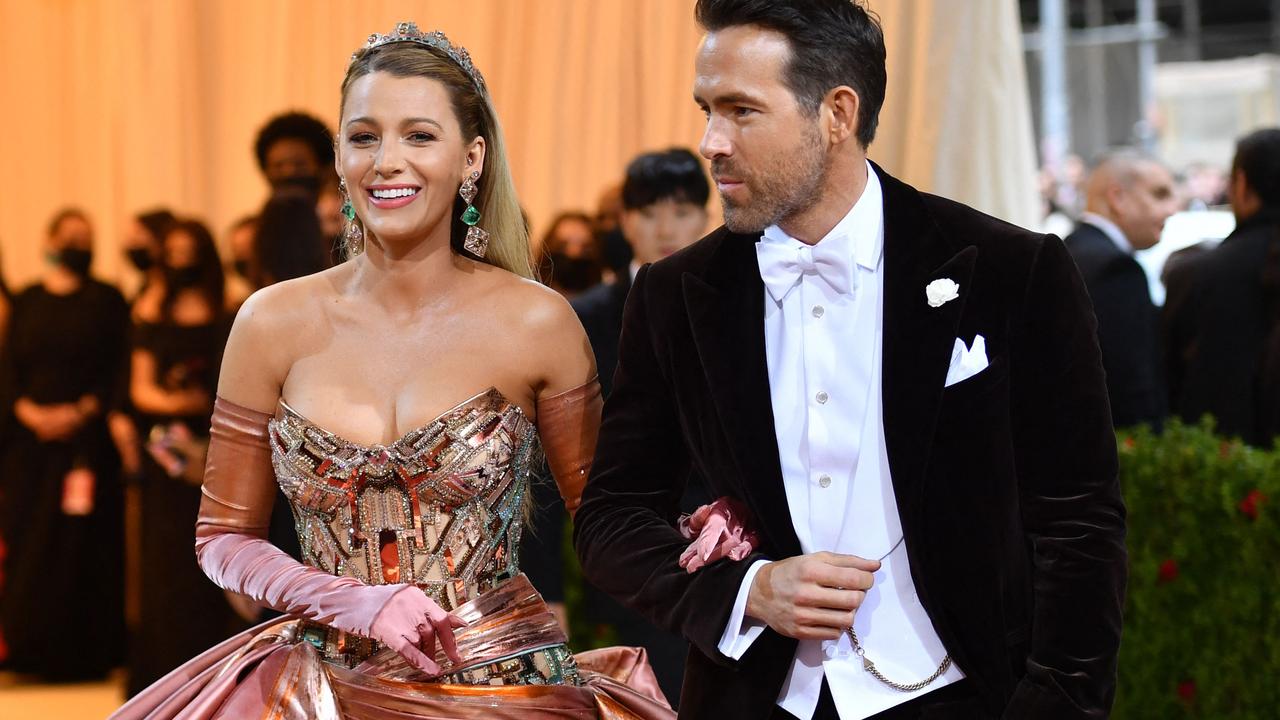 The Metropolitan Museum of Art's Met Gala, held annually on the first Monday on May, is arguably America's most fashionable night out.
It marks the opening of the museum's annual fashion exhibition and is a fundraiser for the Met raising millions of dollars. Each seat costs $US30,000 ($A42,000), but it's doubtful many of the celebs have to actually cough up that kind of cash themselves.
The event has become a giant cat walk for models, actors, entertainers, musicians and many more. They strut their stuff, often in startlingly creative costumes as befitting an event organised by the US edition of Vogue and its iconic editor in chief Anna Wintour.

Throngs of fans around two hotels
But the corner of Madison Avenue and 72nd Street is not The Met. The stately museum which encroaches into Central Park is another five blocks up and one across on Fifth Ave.
The reason why hundreds of fans have colonised this corner of New York on a grey and foggy evening is because it's the sweet spot where – away from the cordoned off streets around The Met – they may spot their idol in proximity.
Two exclusive hotels are the centre of the hubbub. The Carlyle on one side of the street and The Mark on the other. It's here where guests coalesce prior to the ball, easing themselves into their gowns before they are ushered into vehicles.
The pair of hotels act like a kind of bus station for the rich and famous. There's only one destination – The Met.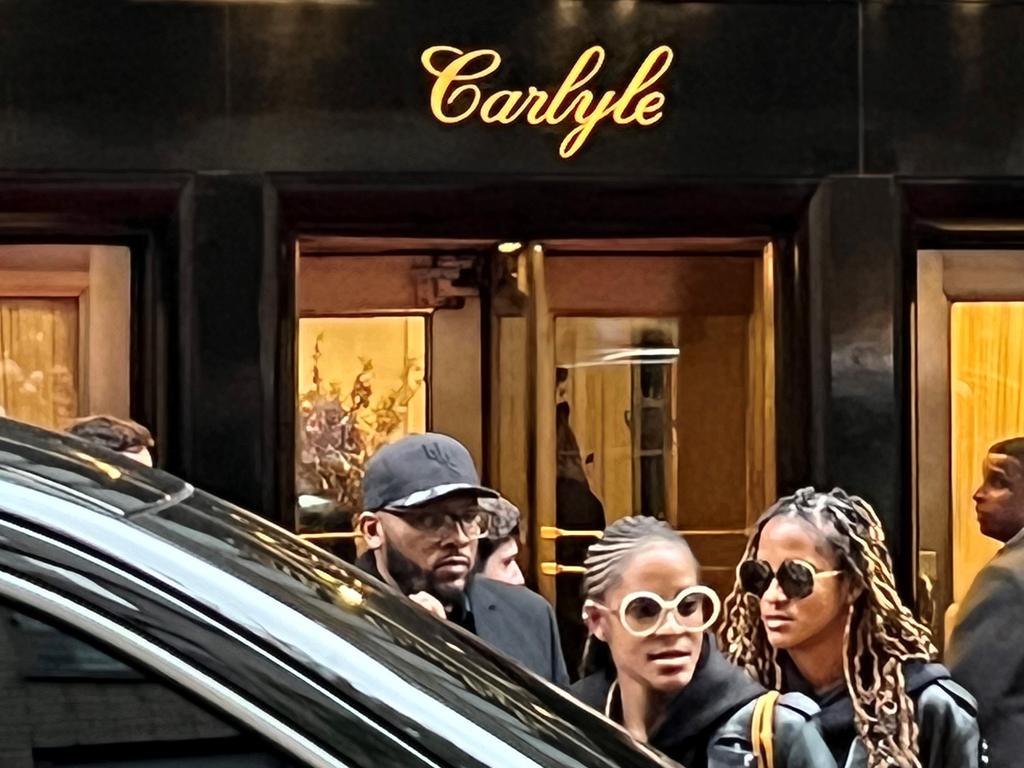 Those seconds from when they leave the hotel and step into the back seat of a limo, or as was mostly the case a mini-van, is the best chance fans get to catch a snap of their prey.
Around The Carlyle are hundreds of people. Some are photographers and a few reporters. But mostly its hyped up fans.
The throng stretches either side of the red carpet leading from the golden lobby doors and across the opposite sidewalk constantly in danger of spilling out on the roadway between.
One fan has come prepared, she's bought her own step ladder. But others have to improvise, clambering up trees for some view, any view.
"I wish I was tall," sighs one, who can only see the back of heads.
One onlooker tells news.com.au that Miranda Kerr has already emerged as has supermodel Naomi Campbell. Diplo has also been spotted, or was it Dua Lipa? People are getting confused.
They all get a cheer but bigger, more famous fry, are desired.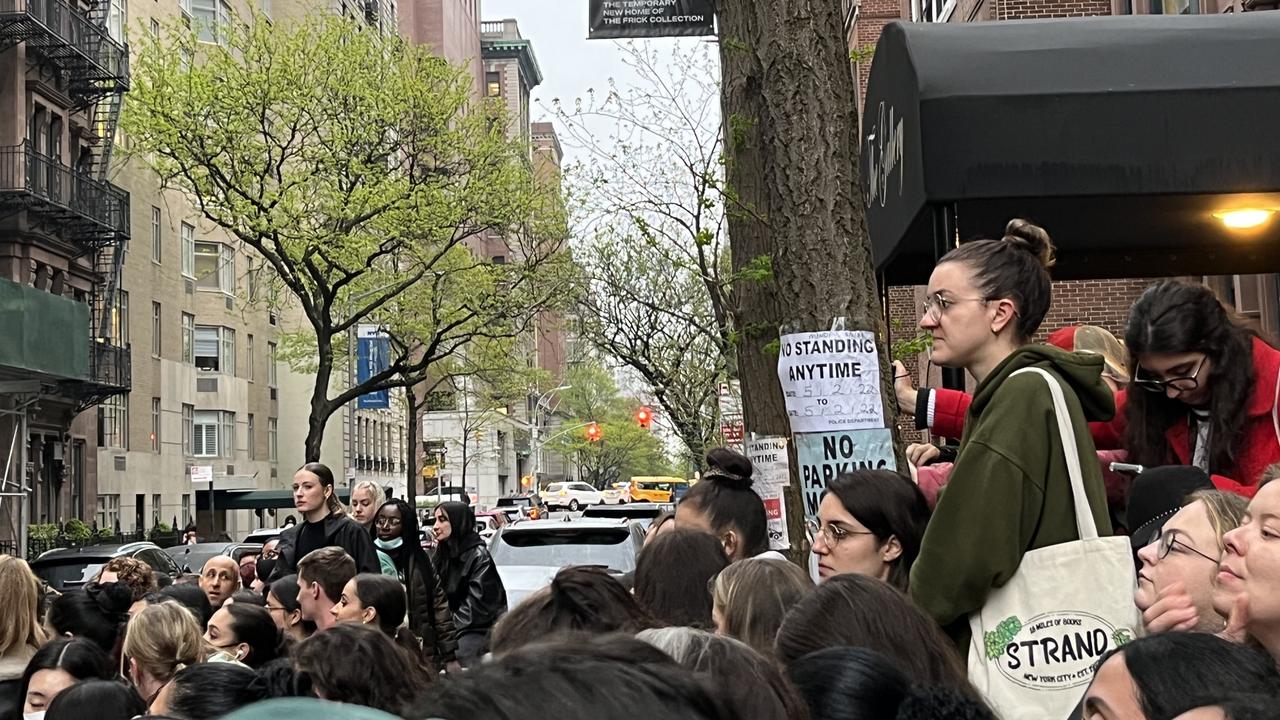 Crowd cheers for just about anything
It becomes clear that no one outside the hotel has any idea which celebrities are inside. It's just the luck of the draw as to who they spot. People frantically look at the Instagram feed of entertainment channel ENews to see who has already made it to The Met and then they try and deduce who is still to emerge.
"Has Beyoncé come out yet?" says one. This comment that soon gets misinterpreted in the melee as undisputed fact that Beyoncé is moments from appearing, ratcheting up the nervousness levels.
Everyone is so on edge that anything can set off a tsunami of screaming. If one person even vaguely cheers, hundreds join in sending thunderous echoes ricocheting off the nearby apartments. Phone cameras are held aloft until it becomes clear that wasn't a celeb but an actual hotel guest.

Incoming jet black mini vans with tinted windows also lead adrenaline levels to spike.
One slides its doors open to reveal an interior bathed in blue light sporting cream leather seats and with a wide-screen TV perched at head height – perfect to watch a film on during the five minute whisking to The Met.
The transport has the air of, well, a slightly fancy airport shuttle bus.
The crowd waves at the seats, the lights and the TV.
"Who are we even waving at, there's no one there?" someone is heard saying.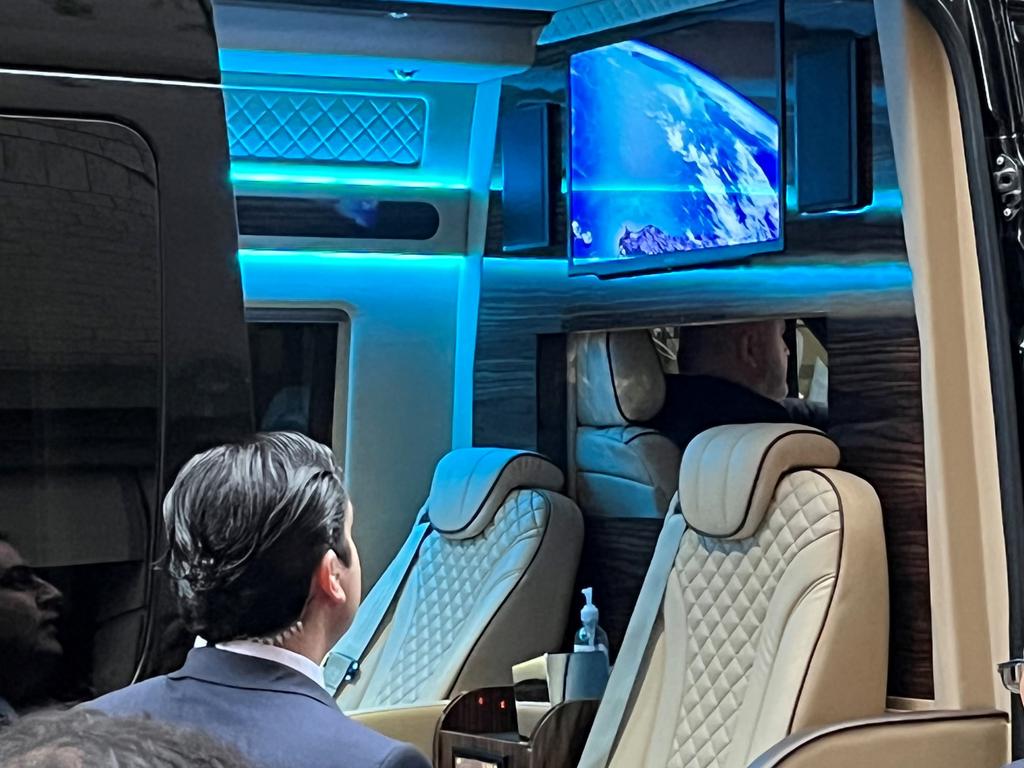 But then another car enters the street. Everyone knows it shouldn't be there. No celebrity would be seen dead rocking up to the social event of the season in a powder blue Subaru hatchback.
"Blue Subaru, just go on through," shouts the hotel doorman to the driver gesturing with his arms for it to get the hell away from here. It's lowering the tone and delaying more black mini vans from arriving.
The fans are restless, however. There hasn't be a decent celeb at The Carlyle for 20 minutes. Meanwhile roar after roar can be heard rolling in from The Mark across the road where, so the grape vine tells it, comedian Amy Schumer has just left.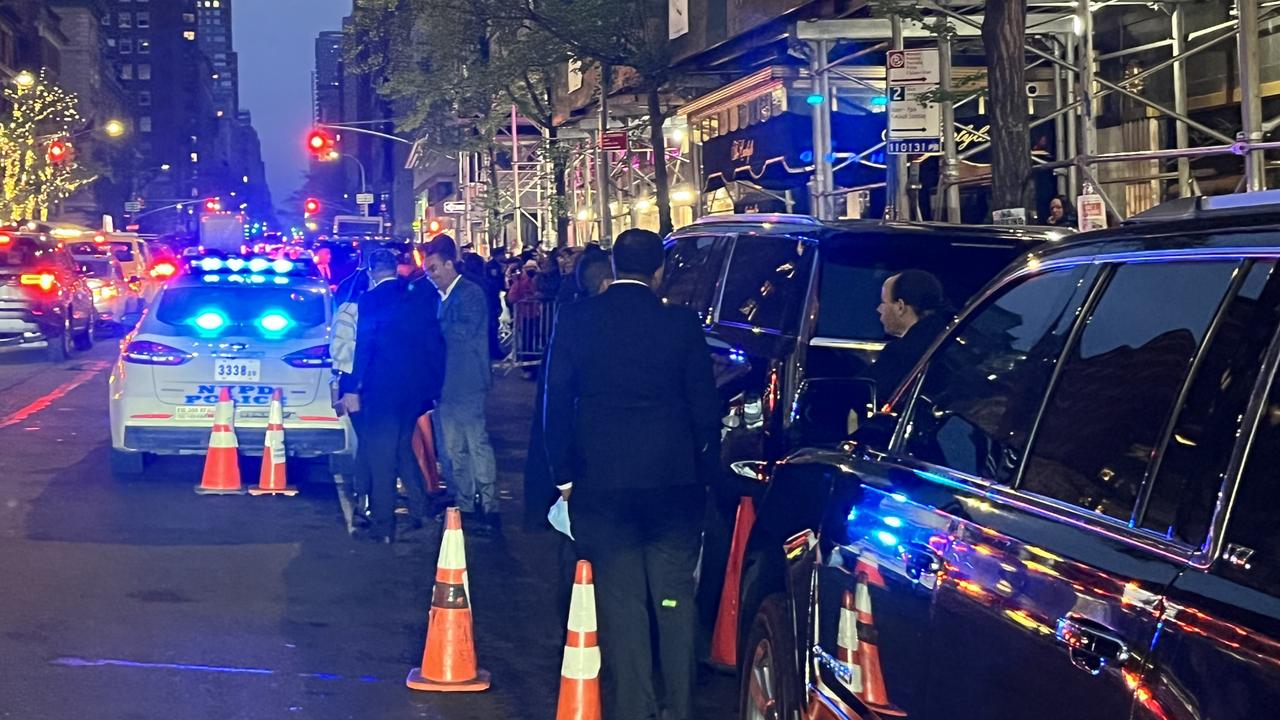 Fans dart across streets oblivious to traffic
An exodus begins, a few at first and then wild running straight across Madison Avenue from The Carlyle to The Mark. No celebrity cannot go unseen.
A pair of women crossing from one hotel the other are discussing actor Emma Stone, another recent departure.
The theme for this year's gala is "gilded glamour" to tie in with the exhibition "In America: An Anthology of Fashion". Stone donned a low cut white Louis Vuitton satin dress with fathers ruffling from its base.
ENews gave the look an "easy A". This pair aren't as easily impressed. "Emma Stone, why did she go boring?" says one "It looks like a nightgown".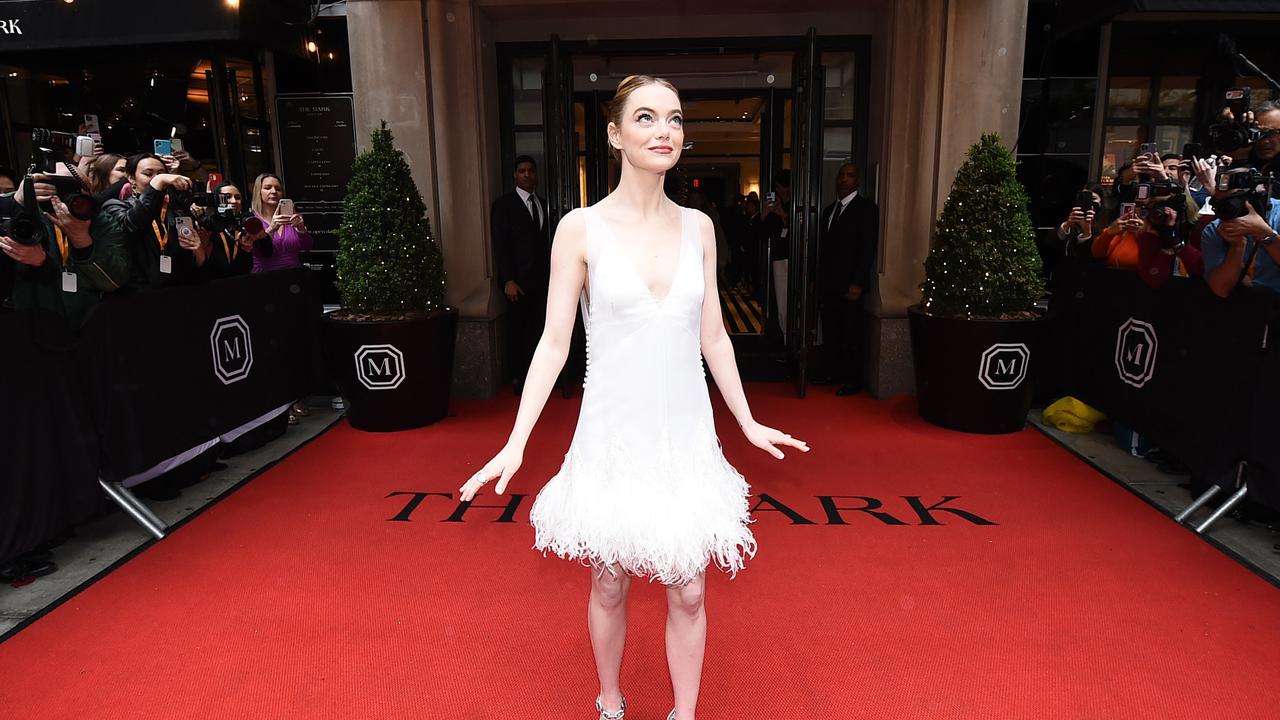 Another rumour has swept the crowd and now those who fled The Carlyle are regretting their decision to leave. Yet another black mini-van has arrived at the luxury hotel and a true A-lister is set to climb in.
The fans surge once again across the road, ignorant to any and all vehicles. One furious driver blasts his horn at the madness unfolding in front of him and his car. He inches forward trying to part the reluctant crowd.
The police have had enough of people hurling themselves in front of 10 tonne vehicles.
"Back on the sidewalk. Get back. All of you. Back. Now. You're going to get yourselves killed," says an officer barely audible above the crescendo of cars beeping and besotted fans cheering.
"It's Katy Perry? Is it Katy Perry? Oh my god," says someone. The roar of the crowd gets even louder.
Police have to peel some extra committed people off the side of the van who are trying to peer inside to confirm if it is indeed global superstar singer Perry.
"It's easy to get sucked in," a bystander sheepishly tells news.com.au.
"But I haven't been able to see anyone yet."
Is all this standing around, hurtling between hotels, on a cold night really worth it then?
"Oh yeah it's worth it," she replied before hesitating.
"I mean I think it's worth it, right?"
A M3 bus to Harlem slides on through the throng. Its weary passengers barely look up. They just want to get home.
​​​​​