French President Emmanuel Macron, German Chancellor Olaf Scholz and Italian Prime Minister Mario Draghi visited Irpin on Thursday, a battle-damaged suburb of Ukraine's capital, in a show of support for the country at war with Russia.
The European leaders arrived to the town perched just north of Kyiv, where residential buildings and civilian infrastructure remain damaged following Russian troops' attempts early in the invasion to capture the capital.
They made the risky journey into the war zone by train from Poland. Kyiv is currently under curfew and explosions can be head from fighting on the western outskirts of the capital.
The trio met with Ukrainian President Volodymyr Zelensky, offering their ongoing support as the rest of the West continues to rally behind the war-torn nation.
"It is here that freedom fights against the world of tyranny," says Polish Prime Minister Mateusz Morawiecki, who calls for Ukraine to be given fast-track EU membership.
Macron praised Ukrainian "heroism" in the face of Russia's invasion.
"It's here, among other places, that the Ukrainians stopped the Russian army descending onto Kyiv," the French leader said.
"It represents the heroism of the army, but also of the Ukrainian population. And alongside that, you have traces of barbarism."
But the French President also had a word of warning for Zelensky amid the Ukrainian leader's zero-compromise mindset when it comes to dealing with Vladimir Putin.
"When — as I hope — Ukraine will have won, and above all when the firing has stopped, we must negotiate. The Ukrainian president and his leaders will have to negotiate with Russia," he told reporters on Wednesday.
Dmitry Medvedev, a former Russian president and prime minister and now deputy chairman Russia's Security Council, immediately mocked the trip on Twitter, stereotyping the three leaders and belittling their attempt to sue for peace.
"European fans of frogs, liverwurst and spaghetti love visiting Kiev," he said.
"With zero use. Promised EU membership and old howitzers to Ukraine, lushed up on gorilka and went home by train, like 100 years ago. All is well. Yet, it won't bring Ukraine closer to peace.
"The clock is ticking."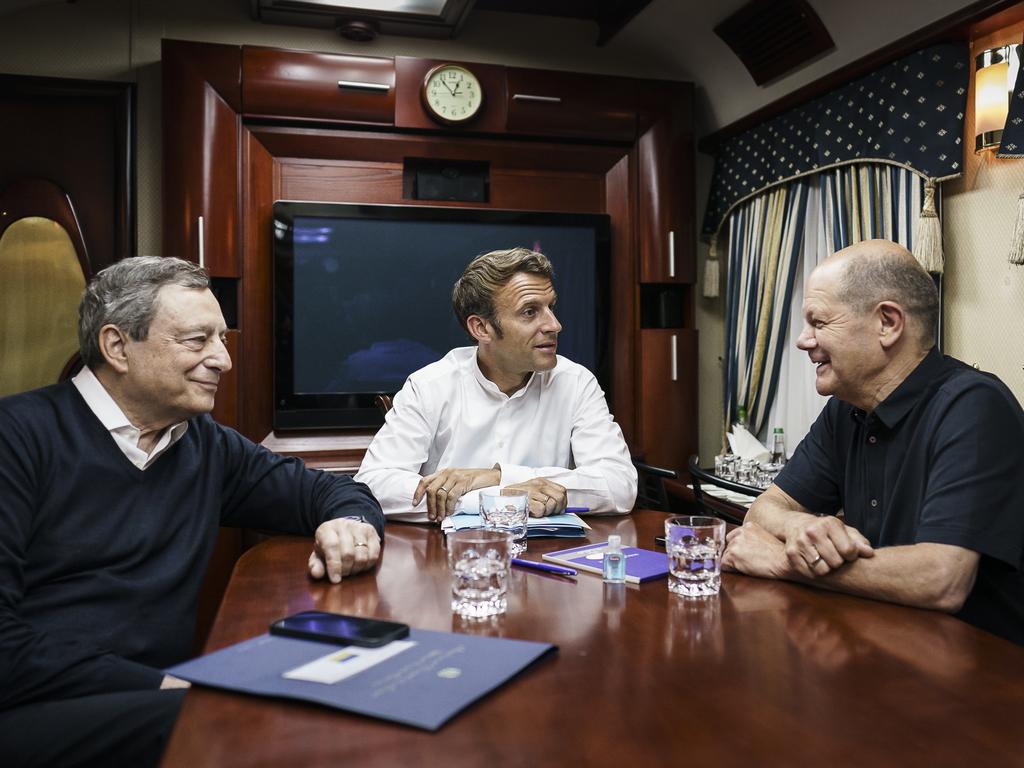 It came as US President Joe Biden announced $1 billion worth of new arms for Ukrainian forces.
The new package features howitzers, ammunition, anti-ship missile systems, and additional rockets for new artillery systems that Ukraine will soon put in the field.
Biden said that he told Zelensky in a phone call Wednesday that "the United States will stand by Ukraine as it defends its democracy and support its sovereignty and territorial integrity in the face of unprovoked Russian aggression.
"The bravery, resilience, and determination of the Ukrainian people continues to inspire the world."
In Brussels, Ukrainian defence minister Oleksiy Reznikov and other officials met with some 50 countries of the Ukraine Defence Contact Group at NATO headquarters asking for a surge in weapons and ammunition.
"Ukraine, Ukrainian is really in a very critical situation and therefore, it's an urgent need to step up," NATO chief Jens Stoltenberg told journalists.
Russian President Vladimir Putin meanwhile underscored that he was not as isolated internationally as his foes would wish with a call with China's leader Xi Jinping, their second reported call since Russia attacked Ukraine.
China has refused to condemn Moscow's invasion of Ukraine and has been accused of providing diplomatic cover for Russia by criticising Western sanctions and arms sales to Kyiv.
The United Nations warned a hunger crisis that has been worsened by the war in Ukraine, traditionally a breadbasket to the world, could swell already record global displacement numbers.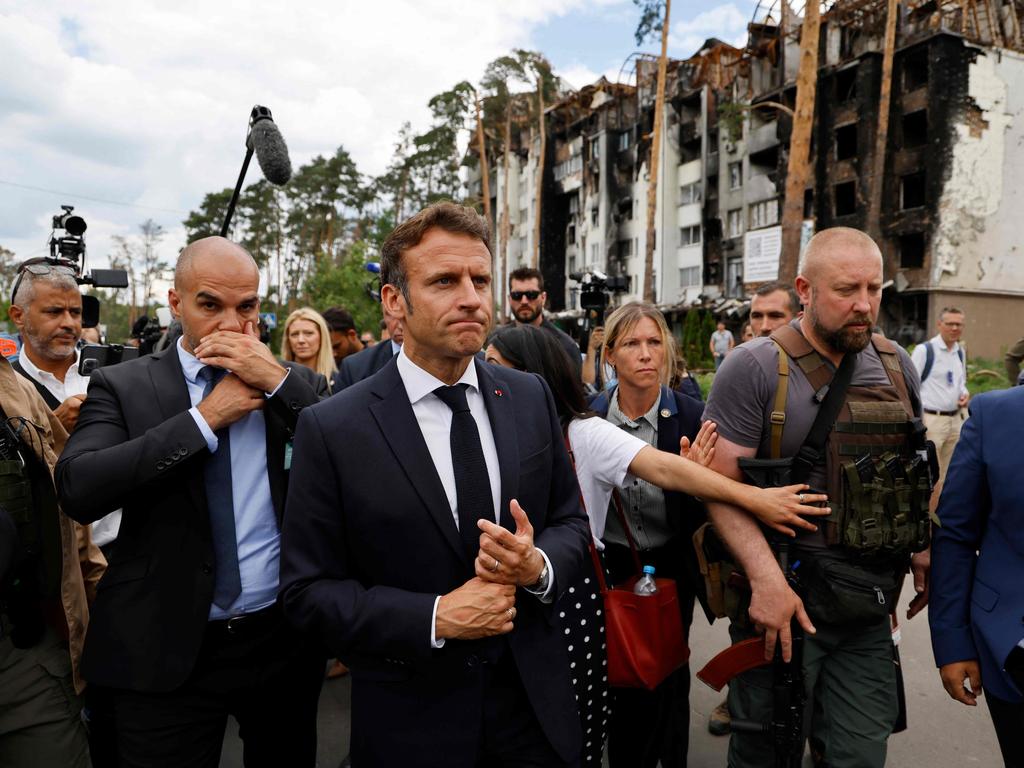 Addressing the food insecurity crisis is "of paramount importance... to prevent a larger number of people moving," the United Nations refugee chief Filippo Grandi told reporters.
Fighting in eastern Ukraine is focused on the industrial city of Severodonetsk, and the Russians appear close to consolidating control after weeks of intense battles.
Sergiy Gaiday — the governor of the Lugansk region, which includes the city — said Thursday around 10,000 civilians remain trapped in the city, out of a pre-war population of some 100,000.
Kyiv's army is "holding back the enemy as much as possible," he said on Telegram. "For almost four months they have dreamt of controlling Severodonetsk... and they do not count the victims." Moscow's forces have destroyed the three bridges spanning a river between the city and Lysychansk.
Hundreds of civilians are trapped in a Severodonetsk chemical plant, which is under constant bombardment, according to Ukrainian authorities.
— with AFP