Jurors in Fairfax, Virginia, have looked on as the opposing sides - aided by an array of witnesses: police, psychologists and Mr Depp himself - have painted two dramatically different pictures of the couple's four years together.
Graphic accusations of verbal and physical assault have been lobbed in both directions. Mr Depp and Ms Heard have each denied any abuse.
But so far one party - Mr Depp - has been more forceful, said Ryan Baker, a Los Angeles attorney who has represented clients in defamation cases. This is by design, he said.
"Depp is up first so it's not surprising that right now things are looking like they're tipping in his favour," he said. Jurors will probably hear a new story in the coming days when Ms Heard's team takes charge.
"At the end of the day, it's a pretty big advantage for her side - they're going to have the last word," Mr Baker said.
Now, as the trial nears halfway, here's a look at some of the key moments from this week.
ACLU received just a fraction of Heard's $3.5m pledge
When Johnny Depp and Amber Heard reached their divorce settlement in 2017, Ms Heard publicly pledged to donate the entirety of her $7m pay-out to charity - half to Children's Hospital Los Angeles and half to the American Civil Liberties Union (ACLU).
But on Monday, ACLU executive Terence Dougherty testified that his organisation had received just $1.3m from Ms Heard, including $500,000 from a fund tied to Twitter's new owner Elon Musk, with whom Ms Heard was briefly in a relationship.
According to Mr Dougherty, the ACLU learned in 2019 that Ms Heard was having financial problems and could not fulfill the remainder of the pledge.
It could be a significant liability for Ms Heard's case, said journalist and author Cooper Lawrence, who has written extensively on celebrity culture.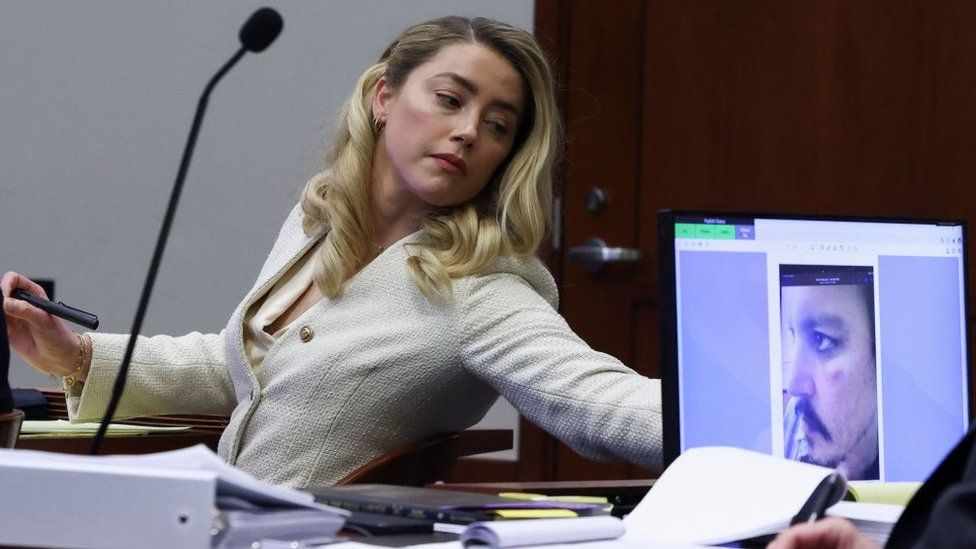 "The entire case is really about Amber Heard's credibility," she said. "If Heard is going to lie about something easily verifiable, you have to ask yourself - what else is she lying about?"
The ACLU's Mr Dougherty also testified directly about the 2018 Washington Post op-ed at the centre of the case, saying that ACLU lawyers helped draft and vet the piece, which was timed to capitalise off press from Aquaman, the DC Universe film starring Ms Heard.
Aquaman was set for release on 21 December 2018, three days after the op-ed was published.
"From the ACLU's perspective, Amber is about to receive an incredible amount of press and be in the public eye," Mr Dougherty said. "So what better a time would it be than now to put out this op-ed, so that it generates significant readership about our issues."
Depp witness says Heard showed signs of personality disorders
On Tuesday, forensic psychologist Dr Shannon Curry told jurors she believed Amber Heard suffered from twin diagnoses: borderline personality disorder and histrionic personality disorder.
Dr Curry, who was hired by Mr Depp's team to conduct a psychological evaluation of his ex-wife, said she had reached her conclusion after spending about 12 hours with Ms Heard in December 2021, conducting mental health tests and reviewing her medical records.
Borderline personality is a disease of instability, Dr Curry said, marked by "a lot of anger, cruelty toward people less powerful and attention seeking".
The behaviours are "driven by an underlying fear of abandonment", she said. "They will make desperate attempts to prevent that from happening."

---
Evidence in court has included several audio clips of Ms Heard begging Mr Depp not to leave her.
Dr Curry also said that borderline personality disorder seemed to be "predictive" for women who incite violence against their partners.
Histrionic personality disorder, Dr Curry said, is linked with "drama and shallowness", and a need to be the centre of attention.
Facing cross-examination by Ms Heard's lawyers, Dr Curry was pressed on the question of bias, noting she had been hosted for dinner at Ms Depp's home before she was hired. Dr Curry responded it was simply a part of the interview process.
Dr Curry's testimony has since been criticised by some domestic abuse advocates who said such diagnoses can be used to undermine accounts of assault.
"I was not surprised at all to see this happen, as it was predictable and lazy," psychologist Dr Jessica Taylor said in a statement. "Thousands of women just like Amber... will be ordered to have psychiatric evaluations which more often than not, diagnose her with a personality disorder in order to discredit her testimony."
Depp 'passed out' in front of kids
Mr Depp's drug and alcohol use has been a central theme of the trial so far.
To hear Mr Depp tell it, he was sober for much of his relationship with Ms Heard after detoxing from the opioid Roxycodone in 2014.
But Ms Heard's team has described a different Mr Depp - one prone to alcohol and drug binges despite her repeated pleas for him to get clean.
On Wednesday, Ms Heard's lawyer, Elaine Bredehoft, leaned on the latter claim, asking the long-time manager of Mr Depp's private island in the Bahamas if she remembered the actor "passing out in the sand face first".
"I recall he was passed out on the beach," Tara Roberts responded.
Ms Bredehoft pressed on, asking if Ms Roberts recalled whether Mr Depp's son had seen him that way. Ms Roberts responded that she did.
Heard 'filling space' with Elon Musk
Johnny Depp's former agent took the stand on Wednesday, telling the court that Ms Heard's allegations against the actor had a "traumatic impact" on Mr Depp's image, costing him the lucrative Pirates of the Caribbean franchise.
Christian Carino, a talent agent at the prolific Creative Artists Agency (CAA), told jurors it became clear through conversations with other executives that Disney - the films' distributor - could not continue to employ Mr Depp.
The claims of abuse were never explicitly discussed, Mr Carino said, but it was "understood" in the industry.
This testimony may prove crucial to Mr Depp's case as he aims to prove that Ms Heard's 2018 op-ed irrevocably derailed his career.
Less pertinent perhaps, but equally attention-grabbing: Mr Carino's comments about Ms Heard's brief relationship with Elon Musk.
Discussing Ms Heard's break-up with Mr Musk in 2017, Mr Carino recalled asking the Aquaman star why she was upset about the split if she wasn't "in love with him to begin with".
"You told me a thousand times you were just filling space," he wrote to Ms Heard.
'Tell the world, Johnny'
Johnny Depp's testimony, which wrapped up on Monday, often featured audio clips recorded during his relationship with Ms Heard and played in court.

---
​"It was deeply disturbing," said journalist and author Cooper Lawrence, who has written extensively on celebrity culture. "These are the aspects of both of their lives that they were trying to keep out of the public eye."
Jurors heard a hail of insults flying both ways. The actress was heard admitting to "hitting" Mr Depp before mocking him and calling him a "baby".
Mr Depp in turn was recorded shouting vulgarities at Ms Heard and disparaging her over her weight.
In one recording at the very end of their marriage, Ms Heard challenged her then-husband to go public with his claim that he was the one who had suffered abuse. "Tell the world, Johnny," she said. "Tell them I, Johnny Depp - a man - I'm a victim too of domestic violence."
Mr Depp said he responded: "Yes, I am."